Florida Gov. Ron DeSantis is expected to join the crowded Republican presidential primary this week after months of laying the groundwork for a White House bid. While former President Donald Trump is the frontrunner, DeSantis is widely viewed as the candidate who has the most potential to possibly defeat him.
But DeSantis, a Catholic, will also be competing with a number of high-profile Republicans  – including former Vice President Mike Pence, former South Carolina Gov. Nikki Haley, Sen. Tim Scott from South Carolina and reportedly former New Jersey Gov. Chris Christie – who are seeking to appeal to the same Christian evangelical and conservative base.
Here's what you need to know about Desantis' relationship with American Jews and his views on Israel:
From Congress to Jerusalem
As a member of Congress from 2013 to 2018 representing Florida's 6th District, DeSantis spoke out in defense of Israel, criticized U.S. officials for calling the West Bank occupied territory and took a leading role in advocating for the relocation of the U.S. embassy from Tel Aviv to Jerusalem. When he ran for governor, he pledged to be the "nation's most pro-Israel governor." 
DeSantis traveled to Israel in 2017 to scout possible sites in Jerusalem for the embassy, which Trump had made a campaign promise to move. In a book published earlier this year, DeSantis wrote that he "wanted to create a sense of inevitability" around the move and boasted that the location he initially suggested for a Jerusalem embassy "ended up being the site that was selected by the Trump administration." DeSantis attended the ceremony for the opening of the Jerusalem embassy in May 2018, while he was a candidate for governor of Florida. A year later, during an official trip to Israel, he brought his entire Florida cabinet for a meeting at the embassy.
On a trip to Jerusalem this April, DeSantis said he had to "cajole" Trump to follow through on the promise. Haley and Pence also focused on their roles in the embassy move in recently published memoirs. Trump said during the 2020 campaign that he did it "for the evangelicals."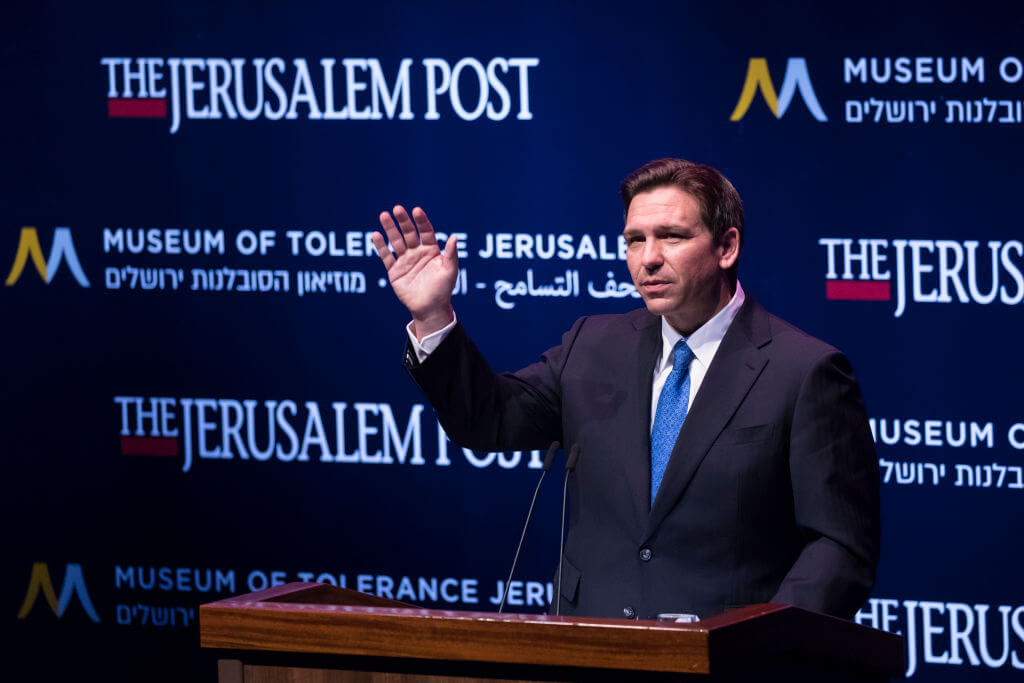 DeSantis has a close relationship with Israeli Prime Minister Benjamin Netanyahu. DeSantis was one of eight House members who congratulated Netanyahu on his hard-fought victory in 2015 after publicly feuding with the Obama administration over the Iran nuclear deal and facing fierce competition back at home. DeSantis met with Netanyahu on his recent visit, but the prime minister's office didn't release a photo or a readout of the meeting. 
Slow in responding to antisemitism
As governor of Florida, considered the third-largest concentration of Jews in the U.S., DeSantis has earned praise for expanding Florida's school choice program, boosting security funds for nonprofits and Jewish institutions and signing a hate-crimes bill that would make publicly displaying a swastika a felon. He also seemed to impress conservative Jews during a 2022 speech at the Tikvah Fund's Jewish Leadership Conference. 
DeSantis signed a law in 2020 requiring public schools to certify that they teach about the Holocaust, but he also drew criticism for allowing parents to remove Holocaust literature they don't like from school libraries. His state education department recently rejected two new Holocaust-focused textbooks for classroom use. The department also forced another textbook to remove a reference to "social justice" in the Hebrew Bible, as part of a broader clampdown on what DeSantis calls "woke" instruction.
Critics have accused DeSantis of failing to call out antisemitism and "embracing antisemites" to boost his political career. During his 2022 reelection campaign, a DeSantis television ad featured a controversial pastor who had previously shamed Jews for not converting to Christianity. DeSantis also stumped for Rep. Doug Mastriano, the GOP nominee for Pennsylvania governor, who embraced Christian nationalists and invoked antisemitic stereotypes on the campaign trail.
DeSantis has also echoed other Republicans in accusing Jewish billionaire George Soros, a Holocaust survivor, of controlling Democratic politicians and prosecutors, fueling a narrative of an all-powerful, globalist puppet master. (Ambassador Deborah Lipstadt last week called such attacks antisemitic.) DeSantis suspended state attorney Andrew Warren last year and called him a "Soros-backed state attorney" over his refusal to prosecute charges related to abortion and gender-affirming care for minors.
Invoking Mark Zuckerberg, the Jewish billionaire and head of Facebook, DeSantis used the term "Zuckerbucks" to mock money that Zuckerberg donated to the Center for Tech and Civic Life, a nonprofit that gave state officials money to help with the 2020 election. The funds were mainly used to buy masks, glass dividers and other resources to mitigate risks related to holding an election during a pandemic.
Jewish support
Of Florida's 665,000 Jews, 59% identified as Democrats or lean toward the Democratic Party, according to Brandeis University's Steinhardt Social Research Institute. DeSantis received 45% of the Jewish vote in his 2022 reelection bid.
DeSantis is currently polling at 20% among Republican primary voters. But he is widely seen as the most viable Republican challenger to Trump. His super PAC, Never Back Down, raised more than $30 million since March and his state political committee has more than $82 million cash on hand that he can transfer to an outside PAC that could support his presidential campaign.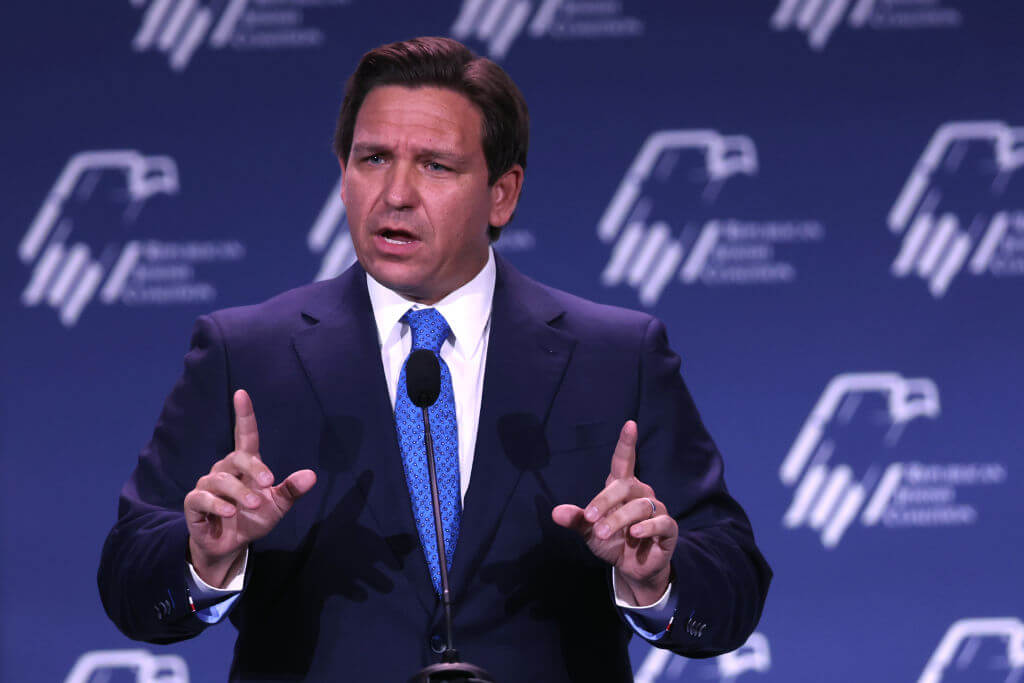 Jay Lefkowitz, a former adviser to President George W. Bush and a supporter of Haley, told Jewish Insider that DeSantis "understands" that he is competing with the former U.N. ambassador for support from moderate Jewish voters. DeSantis will also need to appeal to GOP mega-donors who have soured on Trump since his loss in 2020 and the ensuing Jan. 6 riots. 
In Jerusalem last month, DeSantis dined with Miriam Adelson who, along with her late husband, casino magnate Sheldon Adelson, was the most generous financial supporter of Trump's 2020 campaign. Since the death of her husband in 2021, Miriam Adelson has kept a low profile and pledged to stay neutral in the Republican presidential primary. 
The firing of a Jewish sheriff 
DeSantis came under criticism in 2019 for the suspension of Broward County Sheriff Scott Israel, who is Jewish, over the public safety department's response to the shooting at a high school in Parkland, Florida. Seventeen students and staff were killed, and a state panel found that sheriff's deputies were not properly trained to eliminate the shooter. 
Former Senate President J. Dudley Goodlette, who was appointed as a special master to investigate the suspension, found later that year that Israel's removal had been improper. But the Florida Senate backed DeSantis and voted to confirm Israel's suspension. 
Israel was a target of conservatives across the nation for his vocal criticism of the National Rifle Association (NRA) and for his opposition to open-carry legislation.  
Not on the same page with Ukraine
DeSantis' recent comments on the yearlong war in Ukraine are less attractive to Republican Jews, who generally hold more neoconservative views on foreign policy. His criticism of the Biden administration's "blank-check" for Kyiv and his suggestions that it wasn't of vital national interest for America to become "further entangled in a territorial dispute between Ukraine and Russia" has angered Ukrainian Americans, who played a key role in the election of Trump in the 2016 election in the states of Michigan and Pennsylvania. He later walked back his characterization of Russia's war as a "territorial dispute." 
Though DeSantis has adopted a similar view as Trump – the former president recently declined to say with whom he sides in the war, saying it puts him in a position to mediate a ceasefire in the future – several former Trump administration officials, as well as Haley and Christie, took a swipe at DeSantis for taking an isolationist view on the matter.