by Jeff Gross, contributing writer
Friends of mine are enjoying some great Striper fishing as of late. The photo, above, is of a nice 39″ Striper taken in the Bay. After careful handling, it was released. Rhode Island regulations only allow recreational anglers to keep Stripers between 28″ to <35″. The super majority of Stripers are thrown back. If one were to catch a new RI record cow, she must be thrown back under these regulations, robbing the angler of the notoriety of a new state record. What is worse is the fact that commercial fishermen using float traps can take anything over 26″ during portions of the year and then use other methods to take Stripers over 34″ for other portions of the year.
This vast difference in commercial vs. recreational fishing limits is a problem, the problem worsens went it was found out that most commercial Striped Bass go to NYC restaurants. So, RI recreational anglers lose out so NYC can get vast amounts of Striped Bass – that is unacceptable. Some time is needed to figure out an amicable solution to this grossly unfair problem.
Save our Gun sports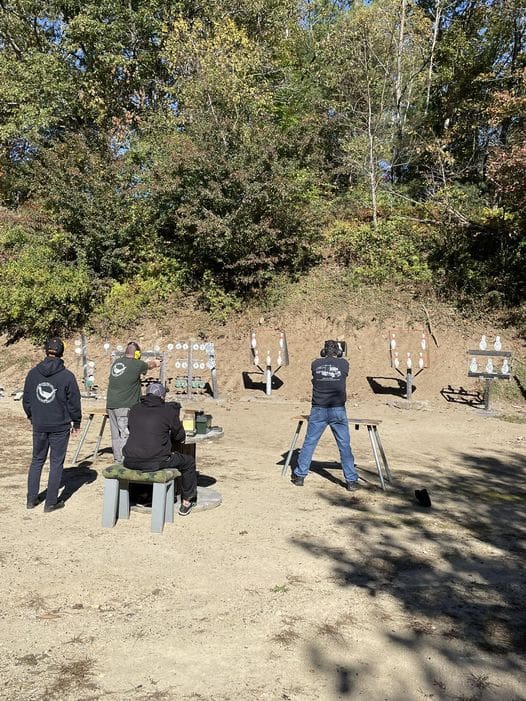 While out in public, we, as gun owners, must talk up our sport. Back in the day, this writer filled out questionnaires declaring his only hobby was target shooting. For a time, it worked. On TV, ads were popping up showing gentlemen outdoor skeet shooting. We all slacked off with the public relations effort. We need to reassert our place in society. So, I say to all of you – no matter where you are talk up the shooting sports, including hunting. We are seeing anti-gun propaganda even on eBay ads now. We must offset the anti-gun propaganda and show the general public that we are, in fact, good people enjoying a sport and protecting our families.
Another option is to end all charitable donations and redirect all that money towards lawsuits to protect the Second Amendment (2A). That even goes for donating money to politicians. What have they really done for us lately? The Republicans talk a lot but really never have truly stood up to any Democratic administration. Take that political donation and give it to a gun rights group that is in fact truly supporting the 2A cause. Even the youth at the supermarket doors must be denied. Explain to them and their parents that the money going to Constitutional infringements outweighs any other need or charity. When all these charities suddenly see a lack of donations watch how fast the table turns in the 2A favor.  Like the Little Compton Progressive stated: It is all about the money!"
Road Safety
Another money and outdoor issue is the fact that, pre-Covid, this writer contacted the following government agencies about getting a flashing cross walk sign or crosswalk cone in the middle of the crosswalk located at the Phenix Sportsman's Club at 715 Main Street in West Warwick. These agencies (West Warwick PD, West Warwick DPW, RI State Police, RI DOT, RI House and Senate Leaders, Tim White of WPRI, Gene Valicenti of WPRO radio) were contacted as this writer had almost been struck by a car while in the middle of the crosswalk located at the Phenix Sportsman's Club. Here it is 4 years later, and nothing has changed. No flashing sign, no safety cone, and twice last night this writer came within 3 feet of being struck by an SUV where the driver was distracted talking and looking at her passenger; she had no idea there was a crosswalk let alone the fact that I was 3 feet away when the male yelled, and she jacked up! A similar incident occurred about 15 minutes later. This occurred on a nice weather evening, and the sun was still shining. I mention this as next week all the above parities will be recontacted. This time I am not accepting any excuses that nothing happens to make this safer for all.
Product Tip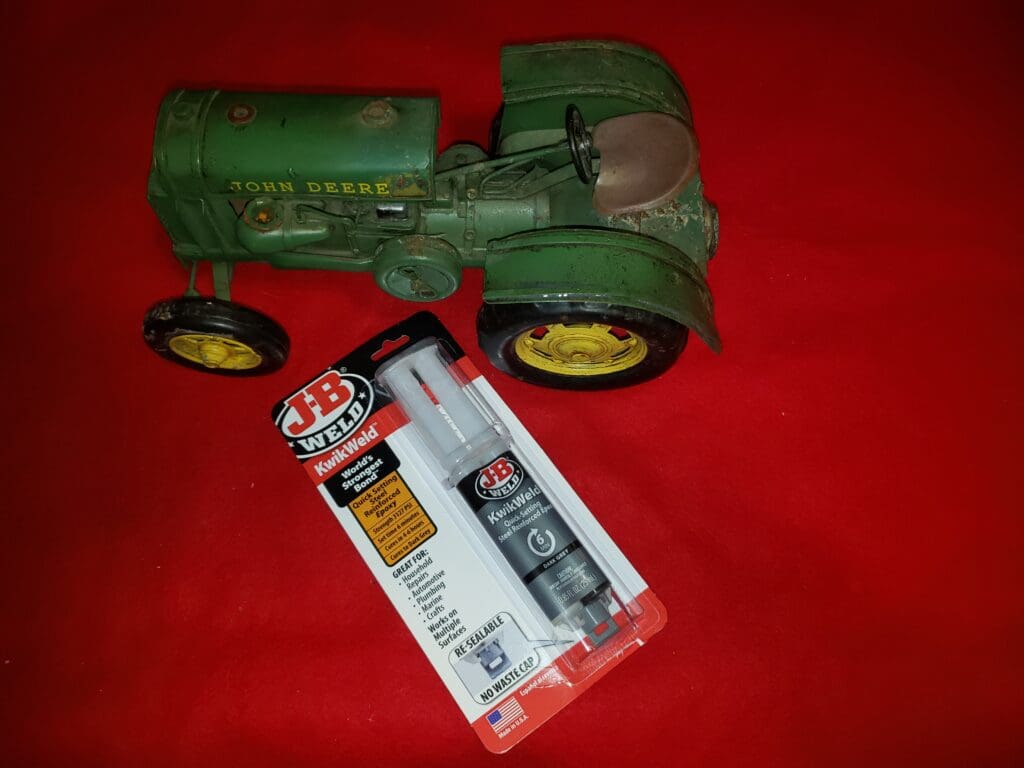 While working in the lab at Helix Technologies, I would often test various adhesives for a number of parameters. Never being able to find a quality epoxy was always troubling. Just yesterday that changed. A tube of J-B weld Kwik weld was acquired. Two John Deere collector's tractors needed small metal repairs. This Kwik weld did the trick. The one tractor pictured had a fender trim piece that bent upward with a lot of tension. Just to hold it back in place required clamps. A high strength metal glue was needed.  Much to my surprise the Kwik weld did the job very well. I allowed the mixed epoxy to sit for five minutes before use – that way the epoxy was already tacky. The Epoxy applied well and blended fairly well with the green JD color.  If one has a marine or fishing application where metal needs to be glued, this epoxy may make the difference. I would think it also has truck and automobile applications as well.  It worked great on this JD control arm as well.
___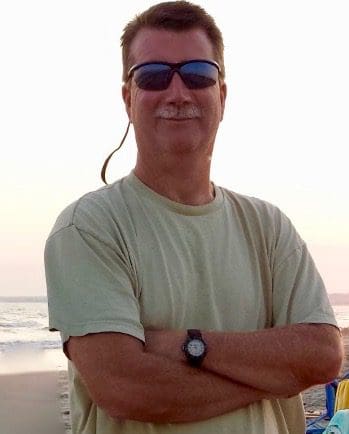 Jeffrey "Jeff" Gross spent 21 years as an Analytical Chemist at the USCG R&D Center in Groton, Connecticut, Woods Hole Laboratories, and Helix Technologies. Changing careers is a "great learning experience for everyone", Jeff says, and I'm an avid outdoorsman and conservationist, a student of the sciences, and the world. The US holds too many wonders not to take a chance and explore them".
Jeff is the Model Train and Railroad entrepreneur. Proud Golden Retriever owner. Ultra strong Second Amendment Advocate and Constitutionalist. "Determined seeker of the truth".  Jeff is a RIFGPA Legislative and Legal Officer, Freshwater Chairman, NRA Liaison.
His subjects include Outdoors, Second Amendment, Model Railroading, and Whimsical.