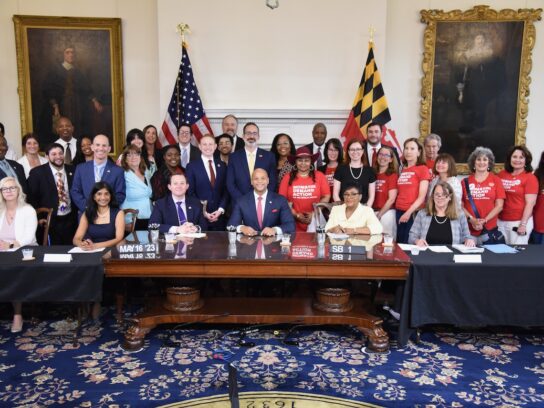 On Tuesday, Governor Wes Moore signed the Gun Safety Act of 2023 into law, along with other gun safety measures.
"The gun safety measures I signed into law today will help keep our communities safe from gun crimes, support @MDSP Gun Center to track & trace firearms used in crimes, and help get guns off our streets," wrote Gov. Moore. "We are taking action to build a safer, brighter future for Maryland."
The Gun Safety Act of 2023 or Senate Bill 1, prohibits a person from knowingly wearing, carrying, or transporting a firearm in certain locations. Following the passage of these laws, court documents reveal The National Rifle Association's  (NRA) state affiliate sued Gov. Moore. The NRA is calling the bill unconstitutional and that it impedes on 1st, 2nd, and 14th amendment rights. The NRA's lawsuit is also challenging House Bill 824, as well as pre-existing Maryland state laws.
"Just one month after Bruen was decided, a Maryland court found it was "self-evident" that Maryland's carry permitting regime was also unconstitutional," wrote The NRA's Institute for Legislative Action in a press release Tuesday. "In response to—and in defiance of—" those court rulings, "Maryland enacted Senate Bill 1 and House Bill 824," the lawsuit alleges. "Through these bills, Maryland replaced one blatantly unconstitutional licensing regime with another blatantly unconstitutional licensing regime." The state has "destroyed the right recognized in Bruen—the right of ordinary, law-abiding citizens to bear arms for self-defense outside the home—in the state of Maryland." The state effectively went from a regime where nobody could legally carry to one where there is nowhere to legally carry.
"Stricter gun laws will help better protect the community in the wake of the disastrous Supreme Court ruling last summer," wrote House Speaker Adrienne A. Jones. "And providing the Attorney General's office with additional resources will prevent the civil rights of Maryland citizens and consumers from being violated."