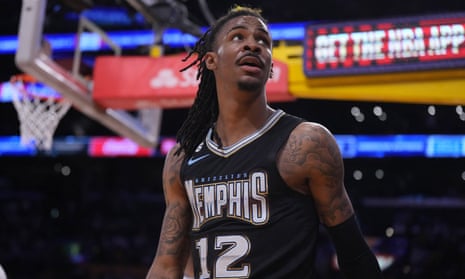 The young NBA star has been suspended after a second incident with a firearm. He did nothing illegal but he is treading a dangerous path
I will get to the messy tale of Ja Morant shortly. But first, a personal history. I grew up in South Dallas. Our house was repeatedly broken into. Drive-bys were a regular occurrence. I was jumped often, walking to and from school. Escaping that level of purgatory for the creature comforts of middle-America capitalism was no small feat. Many of my friends were involved in gangs. I never joined in – I was too scared. My pops kept me off the streets as best he could, while protecting himself and his family from the terrors outside our door. He had multiple guns. A Glock rested inside his bedside dresser. A shotgun sat on top of a stack of Maxim magazines at the top of the closet.
Most people in my neighborhood had firearms: many on the left act like the only people who are pro-gun in the US are backwoods rednecks preparing for a race war. But Black and brown communities have plenty of gun rights advocates too. They aren't members of the NRA and don't march in Maga hats to defend gun laws after school shootings but they exist. As an adult still living in the 'hood in Texas, albeit a gentrified one, I still keep a shotgun in my closet. Growing up in poverty is a disease that you never quite cure. I have only touched my gun once – when I moved home. I hope that remains the case. I do not take my gun out. And if I did, it wouldn't be on Instagram Live, something Morant, a fabulously talented young NBA player, has done … twice.
The latest incident – and there have been plenty of disturbing stories around Morant – came on Sunday when a video emerged of him riding in a car with friends, rapping along to NBA YoungBoy. So far, so innocent. But at one point, Morant is seen holding a gun. Soon afterwards, the Memphis Grizzlies announced they had suspended Morant from all basketball-related activities. His lucrative sponsorship deals, including one with Nike, could be in jeopardy and his previous suspension for another gun-related incident in March may well have cost him a $40m payday. There could be a case he violated the NBA's CBA, which prohibits players from possessing a firearm "of any kind" in numerous settings. It also states that players must notify their teams about firearms and provide proof of registration, giving NBA commissioner Adam Silver authority to fine and suspend players for "conduct detrimental to the Association."
But as Tennessee is an open-carry state, Morant did not do anything illegal according to state law. And many have pointed out, correctly, the hypocrisy of the rightwing media bashing Morant while failing to condemn white Republicans displaying their firearms in public (sometimes with children in tow). Clearly, the idea of a Black man owning or brandishing a gun, no matter the setting or state, is a scary idea to everyone, regardless of political affiliation.
There are other reasons to cut Morant some slack. In some of the reports of his behavior, alcohol abuse has been mentioned. In an ESPN interview in March with Jalen Rose, which now looks like a PR stunt, he said he deals with anxiety and stress. Essentially, he linked his recent behavior with these mental and emotional issues. I felt empathy for Morant as I, too, deal with extreme anxiety and depression. I'm on medication, thankfully, as mental issues are genetically linked to both sides of my family history. Next month will be a year of sobriety. I had to cut alcohol out of my life in order to regain control over my vices and addictions. It would be understandable if Morant, too, struggles with anxiety. Sure, he has millions of dollars but he also has intense media scrutiny as arguably the best young American player in a league where many of the biggest stars are now from outside the States (only one player in this year's All-NBA First Team is from the US).
I'm also aware of where Morant came from. He grew up in a stable, two-parent home in Sumter, South Carolina: his father is a former basketball player who taught his son the game. He is honored to have his father cheer for him from floor seats at every home game. I know how meaningful that can be, as my dad watches every episode of the Knicks podcast I co-host. He also reads every single NBA article I write. But Sumter, like South Dallas, isn't exactly Bel Air. Its violent crime rate is twice the national average, and the median household income is less than two-thirds of the US median. Thankfully Morant stayed out of violence and away from the legal system growing up and was eventually picked No 3 overall by the Grizzlies in the 2019 draft.
Having said all this, it's obvious that Morant is acting out. You may even say that, at 23, he's acting his age. He had already been suspended by the NBA for flashing a gun on Instagram Live and he soon chose to do so again. But there are many, many NBA players who grew up in tougher circumstances than Morant – LeBron James among them – and have stayed well clear of any trouble.
Like many young people in the US, Morant connects being armed with being tough. Especially when you haven't seen the effects of what a gun can do in person, towards friends and even enemies: it becomes merely a symbol rather than a weapon. If someone were to run up on Morant, he would surely have an army of friends and hanger-ons to defend him. He wouldn't even have to squeeze the trigger, if it came to that. That's the "luxury" of having people who will ride for you. But Morant is putting himself and those around him in danger. Some of the friends I grew up with are dead from gang violence. Others are still in the lifestyle they started as 17-year-olds, rotting away in cyclical violence 20 years later. Many are hooked on drugs and broke. Some made it out, but not many. I count my blessings to be one of them.
The image Morant is projecting to his followers and fans is of someone on the edge of violence. It's an image that doesn't come from scars of past self-defense. He is not continuing a legacy of gang-banging. There's nothing illegal about enjoying a night out with friends at the strip club or riding around with your buddies in a car with a gun in an open-carry state. But in the context of his behavior in recent months, it's not about what is or isn't legal. It's about optics. Especially the optics Morant propagates of masculinity, toughness, and gun use. And what those watching, especially the youngest and most vulnerable of them, are seeing.