Keeping your firearms clean and ready for use is a no-brainer, right? It's just good practice to clean them on a regular basis if you want them to be able to perform at their peak and to do so safely. To do this, you need a good gun cleaning kit. Every time that you fire your gun, you are leaving behind carbon, lead, and copper residue.
To help you decide which kit may be right for your rifle, we have narrowed it down to what we believe to be the Best AR 15 gun cleaning kits available in 2023.
Get Great Guns and Ammo Deals!
AR 15 Cleaning Kits – Best GND Picks
There are lots of options when it comes to purchasing cleaning kits for your AR 15.  You'll find comprehensive kits that have tools that include the right tools for cleaning an AR, or you can buy kits that are specifically for .223/5.56 chambered rifles.
If you're looking for a cleaning kit for your AR that you can toss into your field bag then the GuardTech Plus .223/5.56 Gun Cleaning Kit is perfect. It includes all the essential components needed to clean and maintain rifles chambered in .223/5.56. Much like it's big brother kit, every piece of this kit screams quality.
GuardTech Plus .223/5.56 Gun Cleaning Kit Features:
Cleaning Rod: The cleaning rod is made from high-quality brass and is durable and specifically designed for cleaning rifles chambered in .223/5.56. Another sign of attention to detail and quality is the heavy, sturdy metal grip that the rods attach to. The included rod extensions can reach all the way up to 30 inches.
Brushes, Loops and Jags: The included brushes, loops and jags are designed specifically for rifles chambered in .223/5.56.  The jags and loops are made with brass, no cheap breakable plastic. The chamber brush is made with wire to give you long lasting performance.  Again no cheap Nylon.  There is a nylon brush included to clean more sensitive to scratch areas.
Bore Rope Cleaner: Again what I love about Guardtech Plus is they include a bore rope cleaner in this kit also. Specifically design for rifles chambered in .223/5.56, you can keep your barrel whistle clean.
Carrying Case: Whoever was the engineer that designed the GuardTech Plus .223/5.56 Gun Cleaning Kit case should get a bonus.  Each piece of the kit fits securely in a designated spot.  Not space goes to waste, allowing this to be one of the most portable cleaning kits on the market.
All-in-all the GuardTech Plus .223/5.56 Gun Cleaning Kit is a comprehensive cleaning kit that makes the process of maintaining your rifles chambered in .223/5.56 easy and efficient.  Not to mention the genius design makes portable enough that where you are you can keep your weapon clean and working flawlessly.
The M-Pro 7 Tactical Cleaning Kit is known as one of the best AR-15 cleaning kits on the market. While this kit is designed for and geared more towards military shooters and those taking place in competitions, it is the perfect all-around kit for just about anyone.
When you slide open the locks and open the box you will find several tools that can be used for a variety of rifles. There is a bottle of the patented M-Pro 7 cleaning spray and gun oil, a GP brush, a steel dental pick, a Handyman multi-user multi-tool, and even a white cloth so you can get to scrubbing right away.
Most of the stuff in the box are the basic tools you would want to see in any good AR cleaning kit. But, there is one thing in this box that we got really excited about. This cleaning kit comes with its own carrying pouch.
The outside of this pouch is covered in MOLLE webbing to carry additional MOLLE compatible gear to make or extra cleaning tools.
But that's not where it ends.
Inside the pouch, you'll find yet even more cleaning tools that include a debris dusting brush, brushes for a variety of calibers, 3 bore snakes and a full set of coated steel GI rods. If you don't know how to use a bore snake, our detailed guide might help you.
The M-Pro 7 Tactical Rifle Cleaning Kit is our top pick for the best AR cleaning kit available for a good reason, check it out for yourself.
| Pros | Cons |
| --- | --- |
| Lockable, durable plastic case | Carrying pouch isn't as durable as we would like |
| MOLLE compatible carrying pouch | |
| All the basic tools for cleaning your .556, .9mm, and .762 | |
---
Just by picking up a few of the pieces in the GuardTech Plus Universal Gun Cleaning Kit you can feel the high-quality of these cleaning tools. No doubt that they are built to last.
Some of the features that jump out, is the brass cleaning rods are durable and can handle heavy use.  That's right I said "rods".  Each kit contains 2 sizes of brass extension rods. Also there are no cheap nylon plastic jags or patch loops. These babies are also made of brass. While the nylon cleaning brush is gentle enough to use on delicate gun parts without causing any damage.
Another feature I love is that there is a bore rope included with the kits.  With so many other kits, this is something you have to buy separately.  This kit includes everything you need; Cotton Mops, Wire Brushes and even plenty of cleaning tips.  Pick your weapon and this cleaning kit covers them all!  Every caliber from .17 – .50. Brushes for all sizes.
The GuardTech Plus Universal Gun Cleaning Kit Includes
Brass Jags – .17, .22, .243, .25, .270, 30, .338, .35, 9mm, .40, .44, .45, .50
Brushes – .17, .20, .22, .243, .270, .30, 9mm, .40, 410, .45, .50, .54, 20Ga, 12Ga
Cotton Mops – .17, .22, .30, 9mm, .45, .50, 410, 20Ga, 12Ga
Patch Loops
357 / 38 / 9 mm rope snake cleaner
Cotton swabs
Adapters
Utility brushes
Patches
Just a few of the items included.
Organization is Paramount
What is probably my favorite feature of the GuardTech Plus Universal Gun Cleaning Kit is the case that holds all these amazing tools. Every items has a place.  Not just a little space where jags and loops lay clumsily all mixed up. These are specifically labeled spots. So when you open the kit you don't have parts spilling out all over the place.  Also makes it easy to find the right part for the right weapon.
Overall, the GuardTech Plus Universal Gun Cleaning Kit is a reliable and comprehensive cleaning kit that offers excellent value for money. If you have a variety of rifles and handguns that need cleaning, you'll be hard pressed to find a more comprehensive quality made gun cleaning kit.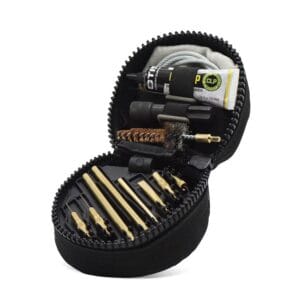 The Otis Modern AR 15 Cleaning Kit isn't the most inexpensive kit on the market, nor is it the newest out there. But for your money, we have to tell you that it is the most complete compact kit you will find.
This compact cleaning kit comes stocked with a variety of tools specifically for cleaning your .223 caliber pistol or a 5.56mm rifle.
The kit itself is contained within an easy to carry compact nylon kit. Some of the tools you will find in the pouch include a B.O.N.E. tool for cleaning your bolt carrier, a .223 caliber and 5.56mm bronze bore brush, and 8″ to 30″ aircraft grade Memory-Flex cables for breech-to-muzzle cleaning.
There is also a bent pick, a straight pick, a chamber flag, microfiber gun cloth, locking lug scraper, short AP brush, and even an instructional manual so you know what everything does.
If you are looking to get the most bang for your buck but don't need a large case of tools, you cannot go wrong with the Otis Modern MSR-AR Cleaning Kit.
| Pros | Cons |
| --- | --- |
| Lightweight, compact carrying case | Limited range of firearms it can clean |
| Enough tools to accommodate tough cleaning jobs | |
---
AR 15 Cleaning 101
For those of you who have never cleaned a gun before or maybe just need a quick refresher course, we've got you covered.
There are a few basic things that you need to know in order to keep your gun clean and functioning well. For starters, it helps a lot to know exactly how your gun gets so dirty, what all that build up is, and lastly, how to get rid of it.
So, let's take a quick look at a few of these topics.
FOULING
Most bullets are made out of a lead core that is surrounded by a copper jacket. If you are firing a shotgun, those shotgun shells are made from plastic.
When your bullets leave the barrel, they leave behind some residue in there from the type of material that they are made of. This residue or rather the act of them being left behind is known as fouling. The most common forms of fouling are:
Carbon

Copper

Lead

Plastic
All of these types of residue build up over time in the barrel of your gun and can severely impact the reliability of your gun. everything from misfiring to splitting barrels can result from a severely fouled up gun.
There is one type of fouling that is especially nasty. This type of fouling comes from any ammunition that contains salt in the ammo's primer. Highly corrosive fouling is most common when you are dealing with black powder guns and mostly all Berdan-primed ammunition, as these types of ammunition are heavy in salt content.
Needless to say, salt is extremely corrosive to your gun. Guns that fire salt-containing ammunition should be cleaned after every time you go out shooting.
HOW OFTEN SHOULD YOU CLEAN YOUR AR 15?
Most gun enthusiasts will tell you that you should clean your gun after every shooting session at the range. While this is certainly a good schedule to adhere to, it isn't always needed to be performed quite so often.
The frequency at which you should clean your firearms will actually vary depending on a few different factors. The main factor here would be what type of ammunition you are using. If you are using Berdan primed ammunition, then yes, you should probably clean your firearm after every firing session.
Cheap Ammo = More Cleaning
Berdan primed ammunition is the type you commonly find at military surplus stores. It is an easily manufactured type of ammunition but it is also the most corrosive ammunition and usually contains quite a bit of salt that builds up in your gun rather quickly.
If you use Boxer-primed ammunition, you can probably get away with a cleaning schedule of about just once a month if you only hit up the firing range once or twice a week. If you are an avid shooter, you would, of course, want to adjust your schedule a bit. Maybe once every few days or so for the more frequent shooter.
Environmental Factors
Then you have all of the different environmental factors. Heavy winds can carry debris into your firearm, mud can find its way into your barrel or across the firing pin, and water can be one of the biggest threats, as it will help rust to form.
The more frequent you clean your firearms, the better. Why finding the best AR 15 cleaning kits are so critical. But overall, just pay attention to the elements you are exposing your firearm to, what ammo you are loading, the caliber, and how frequent you are firing it. By observing these 3 factors you should be able to determine the perfect cleaning schedule to follow fairly easily.
If you are shooting often, we recommend that you clean your gun at least once or twice a month at minimum.
---
AR 15 Cleaning Kits – Final Thoughts
When it comes time to pick up a new gun cleaning kit for your AR or other tactical rifles, you really only need the tools that will benefit you the most.
At the minimum, it should come with cleaning cloths, all the rods, and brushes you need for your main firearm, and an easy to carry case for servicing your weapon while out in the field.
We hope that this review helps you make your decision just a little easier, and as always, if you know of a good AR cleaning kit that deserves a mention from us, let us know in the comments section. We love to hear about, and even test out new products for future reviews, so your input is extremely valuable to us.
Until next time, be safe, keep your AR clean, and happy shooting!
Recommended Reading