For many gun owners, shotguns are essential, especially for target shooters and highly-skilled firearm enthusiasts. Not only are shotguns incredibly adaptable, they are usually the option with the most attractive price tag. Moreover, shotguns are available in all types of models with various options for use. If you're looking for shotgun sights, you've come to the right place. Today's market offers many options to choose from — including red and green dots for shotguns. Essentially, your sight dot is meant to help you with your shot.
Before we get into our review on some of the best red dot sights for shotguns, the following information will help you to choose the best fit for your particular needs.  Side note: Everyone's firearms preferences are unique, so please choose your firearm accordingly.
Get Great Guns and Ammo Deals!
---
Shotgun Red Sights Versus Green Sights
The most popular reticle choices are red and green. So, why do some shotgun owners choose red over green? It's true that both sights have their advantages, but there are some lighting situations where it's difficult to see green reticles. In this case, red is the best choice.
In addition, at freezing temperatures, green lasers won't work while red will really prevail. Also for winter hunting and in areas where temperatures drop below freezing, a red dot will do just fine.
Shotgun Sights Cost
As with most products, it's a good idea to determine how much money you want to spend. In addition to cost, you should factor in affordability for you and your budget. For best results, you should weigh quality and affordability equally.
Durability And Protection
Consider your durability, as the best scopes will be completely waterproof and fog proof with advanced shock proofing. Always make sure to choose a red dot sight that holds up.
Shotgun Sight Mounting Options
A solid word of advice regarding mounting — ensure that your mounting sight is solid and reliable. And, if needed, you can purchase your mounting separately from your scope.
---
Best Red Dot Shotgun Sights
Red dot gun sights have a lot going for them, mostly because you can see red lasers better during daylight. Also, red lasers are best to work during extremely cold weather conditions whereas green ones can't compete.
Therefore, because of the aforementioned, shooters prefer red dot sights. So, to ensure you choose the sight, we've chosen six of the best sights out there.
This red dot sight by Aimpoint is perfectly designed to be compact and stable. The Aimpoint Micro sight offers many original features including unique lenses and groundbreaking optics. The overall goal of this Micro sight is to function in sync with all sorts of rifles and shotguns.
In addition, has over 4 years of non-stop use. Lastly, this scope also multiple vision settings plus more than six daylight settings, complete with brighter settings. It's very user-friendly.
Features
Advanced optical lenses for even better light transmission

The front flip-up lens cover is included

Transparent rear flip-up lens cover is included

Easy adjustment settings

Check the best price on Amazon!
| Pros | Cons |
| --- | --- |
| Perfect settings (day and night) | Expensive |
| Crisp red dot | Not best for users with poor eyesight |
| Awesome optics | |
The Bushnell Trophy TRS-25 Red Dot Sight is uniquely designed with crystal-clear optical functions. Featuring a handsome black color as well as a camouflage choice — which is perfect if you'll be using this one outdoors. Moreover, this optic offers you many bells and whistles, not to mention the highest quality materials.
In addition, this red dot sight features over 10 settings for day and night use and advanced durability. It's also waterproof, fog proof, and shockproof for use in all kinds of weather.
Overall, this scope is a great option for any sharpshooter who requires the finest equipment. You will be pleasantly surprised with how well the Bushnell Trophy meets your needs.
Features
Target turrets for windage and elevation adjustments

3 MOA red dot reticle

Multi-coated optics

100% waterproof, fog proof and shockproof construction

Unlimited eye relief for handguns and shotguns

Check the best price on Amazon!
| Pros | Cons |
| --- | --- |
| Great optics | None to mention |
| Perfect FOV | |
As far as affordability, The BSA 30mm Red Dot Sight takes the prize for the best-priced red dot scopes on our list. However, features many bells and whistles as other brands at higher prices. This is a really good perk!
In addition to the 5 MOA red dot with 11 position rheostat, the BSA features a lithium battery and extreme brightness control. But, this scope isn't meant to be used for the long haul, although it supplies with all the perks for a minor cost.
Features
5 MOA red dot with 11 position rheostat

Standard 3 volt lithium battery included

Brightness control for low or bright light

One year limited warranty

Check the best price on Amazon!
| Pros | Cons |
| --- | --- |
| Good battery life | Below average mounting system |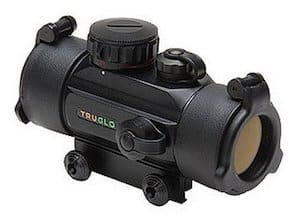 If you've been looking for a reliable color sight, the Truglo 30mm Red Dot Dual Color Sight is worth your consideration. Like many scopes, the Truglo features the necessary waterproof functions in addition to fog-proof quality construction.
In addition, this scope is all about versatility, since it features both types of MOA dots.  Moreover, this scope has nice brightness control, plus an anti-reflective interior to reduce glare and a secure mounting system for additional security.
The Truglo red dot scope offers you a great deal of goodness for a small investment. This sight is truly worth your consideration.
Features
Waterproof and fog proof

5 MOA reticle designed for quick acquisition

Dual-color reticle illumination (red and green)

Shock resistant to 1000 gram

Unlimited eye relief

Wide field of view

Adjustable rheostat for brightness control

Multi-coated lenses

Unique anti-reflective interior eliminates stray light from appearing inside the sight

Check the best price on Amazon!
| Pros | Cons |
| --- | --- |
| Durable | None to mention |
| Accurate | |
This Red and Green Reflex Sight is the one you've been looking for when you're running in the field after your targets. The Field Sport Red and Green Reflex Sight is the right tool for hunters, as it offers many necessary features that hunters expect.
The Field Sport Sight is incredibly lightweight and versatile. It also features four reticle patterns, undeniable eye relief, and a fixed parallax.
Overall, if you just need the necessities, this is the scope for you. It offers all the features you need, with no unnecessary fluff. Therefore, if you want a user-friendly scope, the Field Sport Red and Green Reflex Sight is definitely worth your consideration.
Features
Excellent choice for rapid-firing and moving targets

Lightweight

Water-resistant and shockproof features enhance your performance in all climate conditions

Four reticle patterns offer unlimited eye-relief and corrected parallax

Allen head screw type windage and elevation click adjustments with locking screw

Built-in Picatinny mount base for easy sight re-mounting.

Check the best price on Amazon!
| Pros | Cons |
| --- | --- |
| Great battery life | Not for newbies |
| Excellent price | |
The Leapers UTG Mossberg 12ga Shotgun & Variant Tactical Front Sight Assembly will help you acquire superior target acquisition. This UTG Tactical comes with a front sight assembly, a one-piece dual purpose steel adjustment tool and a 3mm Allen wrench.
In addition, the Leapers UTG Mossberg 12ga Shotgun & Variant Aluminum Tactical Front Sight includes precision machined aircraft grade aluminum. And finally, a hard coat anodizing matte black finish completes the UTG Tactical.
Features
Compatible with barrels with standard front bead and no vent rib

Elevation adjustable front sight

Zero locking screw for precision shooting

Check the best price on Amazon!
| Pros | Cons |
| --- | --- |
| Great for shooters with poor eyesight | Expensive for the small size |
---
Shotgun Sights – Final Words
We certainly hope that this review has increased your knowledge of the various red dot shotgun sights. In addition, this information will help you to choose the right sight for your needs. According to this list, our best choice overall would be the Bushnell Trophy TRS-25 Red Dot Sight.
To begin with, this sight is the absolute best for your money. In addition, this shotgun sight offers exceptional optics, reliability, and a generous field of view. Lastly, the Bushnell Trophy TRS-25 offers complete protection against all types of weather, plus any other natural elements. This one is a winner.
Recommended Reading