You are the owner of a J frame revolver and you are in the market for a pocket holster. You may be asking yourself, what is the best J frame pocket holster?
I've done the research for you and came up with a few of the best J frame pocket holsters. My top J Frame Pocket Holster pick is the DeSantis Nemesis.
This holster is just about a sticky as flypaper. It won't move around in your pocket. The inside material is smooth for a quick draw, and the core has some foam to break up the outline of your gun.
Get Great Guns and Ammo Deals!
---
The J Frame Revolver
The J frame is probably the most popular concealed carry handgun of all time. It is the smallest class of the current Smith & Wesson handgun line, and is what people think of when they hear the turn snub nose revolver.
Back in 1894, when Smith & Wesson developed swing out cylinder revolvers, there were two models, the K and the I. The terms K frame and I frame were internal names that Smith & Wesson employees used to distinguish between the two revolvers.
The real names were much longer and employees felt they needed to make up smaller nicknames for convenience.
The employees started using the nicknames to writers and the public started picking up on it. The frame letter identifies Smith & Wesson revolvers to this day.
History of the J Frame Revolver
In 1950 the J frame was introduced. In 1960 the I frame was discontinued so all their smaller frame revolvers have been the J frame since that time. Over the years there have been many revolvers that are called J frames because they are based on the same size frame.
Currently, the J frame line includes models that are chambered for .22LR, .22 Magnum, .38 Smith & Wesson Special, and .357 Magnum.
---
Carrying A J Frame Revolver
Carrying a J frame is an easy thing to do. The biggest decision you will have to make is how you want to carry it, based on what activity you will be doing. Then pick your clothes to match the way you would like to carry. Then you'll be on your way.
Safety
Carrying a modern J frame revolver, with the hammer down, means you can carry it in just about any manner, safely. You can drop this revolver in any holster, purse, pocket, or backpack and not worry about the gun accidentally firing since the hammer block keeps the firing pin from hitting the case primer until the trigger is pulled.
Accessibility
The main thing you have to think about when carrying a J frame is how and where you will carry it so that it is easily accessible.
---
J Frame Pocket Carry Popularity
Pocket holsters are growing in popularity. They are designed to have rough or sticky material on the outside to stay in your pocket. Most are made with a smooth material on the inside, in order to have a smooth draw.
They fit in the front pocket of cargo type pants or even in the back pocket of jeans. They will fit in some jeans front pockets, but some may be too small for a pocket holster. Some are shaped to look like a wallet or some other case, while inside your pocket.
Pros And Cons of J Frame Pocket Carry
As with other types of carrying a handgun, there are advantages and disadvantages of pocket carrying. The advantages definitely outweigh the disadvantages.
Pros
Pocket carry is very comfortable. With other types of carrying you have to get used to carrying around a foreign object that may be heavier than things you are used to carrying. Most people are used to carrying things in their pocket. It comes natural to place things in your pocket.
It's convenient. You don't have to worry too much about your wardrobe besides having pockets big enough to hold your holster and firearm. No need for extra belts, bigger sized pants, long shirts, or sports jackets.
Pocket carrying conceals very good. Quality pocket holsters are made to conceal the shape of your gun. Most people expect you to carry stuff in your pocket so any kind of bulge that is seen in your pocket goes without suspicion.
You may be able to draw much quicker from your pocket. The motion to get into your pocket and pull your gun out is a very natural motion. There is no need to lift shirts or open jackets before drawing.
With pocket carry you can pre stage your draw. While you don't want to always be putting your hand on your gun, doing so in a heated moment looks natural and not suspicious.
Cons
It can be a little more difficult to get to your gun in a stressful situation. If you are stressed it may be awkward to shove your hand in your pocket.
Pocket carry limits the size of the handgun you are able to carry. Unless you are carrying a subcompact or compact gun, pocket carry will be extremely difficult and uncomfortable.
As you can see, the advantages outweigh the disadvantages with pocket carry. Let's check out some of the top picks for J frame pocket holsters.
---
Best Pocket Holsters for J-Frame
Here are our favorite holsters for your J-Frame Revolver:
DeSantis has a great reputation. They are known for really good pocket holsters. They stand behind their products since they use quality materials.
Features
Ambidextrous

Made in USA

Foam core breaks up shape of gun
| Pros | Cons |
| --- | --- |
| Fits J frames perfectly | Difficult in tight jeans |
| Covers full trigger guard | |
| Any visible appearance looks like a cell phone | |
| Doesn't move around | |
| Nice draw | |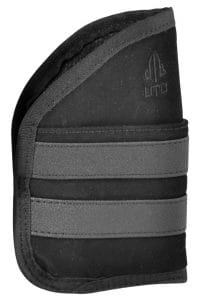 This pocket holster is open top, has no slip bands, and a side extra pocket for cash or credit cards.
Features
Ambidextrous

Front or back pocket storage

Non slip bands

Open top

Ultimate pistol protection
| Pros | Cons |
| --- | --- |
| Stays in pocket while drawing gun | Can be a little difficult to draw |
| Extra pocket can hold ammo | Slit makes trigger accessible |
| Fits casual pants pocket perfectly | Bulky |
| Comfortable | |
| Keeps gun upright | |
| Made well | |
This holster provides protection for the gun and your clothing. It is an open top design that prevents movement of gun levers, buttons, or catches that may happen with loose pocket carry.
Features
Protects gun and clothing

Cushion leg

No printing

Open top grip up design

Non-slip bands
| Pros | Cons |
| --- | --- |
| Full grip in pocket | Will move around in larger pockets |
| Stays put | Opening at top seems a little small |
| Comfortable | Will come out in cargo pockets |
| Affordable | |
| Quality construction | |
| Low maintenance | |
This pocket holster has a reinforced inner lining to allow the top to stay open when empty. Features a moisture proof membrane that keeps sweat from getting to your handgun.
Features
Extra thin

Extra soft

Moisture proof membrane

Suede outer material

Stays open
| Pros | Cons |
| --- | --- |
| Conceals well | Will move in larger pockets |
| Not bulky | Outer material isn't very sticky |
| Stays in pocket | Bottom of holster is open so lint can get in gun |
| Comfortable | |
| Made well | |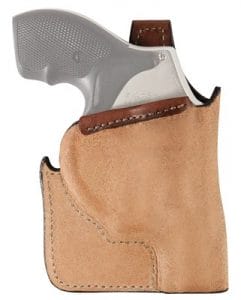 This holster is a great option for those looking to pocket carry. It is made of full grain leather and will break up the shape of the gun. Two hooks help keep it in place while in your pocket.
Features
Right or left hand option

Leather interior for smooth draw

Suede exterior to stick in pocket

Pocket hooks for enhanced security
| Pros | Cons |
| --- | --- |
| Well made | Stiff feeling |
| Keeps gun upright | Can be a bit bulky when sitting down |
| Comfortable | Too thick for a front pocket |
| Stays put during draw | |
---
J Frame Pocket Holster – Final Thoughts
As you know there are many ways to carry your J frame. Deciding to pocket carry is a good decision. Finding the best holster for your J frame revolver is a big decision.
There are a lot of good pocket holsters for your J frame. I did find the DeSantis Nemisis to outshine the others. It just works great. It has an extremely fast and smooth draw from your front pocket.
It's just like going for your wallet or cell phone. Made durable, by a company that is a leader in their industry, this holster may help you feel secure knowing your gun is safe and stable and ready to be used if a situation were to arise.
Recommended Reading
Best Pocket Holster For Glock 43
Pocket Magazine Holster For Concealed Carry
Best Concealed Carry Pocket Holster
Pocket Holsters For Ruger LC9S