There are a few rifles that stand out in the halls of time as being the most iconic and brilliantly designed. Rifles such as the M1 Garand and the AK-47 are a couple of the ones that come to mind first.
These rifles are often fondly remembered by discerning shooters as being not only rich in history, but also for being extremely reliable in terms of how well they perform time and time again, still to this day.
Today, we are going to take a look at one of these (and one of my favorite) historic guns; the Mosin Nagant M44. This rifle is no longer being produced, and its last run of production took place back in 1995, but it still holds a special place in the heart and range bag of many rifle enthusiasts.
Join us as we take a quick look at the history and reliability of this iconic firearm.
Get Great Guns and Ammo Deals!
---
Mosin Nagant M44 History
During World War II, known in Russia as 'The Great Patriotic War', the Soviet Union was still using the ever-popular Mosin Nagant M91/30. And while this rifle certainly served with great distinction during that time, the Soviet high command eventually decided that there was a clear and present need for something a bit better equipped.
They wanted to produce a bolt-action rifle that was shorter and easier for the Red Army to utilize when in battle. Contributing to this need was probably the fact that the combat that lined nearly every street in cities such as Stalingrad made it apparent that a carbine length weapon would be best suited for the current environment which the Red Army would often find themselves.
They also wanted to create a rifle that would be similar to the earlier Model 1938, but with the inclusion of a bayonet. Mosin Nagant ended up designing came to be known as the Model 1944 (M44 Carbine). On that day, a legacy was born.
---
Build Quality
The Mosin Nagant M44, while being a bit of an older model rifle, Mosin Nagant built it with both quality and design in mind. They are rather heavy, weighing in at a whopping 9 pounds. In case you aren't privy to typical gun weights, this is rather heavy for a rifle.
Barrel length is one thing that may turn a lot of people away from purchasing this rifle. The barrel alone measures in at 20.2 inches, but then when you consider that the total length of the rifle is 39.9 inches, it can be a tough pill to swallow, so to speak.
In short, this rifle is built like a tank! You will find that you are hard-pressed to break any part of it without some major effort.
Mosin Nagant M44 Performance
I currently own a Mosin Nagant M44, and I will be honest with you… you would do yourself a great service to add some after-market toys to your rifle. It's not that it doesn't perform well right out of the box, and as a stock gun, it most certainly performed just fine.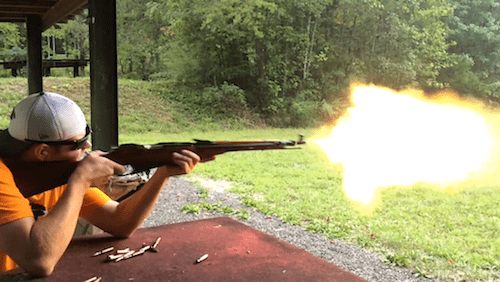 We are talking about a rifle that was built for use during World War II. Because of this, most modern shooters might consider this rifle to be a bit heavier and more cumbersome than is truly needed. It is a rather long rifle that might be more than you really want to lug around the shooting range.
And good luck finding shooting rests that can hold this beast in place when you pull that trigger This thing has some massive recoil. If you've never shot a rifle that almost knocked you off your feet, I invite you to test out the Mosin Nagant M44 and see what a kick from a real rifle feels like.
If you are familiar with the recoil that comes with a Desert Eagle, it is kind of like that. Now, multiply that by 1,000.
---
The One And Only Issue I Experienced With The Mosin Nagant M44
Having said all of this, the Mosin Nagant M44 is one heck of an impressive rifle. It performs amazingly well, but only if you don't mind the weight and recoil. I have never had mine fail on me for any major reason.
The only problem I had with the performance started about a year ago. I began to experience some sticky bolt syndrome. After slapping the bolt shut a few times at the range I decided to fix the problem.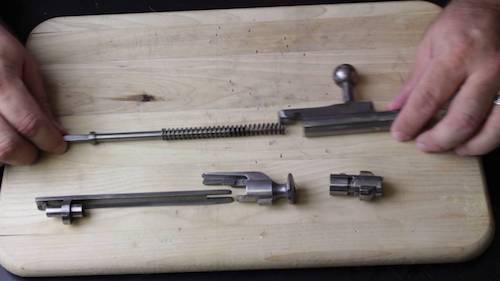 This was as easy as taking apart the bolt and cleaning everything with mineral spirits. After that, I let it sit for a few days and it was as good as new. Since I did that, I have had no other issues.
The effective firing range for this rifle is roughly 550 yards, all the way up to 800+ with optics attached. And pumping out enough ammo to test your range should be no problem. This is thanks to a feed system that features a 5-round non-detachable magazine, or with 5-round stripper clips.
Mosin Nagant M44 For Sale
Trying to find a Mosin Nagant M44 For Sale can be a challenge.  We have found Guns.com usually has one or two used in stock.
---
Best Upgade For The Mosin Nagant M44
As I've mentioned, the Mosin Nagant M44 isn't exactly everyone's cup of tea when it comes to stock rifles. However, with just a few modifications, you can easily update your rifle to feel more like a modern rifle.
Here is our top pick for the best after-market stock for the Mosin Nagant M44:
1. ProMag Archangel (Best After-Market Stock for Mosin Nagant)
Want to replace the stock of your Mosin Nagant M44?
One of the best after-market stocks for this rifle comes to us from the folks over at ProMag Industries.
The ProMag Archangel is a stock made of synthetic materials that easily rival the materials you typically find in other after-market stocks and kits such as ones for the Marlin 795 or the Kel-Tec Sub-2000.
In terms of and usability, I would compare its ease of use to a tactical stock similar to the JAE. It comes with a Picatinny rail on the underside for all your additional bells and whistles. There are sling mounts that come with a quick disconnect for situations when you need to dismount quickly.
And my favorite part is the adjustable length options for both the cheek rest as well as the pull. And for those of you who need 100% comfort, it also features a rather comfortable and ergonomic pistol grip.
When you are tired of using this stock on your Mosin Nagant M44, you can also place it on your Springfield M1A or on an M305, as it was built to facilitate more than just the M44.
Overall, I think you will enjoy all the options that this stock gives you. This is in addition to the fact that ProMag actually spent a lot of time in production getting it just right. They wanted to make sure that you have a stock that will last a lifetime with a fair amount of use.
---
Mosin Nagant M44 – Final Thoughts
If you are looking for a rifle that can stand just about anything that you plan to put it through and holds true to time-tested and iconic rifle designs, the Mosin Nagant M44 may just be the rifle for you. However, if you're looking for some newer models, you might be interested in what is the best elk hunting rifle.
However, this isn't a starter rifle if you are a novice shooter or are otherwise not familiar with shooting rifles. This is not what we would consider an entry-level rifle. On the flipside, however, if this is the first rifle that you shoot, it will definitely set the bar for all other rifles you will shoot in your lifetime. Everything else will probably seem gentle after you shoot a Mosin Nagant M44.
I absolutely love just about everything this rifle offers because it is hard to do any damage to it. Plus, it rarely malfunctions, if ever.
When you walk onto the range with this historical piece, all eyes will be on you!
Recommended Reading