I currently own a Gen 3 Glock 19 as well as a Glock 21. They are both great little pieces that are well-built and have served me fantastically for the last few years.  But if I had to choose one thing to change about most Glock handguns, it would have to be the barrel.
Glock is one of the few handgun manufacturers, that I have found who actually stock their firearms with high quality… everything. I have never had any reason to question them, replace them, or modify them. The only thing I've ever done to either of my Glocks has been the addition of an aftermarket sight and some basic grip stippling.
Here 's why…
Get Great Guns and Ammo Deals!
---
The Problems With the Glock Barrel
Glock does a superb job at making firearms that give reliable performance time and again. However, there are two glaring issues facing their OEM Glock barrels.
– They Don't Accept Lead Ammo
The barrel that comes stock on most Glock handguns is what is known as polygonal rifling. They do have some octagonal rifled stock Glock barrels available but they are few and far between in my experience. While there is nothing inherently wrong with using a polygonal barrel, it does have one major downfall… You really shouldn't put lead-based ammo through it.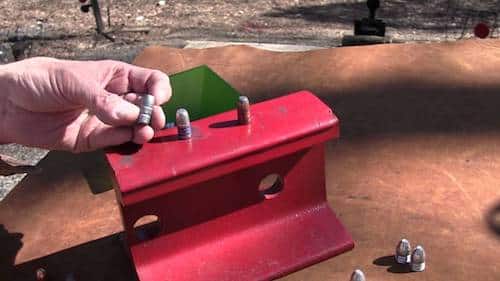 Many brands of handguns use polygonal rifling in their barrels. However, Glock is the only one that I know of that goes out of their way to warn their customers against using lead ammunition.
Why Can't Use Lead Ammo in a Glock?
The reason behind this is a bit complicated, but it has to do with how easily this rifling design can build up lead after moderate use. When this happens, you may be facing a potential safety issue. This is what is commonly known as "leading". And when it comes to firearms, safety should always be your number one concern.
If you want to know more about how a barrels twist and overall design determines what ammunition you should be using, check out this post.
– They Aren't The Best For Competition Shooting
Aside from the issue of leading, having an aftermarket barrel can be beneficial for competition shooters. The standard Glock barrel is perfect for shooting most standard manufactured ammunition. But for higher end ammo that you will undoubtedly be flying through with epic speed, you would be better suited with an aftermarket Glock barrel with tighter grooves and a fully supported chamber.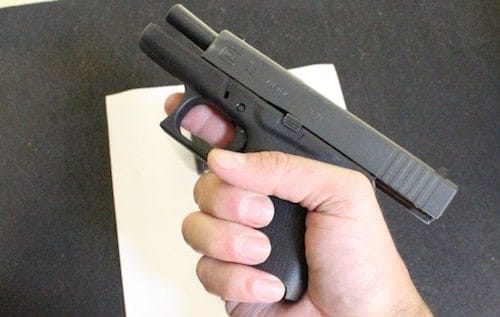 If shooting unjacketed lead ammunition or performing in competition with high-end ammo, you may find there to be little reason to change out your OEM Glock barrel at all.
But for those who feel it is time for a change…
---
Best Glock Barrel Upgrades
Here are our picks for the top 3 Glock barrels available on the market at the time of writing.
There is nothing quite like a good ZEV Technologies Glock barrel. They are better than average but affordable, and they are what I would consider to be a mid-grade barrel.  Best of all, they are known as a drop barrel, or "drop-in barrel" because of how easy they are to install and remove.
These barrels are machined using only pre-hardened chromium 416R stainless steel once used in the manufacturing of match grade rifle barrels. It is this material that provides ZEV barrels with enough strength and durability to withstand typical chamber pressures.
Every barrel is designed for extremely tight tolerances. And the folks at ZEV absolutely nail down the design with perfection on every single barrel that leaves their factory. As a matter of fact, they boast that their barrel bores are some of the most precise in the entire industry.
ZEV Technologies is known for double-checking all of their groove dimensions to make sure you have the best cut rifled barrel possible. Then, everything is put through a process of being double honed. This is where that rough it out a bit and apply finishing touches until they have a minimum surface finish of 16 RA.
Both the standard and the threaded versions of the ZEV Glock barrels are available with ½ x 28 threading so you can attach a suppressor.
| Pros | Cons |
| --- | --- |
| Constructed of pre-hardened chromium 416R stainless steel | Finish rubs off very quickly, revealing the base metal |
| Double-honed | Thread protector has been known to not stay tightly screwed on |
| Easy to clean | |
| Even easier to install | |
Comes in:
Glock 17 Threaded Barrel Up to Gen 5

Glock 19 Threaded Barrel Up to Gen 5
---
Trying to be a little bit more budget-conscious but still, want to own a superbly built barrel? You need to look no further than the Victory First series.
These barrels are fully machined from high-grade 416R stainless steel, displaying a high level of  American craftsmanship. After having been constructed, Brownells makes sure to put every single barrel through testing scenarios. They go the extra step to ensure that you are getting a barrel that showcases impressive accuracy and solid reliability.
All of the Victory First barrels come with an 11° recessed crown to protect the critical rifling near the muzzle. This is by far one of the most important parts of your barrel as it relates directly to your accuracy. One tiny nick or leftover metal shavings on your muzzle crown and it can put you wildly off your mark time and again.
This recessed crown design is the design I prefer my barrels to feature. And Let me tell you, the Victory First has not disappointed.
Additionally, you can choose 1/2″ x 28 TPI muzzle threads to give you easy mounting options for your favorite suppressor or compensator.
| Pros | Cons |
| --- | --- |
| Recessed crown design | Had a bit of trouble getting my suppressor attached |
| Constructed from high-grade 416R stainless steel | |
| Black Nitride finish | |
Comes in:
Glock 19 Threaded Barrel

Glock 34,  Threaded Barrel

Glock 21, 23 Threaded Barrel

Glock 22, 43 Threaded Barrel

Glock 17, 20 Threaded Barrel

Glock 20 Threaded Barrel
---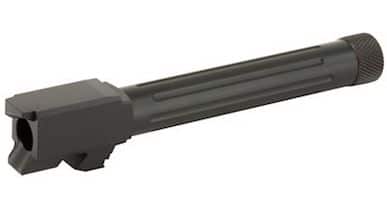 Coming in third on our list is the Alpha Wolf barrel from none other than Lone Wolf. No matter whether you are a Glock enthusiast or not, I am sure you have heard of this legendary company. After all, it is Lone Wolf that truly put Glock modding on the map in a big way.
The Alpha Wolf line of barrels continues in the tradition of modding that its parent company started in part. What really sets this apart not only from the Glock OEM barrels but from most aftermarket barrels as well, is the fact that it relies on a traditionally rifled barrel.
That's right, there are absolutely no inner twists or other designs, just a plain, smooth bore. Fire all the lead ammo you want out of this thing without any of the typical quick build-up associated with polygonal rifled barrels. We still recommend having a gun cleaning kit on hand, though.
When it comes to its core construction, the Alpha Wolf barrels are made of certified stress relieved 416R stainless steel. After construction, they are heat treated to RC 40-42 and then finished in a premium  Salt Bath Nitride coating that is similar to Tennifer and increases the surface hardness of the barrel.
If you are looking for an inexpensive smooth bore barrel, the Alpha Wolf may be just what you are looking for.
| Pros | Cons |
| --- | --- |
| Smooth bore | No custom crowning or chambering |
| Made of 416R stainless steel | |
| Fits all Glock generations | |
| Budget-friendly | |
Comes in:
Glock 35 Threaded Barrel

Glock 22, 31 Threaded Barrel

Glock 23, 32 THreaded Barrel

Glock 27, 33 Threaded Barrel
---
So Which One Is The Best Glock Barrel Upgrade?
All of the barrels that found themselves a spot on this list were chosen carefully. They had to first live up to a few specific requirements. First and foremost, they had to be able to perform above par. Especially in comparison to an OEM barrel in regards to precision and muzzle velocity. Furthermore, they needed to be able to fire lead ammunition. And finally, they needed to be able to fit most Glocks.
Out of all the barrels here, if I had to choose one as the best in all areas, the winner would easily be any one of the ZEV Technology barrels.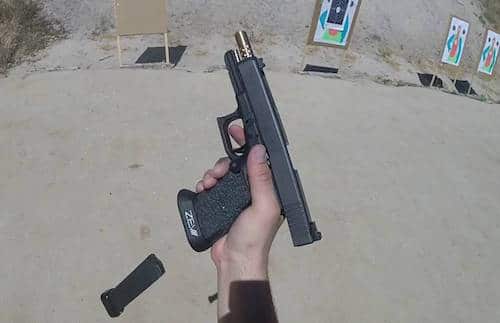 While the other two are both very close runner-ups, they lacked the ease of use When it comes to installing or removing them. They both sit on opposite sides of the scale in that regard, in my honest opinion.
ZEV Technology barrels can be a bit on the expensive side but believe me when I tell you that the price is justified. You cannot go wrong with a ZEV Glock barrel.
Glock Barrel Length Specs
Below are the different barrel lengths for common Glock pistols:
| Glock Model | Barrel Length |
| --- | --- |
| Glock 19 Barrel Length | 4.02 Inches |
| Glock 17 Barrel Length | 4.49 Inches |
| Glock 43 Barrel Length | 3.39 Inches |
| Glock 23 Barrel Length | 4.01 Inches |
| Glock 44 Barrel Length | 4.02 Inches |
| Glock 21 Barrel Length | 4.6 Inches |
---
Glock Barrel Upgrades – Final Thoughts
Glock produces some of the most reliable and solidly built firearms available on the market. And most of the time, the barrels directly from the factory floor are more than suitable for most cases.
If you want to fire lead ammunition out of your completely stock Glock, your only option is to pick up an aftermarket barrel. Additionally, you might want to take a look at the best Glock sights available, as well as the best Glock 42 holsters.
If you decide to pick yourself up one of the barrels we've gone over in this article, drop us a comment below and let us know how it's working for you!
Recommended Reading