Georgia Senator Raphael Warnock warned "nobody is safe" amid the continued plague of gun violence sweeping the U.S. after a mass shooting killed one and injured four at an Atlanta medical facility.
The Democrat's speech came after five women were shot, including one fatally, in a waiting room of Northside Hospital Medical in midtown. The suspect was identified as 24-year-old Deion Patterson after an hours-long manhunt that resulted in his arrest in nearby Cobb County Wednesday night, the Atlanta Police Department said. A department spokesperson told Newsweek there were no updates as of 6:54 p.m.
The wounded victims are "fighting for their lives" at a local hospital, Atlanta Mayor Andre Dickens said during an afternoon press conference.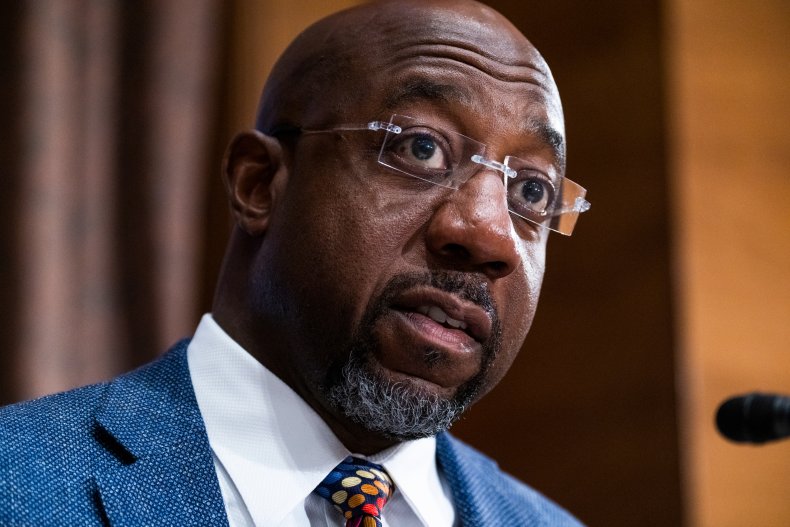 The location of the shooting, a hospital, prompted Warnock to warn Americans that nowhere is safe from the threat of gun violence.
"It is not right for us to live in a nation where nobody is safe, no matter where they are," Warnock said on the Senate floor as he listed off the numerous places mass shootings have occurred, including schools, movie theaters, workplaces, churches and concerts.
"We're not safe in our own yards and in our own homes," Warnock said. "And now, today, we can add medical facilities to that list. And still we have done so very little in this building to respond."
Newsweek has reached out via email and social media to representatives for Warnock and the National Rifle Association.
Warnock denounced the nation's latest mass shooting, saying it was the second time he was forced to give such a speech, referring to the 2021 shooting at a spa that left eight people dead—six of them women of Asian descent.
"I think that the unspoken assumption is that this can't happen to me," Warnock said. "That this won't happen to me, it won't happen to people that I love. But with a mass shooting every day, the truth is the chances are great. I shudder to say it, but the truth is in a real sense, it's only a matter of time that this kind of tragedy comes knocking on your door."
Warnock, a pastor whose two young children were in lockdown because of the shooting, said that although he will be praying for those affected, "thoughts and prayers are not enough."
"In fact, it is a contradiction to say that you are thinking and praying and then do nothing. It is to make a mockery of prayer," he said.
Warnock slammed gun lobbyists, saying they're interested in trying to "line their pockets even at the cost of our children."
He said opponents of gun-control legislation argue the hundreds of mass shootings per year are a "cost of freedom," adding that the "slow-moving tragedy" throughout the country is actually the price of "blind obstinance" by refusing to change course despite evidence, "demagoguery" and greed.
Congress in January 2022 passed the Bipartisan Safer Communities Act, the first gun-control law in nearly 30 years, and that same year at least 639 mass shootings occurred across the U.S., according to the Gun Violence Archive, which defines such an event as four or more people shot in a single incident, not including the shooter.
Warnock said the legislation falls short, calling on lawmakers to come together to create new tougher laws.