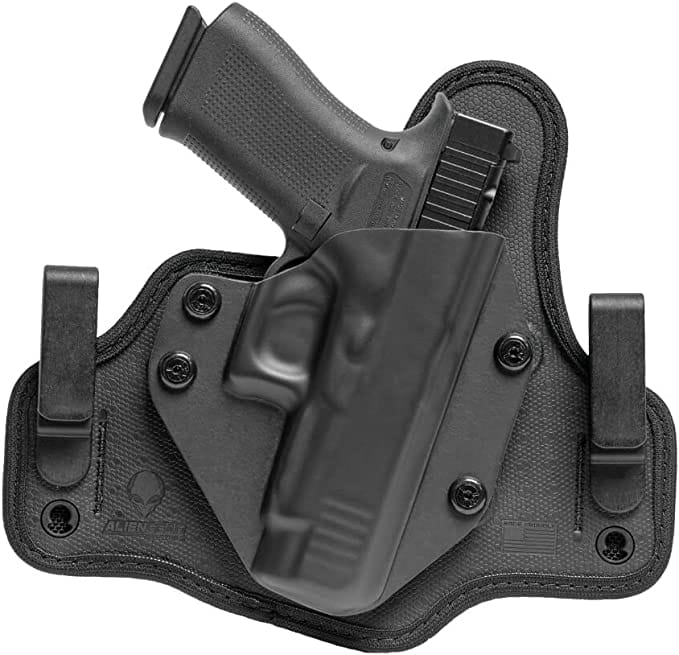 The Glock 19 is one of my all time favorite guns for CCW. It's ultra-reliable, looks sharp, and is extremely comfortable.  Thus, I've spent a lot of time looking for the ideal Glock 19 IWB holster for concealed carry.
When it comes to concealed carry, it's important to choose right Inside-the-Waistband (IWB) holster for yourself and your gun. When I say IWB, I mean that the holster rides between trousers and undergarments.
Many IWB holsters allow you to tuck your shirt in your trousers without concealing your firearm. When choosing the right Glock 19 IWB holster, consider the following factors among a few others: accessibility, comfort, and belt positioning.
Innovation brings out the best in any product and this is fairly important for holster users. If you are looking for an ideal IWB holster for your Glock 19, I strongly recommend the Alien Gear Cloak Tuck 3.5 IWB.
Alien Gear has had a reputation of being a company that constantly pushes its envelop forward and progresses towards newer ideas. AG's Cloak Tuck 3.5 will surely impress you.
Get Great Guns and Ammo Deals!
---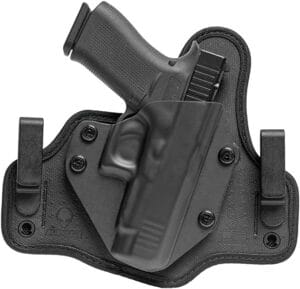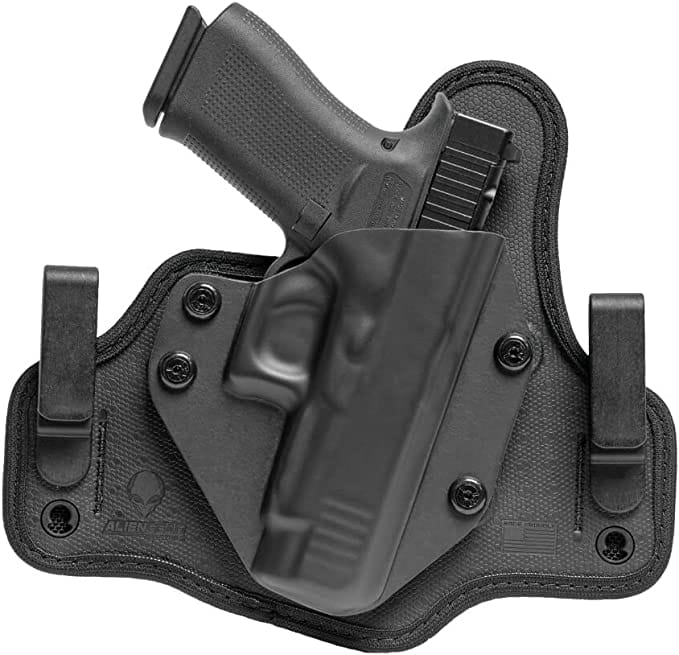 The concept behind the Cloak Tuck 3.5 is a hybrid design that incorporates different materials for different sections of the holster. First of all, a large back panel composed of various layers provides the interface to the holster's body.
The back panel offers comfort to the user and helps in equal distribution of the weight of the holster and the Kydex shell is rigid enough to secure your firearm.
The Kydex gun pocket further ensures that the holster's thickness remains to a bare minimum so that it can be effectively used for concealed carry. Let's go through some of the features offered by the Alien Gear 3.5:
Alien Gear Glock 19 IWB Holster Core Features
A Big Back Panel
The Alien Gear Cloak Tuck 3.5 is a perfect fit for the FNX-45 Tactical. It is generously spacious with a width of 10 inches and length of 9 inches. The large surface area helps distribute the holster's weight more uniformly. From the inside out, the holster's layers have different functions.
For instance, the body side is made out of neoprene. This material is used for providing comfort to the user. It is soft and waterproof so you don't have to worry about your sweat making its way from your body to your firearm. In the center lies a new flexible steel band placed right behind the gun mount area.
It is sandwiched between layers of ballistic nylon so that the steel band does not penetrate the soft neoprene layer over time. The steel band in the Cloak Tuck 3.5 is stands 3 inches tall and 4 inches wide.
It is flexible and so, while it provides support, it will contour to your waist. Coming to the holster's outside layer, it is made up of "alien skin" material, which essentially is a thermoplastic polymer having a kind of turtle-shell, leathery and rubbery texture.
Adjustable Retention
This holster's flexible back panel uses four Allen screws with green spacers. The good thing about this design is you can adjust the retention independently by tightening or loosening these screws according to whatever setting you feel comfortable with.
The Cloak Tuck 3.5 comes along with two plastic belt clips compatible with a 1.75-inch belt. These belt clips serve as an aggressive hook that catches under the bottom edge of the belt.
This hook comes in very handy if you are in a situation where you have to perform an aggressive upward draw. Furthermore, you can choose optional leather snap loops, steel spring belt clips, and 'J' or 'C' type clips. For most, you may find the standard clips most secure.
One of the most important features of this holster is that it provides adjustment for the cant angle or overall depth of carry relative to your belt line. If you mount the back and front clips in different holes, you can easily angle the whole rig inclined forwards or backwards, according to what you feel would suit you best.
Moreover, you can also lower and raise both clips together to adjust where the holster (and your gun) would ride along your body. Alien Gear also includes a sequence of soft green spacers, each of varying thickness, so that you may adjust the spacing between the clips of the Kydex shell from the back panel.
Performance
If you want to gauge the performance of any concealed carry holster, you will have to test it along three primary characteristics. First, the holster needs to keep the gun stable and in proper orientation so as to enable it for quick draw.
Second, it needs to cover the trigger and secure it properly. Third, it must keep your firearm in your possession throughout a range of movements.
When you put the Cloak Tuck 3.5 to the test, you find the ease of dealing with the weight of a fully loaded gun (high-capacity .45 ACP) a surprise. The belt clips on this holster are approximately 9 inches apart, a feature that really makes it worth your while, especially when coupled with a large back panel, to hold your firearm in the desired orientation.
As far as the trigger guard is concerned, this holster encloses the trigger area with molded Kydex shell, properly securing it. The neoprene layer further grips the body, adding light friction against your body to keep your gun firmly fixated into place throughout your journey.
Comfortable
If you have had experience with the Cloak Tuck 2.0, you might know how comfortable it is. The 3.5 is even more comfortable. The addition of spring steel serves as an extra backbone in order to make the holster more stable (and less flexible). This ensures that your firearm is not digging into you when you are sitting.
Concealability
The 3.5 offers just as good concealability as its previous variant, 2.0. Since it offers adjustable cant and ride height, it is capable to fit in with any concealed carrier's needs as a good tuckable IWB holster.
The Cloak Tuck 3.5 is designed to be fully tuckable, so you can tuck in your shirt without having to reveal that you are carrying a firearm.
---
Other Great Glock 19 IWB Concealment Holsters
The We The People Holsters Glock 19 IWB Kydex Holster is famous for the comfort and security it offers. It is made up of high-quality kydex material and works impressively to secure your firearm's trigger in order to avoid accidental misfire.
The adjustable cant allows you to carry your gun in two different positions, the traditional and appendix carry positions. Perhaps one of the best features that this holster boasts is adjustable tension.
Adjustable tension allows your gun to be firmly secured in the holster in the most comfortable manner possible. Here are some features including advantages and disadvantages of using this holster:
This holster is made up of top quality leather supplied by the world's best tanners. The leather ensures that the gun stays protected from scuffs.In terms of aesthetics, nothing can match this holster's stylish texture and feel.
The B890-G19 is a small sized holster which can perfectly fit inside your waistband and can be effectively used for concealed carry. It can easily be clipped on to shirts, pants and even skirts given its compact size. The holster is also quite comfortable and drawing your weapon can be done in a smooth and swift motion.
This holster boasts a sleek, minimalist design having a low profile. So much so, it can be worn on any kind of trousers or pants keeping your firearm safe and concealed. Regarding concealability, the Blade-Tech leaves an insignificant imprint barely noticeable.
It also offers a signature click when you place your gun inside the holster and it is locked away to safety. In terms of accessibility, the Klipt Appendix offers you to easily draw out your gun when needed. This holster is specifically designed for the providing optimal utility. It is made from a lightweight material. Here are some core features of this product.
---
Glock 19 IWB Holster – Final Thoughts
Even though there are other good holsters available in the market, not all of them are conveniently priced. The clear winner of this round up, as far as Glock 19 holsters are concerned, is the Alien Gear Cloak Tuck.
It offers comfort, good quality and an overall good value to your investment. To top it all, the Alien Gear also offers what it calls the Iron Clad Triple Guarantee. If anything breaks, the company will have the holster replaced free of charge.
However, do not take this absolute judgment. Everyone has a different criteria of needs fulfilled. It is important to research before you draw any conclusions.
If you're a Glock owner, we'd love to know how you feel about the Glock 17 and Glock 19 – which one is better? Let us know in the comments! 
Recommended Reading
Glock 19 Gen 3 VS. Glock 19 Gen 4