The second purchase most gun owners make after they buy a new handgun like the M&P 45 is a holster to carry it in. But with so many makes and models of holsters out there, this can be a hard decision to make. Much of your decision depends on how you plan to use your gun, and whether you intend to conceal or open carry.
After doing some homework and testing several of the highest-rated holsters for the M&P 45, my choice as the best overall value is the CYA Supply Co. IWB Holster. This holster is lightweight, comfortable to wear and draw from, has good retention, and is made in the USA by a veteran-owned company.
Get Great Guns and Ammo Deals!
---
So What are the Best Holster Options for Your M&P 45?
As mentioned earlier, much of this depends on exactly how you plan to carry and use your firearm. If you just need a simple holster to wear around the neighborhood, then your decision will be different than someone who wants to carry a secondary firearm around their ankle.
Another important factor is whether or not you plan to open carry or conceal carry your M&P 45. You'll also want to factor in your dominant hand. A good number of holsters are designed for right or left-hand-draw only, while others are ambidextrous. And some shooters prefer to cross-draw from their non-dominant side.
If you'd like some additional information about the various types and models of holsters, here's a video you might find of interest:
---
M&P 45 Holster Types Explained
While there are a host of holster makes and models available for the M&P 45, for this review I've narrowed it down to the following types: IWB, OWB, pocket, shoulder and pancake holsters
Inside the Waistband IWB Holsters
If all you need is a minimalist holster to wear around the house or the neighborhood, an inside-the-waistband, or IWB holster might be your best option. IWB clip or slide onto your belt or waistband, and they can be worn in every position from your appendix to the small of your back. These belts are usually made from a plastic polymer like Kydex, or nylon or leather.
Belt Clip or OWB Holsters
Even though they're not as easy to conceal, many times a belt holster worn outside the waistband will be your most versatile and best option. Belt holster either clip onto your belt, or the have a pair of slots to slide your belt through (or both).
OWB belt holsters are popular with the military and law enforcement officers, and people who open carry. Most gun owners wear OWB holsters slightly behind the hip and close to the body. If the gun and holster is thin enough, they can be concealed beneath suit, loose shirt or jacket.
Pancake Holsters
Pancake holsters are another form of OWB or belt slide holster, but they're designed to be flatter and smaller to facilitate concealed carry. These pancake holsters are usually made from two separate pieces of leather or polymer plastic, and the handgun is sandwiched in between.
The holster attached to the belt via a pair of slots, and is usually worn on the hip or toward the rear of the back. Since their thinner than other OWB holsters, they're easier to conceal beneath your clothing.
Pocket Holsters
Pocket holsters are another popular choice for concealed carry. As you might imagine, these holsters fit into your front or back pocket, and they're made to keep your gun clean and in the proper position for drawing.
Drawing from these hostlers takes some getting used to (you don't want your holster coming out of your pocket with the gun), usually you'll get the hang of it with some practice. Do be aware that pocket holsters work best will smaller revolvers and automatics.
Shoulder Holsters
While not the most popular choice, shoulder holsters can be a good option, especially if you're a driver or you spend a lot of time sitting down. Shoulder holsters typically consist of two straps that run over the shoulders and beneath the armpits.
The handgun is holstered on one side, and a pouch for spare is attached to the strap on the other side. Depending on the holster, the gun is positioned vertically or horizontally beneath the shooter armpit. Be aware that there are safety concerns when drawing from a shoulder holster. You'll want to get in a lot of practice time if you choose this option.
---
M&P 45 Holster Options Reviewed
Okay, now that we've gone through several of the holster types, let's look at some holsters that were designed for the M&P 45. While this is an admittedly incomplete sample, all of the holsters below are made by reputable companies and have lots of positive reviews by satisfied owners.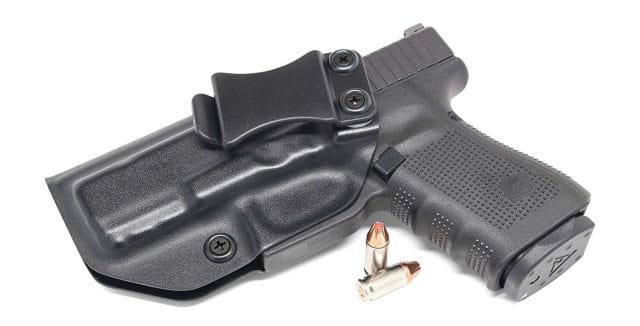 This Concealment Express model is an inside-the-waistband holster that's great for concealed carry. It has adjustable carry angle and retention, and it's designed and manufactured in the USA.
| Pros | Cons |
| --- | --- |
| The holster material is .081" Kydex polymer plastic, which means the holster is thick enough to keep its shape and structural integrity for many years, while at the same time adding very little to the weight or size of your firearm. | There's a slight problem with this holster when it comes to the belt clip. There's little in the way of adjustment for the clip. Causing it to attach poorly at times. This problem seems to crop up more with thin belts. One solution would be to re-design the clip with an aggressive hook on the bottom allowing it to latch onto thin belts. |
| These holsters have a full sweat shield that help to keep your M&P 45 dry and also helps to guide the firearm when you're drawing and re-holstering. | Also the gun sights aren't covered with this holster. They can scrape against your skin with this holster. This is less of an issue if you wear at the three or four o'clock position. |
| The trigger area on each holster is fully covered for your safety. | |
| The Concealment Express has a Posi-Click Audible Retention Lock system that makes an audible click when your weapon is properly holstered. There's also an adjustment for retention pressure. | |
| The carry angle or "cant" is also adjustable from 0 to 15 degrees. This allows the holster to be used in just about every popular carry position, from back, side, hip or appendix. | |
This is another inside-the-waistband concealed carry holster. This holster is made from Boltaron, which CYA Supply Co. uses in their holsters to give them higher temperature and impact resistance. This is another holster designed and made in the USA, by a veteran-owned company.
| Pros | Cons |
| --- | --- |
| This holster was designed with reduced friction in mind. Reliefs are included for slide release, safety, etc., which results in a smoother draw and re-holster, and less wear on your firearm. | I had a hard time finding any negatives with this holster. Just be aware that like all IWB holsters, it may not be comfortable if you wear tight pants, if you have a large waistline, or if you're seated for long periods of time. |
| Adjustable carry angle, or cant. Holster is adjustable from 0 to 15 degrees using a hex key that's provided with the holster. | |
| The holster is lightweight, thin, comfortable, and conceals well. | |
| We have taken the major wear and friction points out of this holster. In most Kydex holsters, makers mold straight to the shape of the gun, this includes the slide release, safety etc. | |
| As mentioned earlier, these holsters are made from Boltaron thermoplastic, which is similar but superior to the Kydex used in many holsters. Boltaron is almost indestructible, and it's chemical resistant, abrasion resistant, and it keeps it shape better than Kydex even under extreme temperatures and conditions. | |
This is an outside-the-waistband paddle holster made by Blade Tech Industries. The holster is injection molded from tough polymer plastic, is stable and impact resistant, and is designed for right-handed shooters only.
| Pros | Cons |
| --- | --- |
| The super-tough polymers used in these holsters keep their shape. From 30 degrees below zero to 300 degrees, meaning the holster will retain the same fit, look and feel after many years of use. | One issue with this holster is its tendency to cause your magazine release button to be depressed when re-holstering. This can cause the magazine to slide out the rear of your firearm. |
| This Revolution Holster comes with a "3 Position" ASR belt attachment. So the owner can convert it from belt to paddle carry when desired. | Another consideration is because these holsters are made from rigid plastic. Instead of more flexible leather. They can be uncomfortable if you sit for long periods of time. |
| The ASR belt loop and paddle are fully adjustable. The holster can be configured for muzzle-forward, straight drop, or FBI carry. The holster fits belts from 1.25" to 2.25" | |
| The Blade Tech holster offers Level 1 retention. It can be adjusted to different tension levels by the user. | |
---
M&P 45 Holster – Best 2023 Concealed Carry Options – Conclusion
As I mentioned at the beginning of this article, I found the CYA Supply Co. IWB Holster to be the best overall value among the three holsters tested. It concealed well, was comfortable even after hours of use, provide a smooth, positive draw, and was well made. And as a bonus, the company is veteran-owned and based in the USA.
Recommended Reading
Concealed Carry Compact Holster For MP 22
Top Concealed Carry M&P 9c Holster
Glock 43 VS. Smith And Wesson M&P Shield