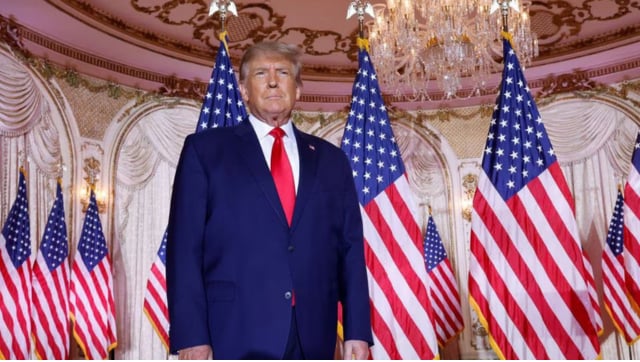 Former US President Donald Trump returned to New Hampshire on Thursday for his first election campaign since President Joe Biden launched his own re-election bid, heading for a potential 2024 rematch in the race to the White House.
The appearance at a downtown Manchester hotel, expected to be a smaller event than Trump's typical large rallies, also marks his first return to an early voting state since his legal troubles surged. Earlier this month, he pleaded not guilty in New York to a 34-count felony indictment charging him with a scheme to bury allegations of extramarital affairs that arose during his first White House campaign.
Trump's appearance in New Hampshire comes two days after Biden kicked off his own long-expected re-election bid, presenting himself as he did in 2020 as a buttress against Trump and his Make America Great Again political candidacy. Biden's campaign launch video included snapshots of Trump and warned of "MAGA extremists" working to erode freedoms including voting rights and abortion rights.
Trump is expected to use the event to roll out new endorsements for his campaign and speak about the economy and the opioid epidemic, among other subjects.
The former US President is considered a front-runner for the GOP nomination, though more Republicans are expected to jump into the race soon, including Florida Gov. Ron DeSantis. Trump's campaign this week started airing its first television ad, which assails DeSantis. In the ad, Trump takes credit for DeSantis' political rise and shows the governor yoking himself to the former president, including clips from a 2018 gubernatorial campaign ad in which he uses some of Trump's catchphrases like "Build the wall" and "You're fired".
Two weeks ago, Trump appeared with several other announced and potential presidential candidates at the National Rifle Association convention in Indianapolis. Last weekend, he spoke by video to a gathering of evangelicals in Iowa that marked the unofficial start of the state's 2024 caucus campaign. But even as the campaign season moves ahead, Trump's legal worries aren't decreasing.
A civil rape case against him went to trial in Manhattan this week. A former magazine columnist testified on Wednesday that she was raped by Trump in the dressing room of a luxury department store in 1996. Trump has called the claim fiction and has not yet attended the trial, though his lawyers say he could decide to testify.
Trump is also facing ongoing probes from the US Department of Justice over top secret documents found at his Florida estate and his efforts to undo the results of the 2020 presidential election.
Trump has dismissed all accusations of wrongdoing and has insisted the investigations are politically motivated.
Read all the Latest News, Trending News, Cricket News, Bollywood News,
India News and Entertainment News here. Follow us on Facebook, Twitter and Instagram.