Republican Senator Marsha Blackburn has come in for ridicule over offering a free pizza cutter to anyone donating $20 or more to her re-election campaign.
In a video posted to Twitter, the first-term Tennessee senator told followers how she is "fighting to cut red tape in Washington" but needs their support.
"If you pledge $20 today I'll send you your very own made-in-America pizza cutter," she says in the ad. "Together we can cut the red tape in Washington once and for all."
The pizza cutters feature the words "Marsha, Marsha, Marsha Cutting The Red Tape" in white font against a Republican red background.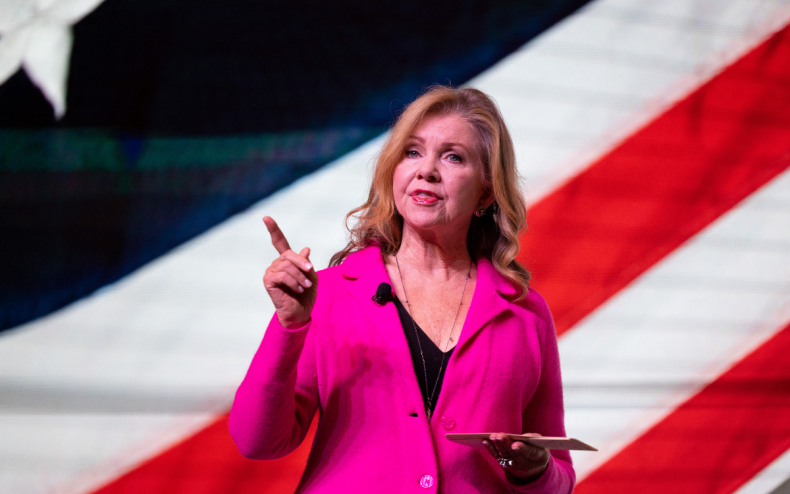 Upon entering the website, users are presented with a "low stock alert" which suggests demand for the pizza cutters has been high. "Claim now before we sell out," an accompanying caption reads.
This is not the first time campaign merchandise has courted controversy with Ron DeSantis previously garnering attention after he sold hats, flags and t-shirts mocking Dr. Anthony Fauci on his official website in 2021.
Newsweek reached out to Blackburn via email for comment.
While demand has supposedly been high for Blackburn's pizza cutters, the response on social media has been anything but positive, with the Tennessee senator coming in for a considerable amount of ridicule.
One Twitter user branded Blackburn an "extra cheesy MAGA grifter" off the back of watching the video, while the account for the podcast No Lie with Brian Tyler Cohen asked: "Is this a sitting US senator or a QVC audition tape?"
Some were convinced it was all part of some elaborate comedy sketch. "Is this for real? It's not parody?" one Twitter user wrote, with another tweeting: "I thought this was an SNL parody!"
Elsewhere, the video was called "the worst thing that's ever happened to pizza" which, in a world where ham and pineapple pizza exists, seemed pretty damning.
"Hawking toilet paper would have been more appropriate," one user quipped while another joked: "I'm telling my grandkids this was Pizzagate."
A third, meanwhile, tweeted: "I would rather cut my pizza with a rusty mower blade before I donate a dollar to any more political hacks."
Some also felt the choice of pizza cut was a telling one. "A pizza cutter seems like the worst possible tool to cut tape, so this tracks," they wrote.
Not everyone saw the funny side though, with one Twitter user writing: "Kids are dying in your state by gun violence and you're selling pizza cutters???" Another tweeted: "Tennessee needs a new senator," with a third calling it "a new low."
The pizza cutter campaign also comes at a time when lawmakers in Tennessee are under pressure to introduce new gun safety legislation, following the mass shooting at an elementary school in Nashville that left three 9-year-old students and three adults dead.
Blackburn's name was previously featured on a list of Republican Senators who receive funding from the National Rifle Association.
The senator is no stranger to criticism or online mockery. In March, Blackburn was widely derided on Twitter after posting a video attacking a proposal made by the Biden administration to make washing machines more efficient.