There is growing speculation that Donald Trump will face a second indictment over the summer, when the former president will learn whether he's being charged over his alleged attempt to overturn the 2020 presidential election result in Georgia.
On Monday, it was revealed that Fulton County District Attorney Fani Willis had written to local law enforcement saying her "charging decision" would be made between July 11 and September 1, and noted the "need for heightened security" as a result.
Polling shows Trump is the current frontrunner to be the Republican Party's 2024 presidential candidate, meaning any additional indictment could have a significant impact on the upcoming White House race. On April 4, Trump became the first former president in U.S. history to face criminal charges when he was arraigned in New York over claims he orchestrated the payment of hush money to former adult film actress Stormy Daniels.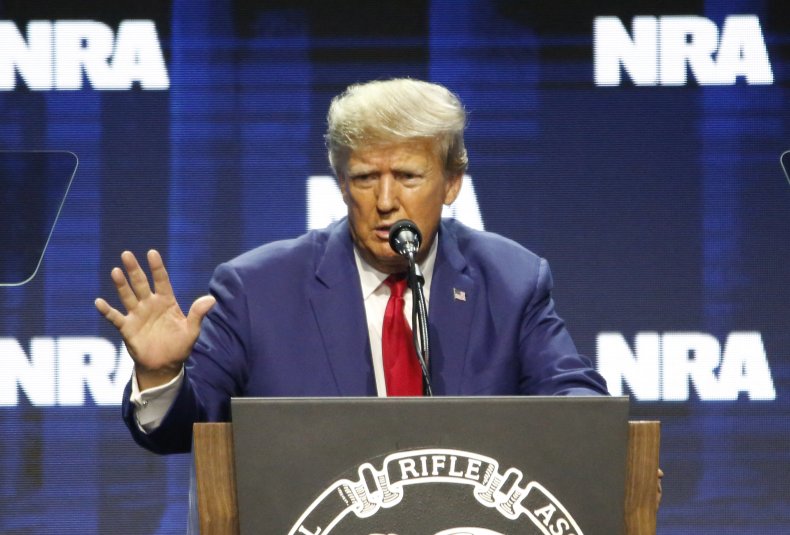 Willis said on Monday that in the "near future" she will "announce charging decision resulting from the investigation my office has been conducting into possible criminal interference in the administration of Georgia's 2020 General Election."
Addressing law enforcement agencies, she continued: "I am providing this letter to bring to your attention the need for heightened security and preparedness in coming months due to this pending announcement.
"I will be announcing charging decisions resulting from this investigation during Fulton County Superior Court's fourth term of court, which will begin on July 11, 2023, and conclude on September 1, 2023."
Willis said her decision "may provoke a significant reaction," noting law enforcement needs to be "ready to protect the public."
A number of legal experts have suggested the language in Willis's letter indicates charges against Trump are likely.
Shanlon Wu, a former federal prosecutor, focused on the "significant public reaction" warning in a Twitter post.
He commented: "Declinations usually don't cause that reaction…indictments do."
Harry Litman, a former deputy assistant attorney general and legal commentator, made a similar argument.
He tweeted: "She said announcements 'may provide a significant public reaction,' which certainly sounds like charges."
Newsweek has contacted Donald Trump for comment via the contact form on his official website.
The case against Trump is focused around a call he made to Georgia Secretary of State Brad Raffensperger in January 2021, when he asked his fellow Republican if he could "find 11,780 votes."
Trump has denied any wrongdoing and continues to insist the 2020 election was rigged against him, though this has been widely rejected by independent legal and polling experts.
The former president is already facing charges in New York over claims he falsified business records to cover up the payment of $130,000 to Daniels, to stop her going public about an alleged affair ahead of the 2016 presidential election. Trump pleaded not guilty to all charges, and has denied ever having sexual relations with Daniels.
Separately, special counsel Jack Smith is heading two investigations into Trump, into his handling of classified documents and the January 6, 2021 storming of the U.S. Capitol by hundreds of his supporters. Trump has insisted he didn't break the law in either case.