When it comes to transporting guns, safety and reliability are critical. This is especially the case with ATVs. We use our ATVs to traverse rough terrain and move around off the road, so poorly mounted guns prone to falling off are not an option.  This makes an ATV gun rack an essential item for keeping guns safe and undamaged, and ensuring accidents don't occur.
There are a few great companies well aware of this need who are making racks to keep ATV riders safe, mobile, and well-supplied.
But in practice, there are a huge number of ATV gun racks out there for sale. And not everyone has the time to go looking, investigating, and spending time figuring out which one to buy. That's why we wrote this list of the best ATV Gun Rack options.
We looked over reviews, considered our own experience, and considered thoroughly the best and most popular products out there to determine which ATV gun racks are worth the money, and which ones are worth recommending. Here's the result: the best ATV gun racks to be found today.
Get Great Guns and Ammo Deals!
---
Best for: Best all-around gun rack

Price: Affordable
Kolpin is a well-known name among gun racks. The company produces a range of products that have earned the trust of hunters everywhere for their sturdy build, reliability, and flexibility.
The Rhino Grip 21505 racks aren't just for ATVs. They're designed to fit onto almost any type of vehicle. Including SUVs, UTVs, RVs, trailers, trucks, and anything else (the 21505 even come in a window/wall mount version that means they can be used just about anywhere).
Supporting up to fifteen pounds each, the Kolpin Rhino Grips can handle firearms of a decent size. We've even heard of people using them to transport water skis, fishing poles, and all kinds of other items. The Kolpins win when it comes to offering a sturdy ATV gun rack that makes itself useful in other ways as well.
---
Best for: Sturdy, highly secure gun mount

Price: Bit more expensive
The Big Sky Sky Bar is designed to be mounted on the back of an ATV, Side by Sides, or up above in a truck – or just about anywhere. It's great for the secure fit it offers: the mount comes with adjustable brackets and a telescoping square bar that can be moved around to fit each gun and keep it snug and safely mounted.
Big Sky is well known for the sturdiness of their products, and the Sky Bar is no exception. It also comes with a great ceiling mount feature, which allows it to be mounted overhead and out of sight. The Sky Bar is a great option for mounting a gun safely on your ATV – and then transferring it to your UTV or truck when you feel like it.
---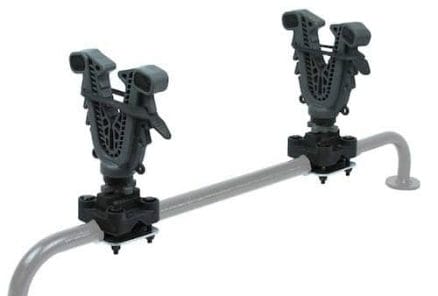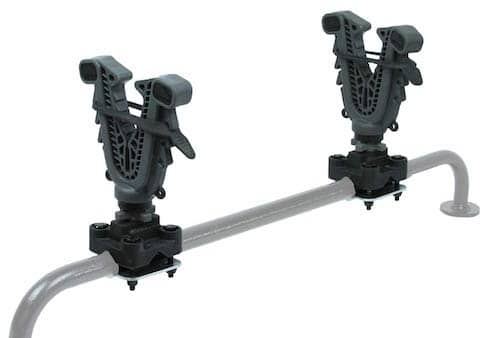 Best for: Flexible rack designed just for ATVs

Price: Reasonable
ATV Tek is a great company that designs quality racks and products just for ATVs. This VFG1 V-Grip (VFG stands for Variable Fit Technology) is one of the best racks out there. It can be adjusted to fit onto ATVs with racks from 0.5 inches to 1.25 inches, and the Variable Fit Technology can be adapted to fit rifles, soft guns, bows, and other firearms – or shovels, fishing poles, and tools of all other kinds, as many people have noted.
Plus, the VFG1 V-Grip is available in both a single and a double version. Both are sturdy and reliable, and designed to handle rough terrain and bumpy rides without guns and tools moving around and getting damaged. ATV Tek knows what it's doing when it comes to ATV gun racks, and the VFG1 is one of the best out there. Well worth checking out, along with the rest of ATV Tek's products.
---
Best for: Fitting anywhere on an ATV

Price: Affordable
The CoJo Gun Magnet is a bit smaller than some of the other racks on this list, and works with a different mechanism: it's a magnet designed to hold handguns and smaller firearms (though it can also help with rifles and larger guns, just not safely on ATVs).
The CoJo attaches nearly anywhere on the ATV. However, then by way of two 52-grade neodymium magnets secures your handguns. CoJo calls this rack the 'most versatile gun magnet on the market' – and we think there's more than a little merit to this claim. The CoJo Gun Magnet is small enough that it can be mounted nearly anywhere on an ATV, or any other vehicle, allowing easy access without taking up unnecessary space.
Great for combining with larger racks that hold rifles to maximize the transport capacity of your ATV, the CoJo is a cool accessory that belongs mounted on every ATV. Plus – it comes at a great price.
---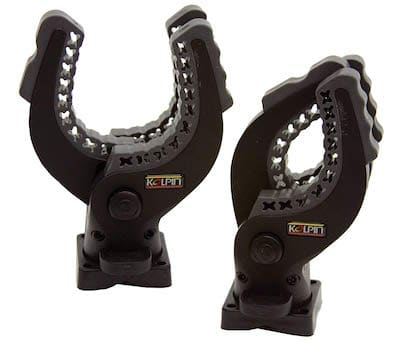 Best for: Flexible mounting for guns and tools of various sizes

Price: Reasonable
Another Kolpin product, but definitely worth a mention. Kolpin produces a wide range of racks, and they're all worth checking out. The Ratcheting Rhino Group is similar to the 21505, but we love it for its mega sturdy ratchet grip feature, designed to hold just about anything.
The grips clamp down to one inch in diameter. However, can also move up to four inches, and come as a pair that can be mounted anywhere. And the 21540 comes with a 'universal design' that can be mounted on tubed and square bars of all sizes. They also feature holes for drills.
We've seen the 21540s mounted and attached in some pretty creative ways. Also made to fit every kind of ATV you can think of. Definitely another Kolpin product worth checking out.
Recommended Reading
Best Hunting Accessories For Trucks