The Sig Sauer P238 is a popular choice for concealed carry. If you own one of these guns, you're going to want to get a holster that matches it for quality.
Due to the staggering number of holsters on offer, it can become confusing to know what to look out for and what to avoid. This review will help narrow down your choices by showing you 5 of the best holsters for the Sig P238.
Sig Sauer P238 Holster Quick Pick
It's not an easy choice, but my top pick would have to be the Sig Sauer Kydex Holster by Badger Concealment.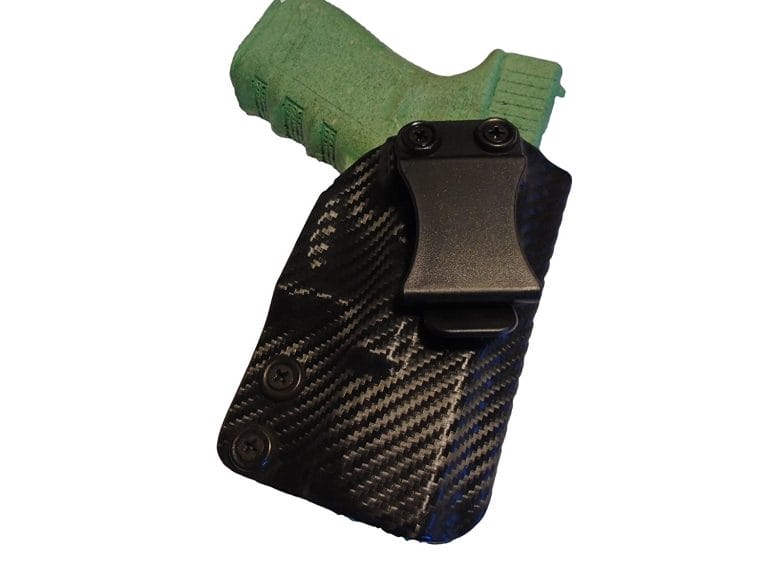 It's very difficult to find another holster that offers the quality and features of this one at such a cutthroat price.
Nevertheless, any of the P238 Sig holsters featured in this review are highly suitable for the P238. Take a look and see what you think!
Get Great Guns and Ammo Deals!
---
What Makes a Good Holster for the Sig P238?
There are a number of different factors we need to consider when purchasing a holster. Before we look at the different kinds of holster, we should first think about what a quality holster should offer:
Concealment
One of the primary motives for buying a P238 is for concealed carry. For that reason, it's always a good idea to have at least one holster in your collection that is a good and practical concealment option.
A decent holster will have certain design features to reduce the "print" of your gun and prevent any outside awareness that you are carrying.
All of the holsters in this review conceal well. If you want to find out more on the subject, check out these five dos and don'ts of concealed carry.
Safety
In order to prevent your firearm accidentally discharging, a good holster should at least cover the trigger guard of your pistol. In addition, it should be made of thick and sturdy enough material to prevent any trigger movement from the outside.
A truly safe holster will ensure your firearm remains holstered until you remove it yourself. A good way of testing that is by tipping your holster upside down and seeing if the gun slips out. More on that in the next section.
Retention
All holster feature at least some form of retention – some more than others. Retention describes how well your gun stays inside the holster.
Retention is usually described as either passive or active. Passive retention relies on friction to hold your gun in place. A lot of holsters have retention screws to adjust how tight your holster grips the firearm.
Active retention employs straps, buttons, levers, and so forth. These need to be manually released to draw your firearm, and provide a certain sense of security that your weapon won't come out by accident or be grabbed by someone else.
You'll also hear about different levels of retention, to find out more click here.
Comfort
Comfort should be foremost in helping you select the right holster. You may need to carry for extended periods of time at work or otherwise, and will need a holster that feels right on your body. That being said, even short journeys have the potential to become painful with the wrong holster.
What makes a holster comfortable often boils down to an individual's body type. It's worth trying a number of different options to find the best fit for you.
Durability
When you buy something you want it to last. The best holsters are made from quality, durable materials that should last you through thick and thin.
---
Sig P238 Holster Types
There are a number of suitable carry methods for the P238. Here are some of the main ones:
Pocket Holsters
As the name suggests, pocket holsters are designed to fit inside a pocket. Due to its compact size, this is probably the most popular carry method for the P238 – you will find a huge range of this kind of holster on the market.
Pocket holsters rarely feature anything more than passive retention, which can put some people off. Despite this, they often work very well with smaller-sized guns.
For a more detailed look at pocket holsters for the P238 check out this review.
IWB Holsters
Inside-the-waistband holsters are one of the most popular choices for concealed carry. They provide a simple yet very functional way of concealing your gun. They usually attach to your belt via a clip, and can be worn at a number of angles on your waist.
With the right holster, IWBs can be very comfortable. However, they often leave the grip of your gun exposed and this can tend to rub against your skin. Also, beware that carrying IWB means wearing pants a few sizes bigger.
OWB Holsters
OWB stands for 'outside the waistband'. It's the traditional form of carrying a handgun that is used by military and law enforcement. OWBs usually attach by looping onto your belt. Some holsters employ a paddle, which goes inside your pants.
OWB holsters are considered the most comfortable by some people. They also offer a quick draw. However, if you're not open carrying, you will require some form of garment to cover your pistol.
Ankle Holsters
If you're wearing long pants, ankle holsters offer a virtually undetectable way of carrying a firearm. A lot of people choose this carry method for backup shooters. They're also good for carrying when driving.
However, you will have to stoop down to draw, which will slow you down big time. And running is near enough impossible with ankle holsters, no matter how small your gun is.
---
Specific Holsters for the Sig P238
While we like the Badger option which we go into depth on below, we also have 3 other quality Sig P238 holster options.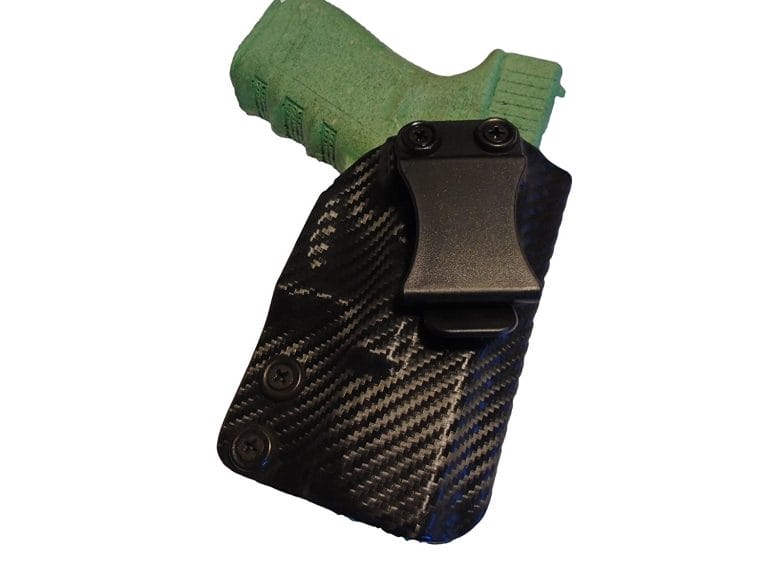 This is an IWB holster which is molded specifically for your firearm. It has a plastic clip which attaches to belts up to 1.5 inch thick.
For the price it's sold at, this holster has a lot going for it: it's comfortable to wear, and has a smooth draw and re-holster.
| Pros | Cons |
| --- | --- |
| It has an adjustable retention screw, which ensures your P238 is worn securely. | It's difficult to find many negatives with this holster. Some people complain about it rubbing a little when worn at different angles. |
| The sweat guard keeps moisture off your firearm and makes for easier re-holstering. | |
| It's also very lightweight – weighing in at only 3 oz. | |
Desantis are well-known for making quality holsters, and this pocket holster is no exception!
The outer material of this holster is bumpy and clings to your pocket, whereas the inside is made of a smooth cloth that allows for a frictionless draw.
| Pros | Cons |
| --- | --- |
| This is an ambidextrous holster that works well regardless of your strong hand. | Despite the clingy outer material of this holster, it can still have a tendency to come out of your pocket with your gun. Therefore, some practice is required with the Nemesis. |
| It's a lightweight holster. | |
| The core of the holster is packed with foam to break up the 'print' of your P238 – it also makes carrying more comfortable. | |
This is a simple yet sturdy nylon OWB that attaches either by belt loops or a steel clip.
It's available in both left and right-handed versions. So, don't go and order the wrong one!
| Pros | Cons |
| --- | --- |
| It has an adjustable thumb break, which allows you to use this holster with different-sized guns. | The clip is a bit stiff, making it hard to put on and take off. |
| There is a spare magazine pouch with a sturdy retention strap. | The magazine pouch lends a little to the overall bulkiness of this holster. |
| It can also work as a pocket holster, provided you have big enough pockets. | |
This is a neoprene ankle rig featuring an elastic retention strip that is held in place by a metal snap. It can be worn on either the left or right leg.
| Pros | Cons |
| --- | --- |
| It fits a range of guns. So, you can try it out with more than one weapon. | It straps to your leg with Velcro and, as we all know, Velcro will wear out with time. |
| It's available in two different sizes for different sized legs. | It can get a little hot on your leg. Unavoidable with ankle holsters, but worth thinking about. |
| ComfortTac offer a 30-day trial period. So, if you don't like the product you can send it back for a full refund. | |
---
Sig Sauer P238 Holster Options – Final Word
Now that we've looked at some specific holsters for the P238, you should have a better idea of what you like or really don't like. My personal favorite is the Sig Sauer Kydex Holster by Badger Concealment.
This holster is made to fit whichever gun you order it for, which means you'll get excellent retention. It's also lightweight and made of durable materials. Outside of buying custom-made holsters, you'll struggle to find a holster of the same quality for the same price.
It's always worth trying out a few different options before settling on the holster that most suits you, but if you want my two cents, I highly recommend this holster from Badger Concealment.
Recommended Reading