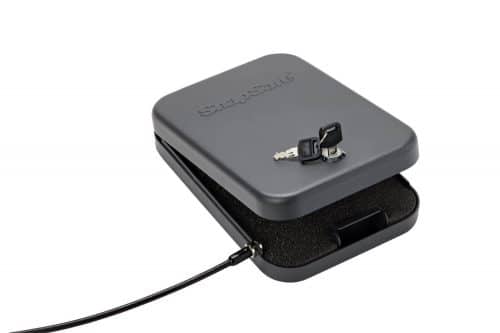 When it comes to firearms, safety comes first. And the first step to remaining safe is to always keep your gun secured and out of reach of others. This could be your kids, nosy friends or even an intruder or attacker. Below we review the 5 best car gun safe options.
This couldn't be any truer when it comes to storing your gun away while you are out on the road. Throwing your firearm in a glovebox or the center compartment in your vehicle just doesn't fly anymore. You need a car gun safe, even for your old rough and tumble truck gun.
There are a lot of options on the market for you to choose from so to make it easier to decide which one is best for you, we have narrowed things down a bit.
So, if you are as adamant about safety as we are, let's take a look at our picks for top 5 best car safes in 2019.
Get Great Guns and Ammo Deals!
---

Making the top of our list as our pick for best value car safe is the SnapSafe Lock Box.
If you are on a tight budget, the SnapSafe Lock Box has got you covered. Made from thick, pry resistant 16 gauge steel, you get all the durability and protection of a higher priced safe for a fraction of the price.
The protective interior foam is of high quality. It feels dense yet form fitting to keep your gun or other important items safe and free from any damage while being transported.
Interior of the Snap Safe Car Gun Safe
The room you get inside this safe is enough to hold up to a 4″ pistol, a few clips or speed loaders, some extra ammunition, and even a few documents. And weighing in by itself, the SnapSafe Lock Box is only 6 pounds, so even when you have your sidearm stored safely inside, you never have to worry about adding too much extra weight to your load.
Every keyed version of this car safe comes with two keys just in case you need a backup, as well as a 1500 pound, rated 4-foot steel security cable.
Wrapping up this value safe, you also get the comfort of knowing that it fully meets TSA airline guidelines for firearms storage and is approved by the California Department of Justice as a firearms storage option as well.
| Pros | Cons |
| --- | --- |
| Budget-friendly | Keyed version feels less secure due to some faulty key lock issues other users have experienced |
| Spacious | |
| Light-weight | |
"Whether you zip it up or lock it down, nothing protects you like a Bulldog!"
Bulldog Cases' slogan says it all. This is definitely one tough car safe constructed from seriously heavy-duty steel housing with a black matte powder paint finish. And that's not to mention the solid mounting bracket that allows you to secure your safe in a much more concealed area in your car or home.
Want to hear something really cool? The safe cannot be removed from its bracket when it is locked. But maybe you don't want to use the mounting bracket? No worries, you also get a 3′ security cable to tie your safe off to anything you'd like.
The interior contains a soft, durable scratch resistant material. There is no foam padding in this car safe, but in lieu of that, you actually get more room. The interior is 2.5 inches deep without any padding, so you can just imagine all the items you'll be able to store away inside.
| Pros | Cons |
| --- | --- |
| Very tough construction | Interior is not foam padded |
| Mountable | Mounting bracket doesn't feel as sturdy as the safe when mounted |
| Deep interior compartment | |
The MV500-STD from the folks over at GunVault is what you would call a "micro vault" because of its size. Sizing up to right at 10 x 6 inches, and only weighing 4 pounds, this compact gun safe certainly does qualify for the title!
Let's talk about the locking mechanism on this safe for a minute.
On top of the MV500-STD, there is a keypad consisting of four buttons. These buttons are what you use to select and use your own combination to get to your valuables. What makes this keypad different than others is that the buttons are set within what looks like finger grip slots.
The reason this is notable is that it allows you to access your valuables even when you can't actually see the keypad. And if that's not enough, the finger slots even contain braille. If for any reason you lock yourself out or the battery dies, you can always get into your safe with one of the two backup keys that are provided.
The build quality here is of the highest standard. The housing is made from 20-gauge steel to give you the absolute best security on the market today. The interior contains foam padding to keep your valuables safe, while the security cable makes sure that your gun safe is exactly where it should be at all times.
| Pros | Cons |
| --- | --- |
| Compact and sleek design | Foam padding could be thicker |
| Very light-weight | Seems to drain batteries rather quickly |
| The locking mechanism can be accessed even in the dark due to its finger slot design. | |
4. 

GunVault SV500

(Top Car Gun Safe for Trucks)
Looking for a gun safe that allows you to quickly and easily access your firearm? If so, take a peek at the SV500 from GunVault.
It is built from 18 gauge steel finished with a black matte paint, while the padded interior is made to store a single pistol and a clip or two.
This gun safe is a bit of a more revolutionary design than most of what is available on the market currently. For starters, it is made in such a way that it is meant to be mounted.
Secondly, the storage compartment drops open vertically when it is unlocked and has a courtesy light so you are fumbling around. This storage feature offers you the ultimate in quick access when you need it most.
In order to unlock your safe, you will need to set a key code on the digital keypad on top of the safe. It does come with a backup override key should you ever accidentally lock yourself out. As an added bonus, there is an audio and LED low battery warning that can help make sure the battery never dies.
Have a feeling that someone has been tampering with your safe? No need to worry or guess, because this safe comes with a tamper indicator. If someone does happen to try to get into your safe, it will automatically lock them out if they input the incorrect code too many times.
While this safe is made for home use, it made this list of best car safes for a reason. If you have the space for it, this safe can be easily mounted to a sidewall in your vehicle.
| Pros | Cons |
| --- | --- |
| Courtesy light inside compartment | Can only store one pistol |
| Tamper alerts | Very large |
| Low battery audio and LED alerts | |
| Quick drop-down compartment door | |
If our top pick for best value wasn't budget friendly enough for you, check out the Stack-On PC-95c safe.
Weighing in at only 3.2 pounds, it is a light-weight, sleek option for storing your valuables or sidearm. It is made from an all steel construction secured by a three-tumbler combination lock that is sure to keep out anyone who is not supposed to have access.
The interior is padded with a high-quality foam that will make sure your gun doesn't suffer any scratches or damage from small drops. Rest assured, anything you place inside will stay put.
You can slip this little safe under your car seat, inside a glovebox or at the top of your closet. If you need a little more security than that, you can always use the 1,500-pound steel cable provided to attach the safe to any other immobile object.
If you are a traveler, this safe is a great option as it meets all current TSA airline firearm guidelines.
| Pros | Cons |
| --- | --- |
| Very light-weight | Needs to be secured if traveling as it has a tendency to slide around |
| Compact and sleek | Provided steel cable is short |
| Thick, high-quality foam interior | |
---
How To Pick The Best Car Gun Safe
There are a few various factors that can help you narrow down your decision about which car safe to buy. None of these are set in stone, but they are good guidelines to follow.
The Type And Size Of Your Car
The type of car or truck you drive will be an important factor when trying to decide which is the best car gun safe for your vehicle. Alternatively, you can take a look at some of the best concealed vehicle holsters.
Some factors to consider are:
Does your vehicle have room for a safe?

Will you be mounting it, or keeping it under the seat?

Are you going to be attaching it to a steel cable?
The first one is the most important. Determining how much room you have to work with comfortably will determine what size and shape of gun safe you are going to need or be able to accommodate.
Secondly, if you are planning on mounting your car safe, you need to have an idea of where exactly you will be mounting it. Some popular mounting areas inside vehicles are under the seat, on side panel next to car door, and under the driver side dashboard.
Finally, most car gun safes come with a steel cable that can be used to securely tie it to an immobile object such as a metal post. This comes in handy if you don't want to permanently mount your safe to your vehicle but still don't want to risk letting it slide around as you drive.
The Gun You Will Be Carrying
The type, and size of the gun that you will be toting around in your car safe will be another factor that will determine which safe you'll be able to use.
Car gun safes vary in size and not all are suitable for every type of gun. You need a safe that has enough room to carry your sidearm but also a little extra wiggle room.
You want enough space to store your pistol and maybe a few extra items, but not so much space that everything is bouncing around inside freely. It should be a snug fit but just enough room so that everything you have stored away isn't on top of each other.
The Car Gun Safe Locking System
One of the absolutely biggest key factors in determining the best car safe is the locking mechanism that it uses. There are four main types of locks:
Combination

Keyed Entry

Digital Keypad

Biometric Locks
Combination locks use a tumbler mechanism to lock and unlock the safe. If you've ever owned a briefcase, you are more than likely pretty familiar with this type of lock. Just roll the tumblers to the correct numbers and you're in. Simple, yet extremely effective.
Keyed entry locks are just that; locks that require a key to open them. Most safes come with 2 identical keys just in case you misplace one of them, or a backup key if you are using a safe that utilizes a different type of primary lock such as a digital keypad.
Digital keypad locks require you to enter the correct keycode in order to unlock your safe. In general, when you buy a car safe with a digital keypad, you have the option of setting up your own keycode.
As we mentioned before, if the battery dies or you forget your code, no worries, most keypad lock safes come with a backup key to get it open manually.
Biometric locks are a bit more advanced but are ultra secure if you can afford the price tag that generally comes attached to them. This type of lock works by recognizing your fingerprints or hand print.
This is by far one of the most advanced types of locks that you will find on a gun safe. Just as with all other types of locks, the biometric lock systems usually come with a backup key as well, just in case you are ever unable to access your safe.
---
Car Gun Safe – Final Thoughts
There are many options for car gun safes on the market, and choosing the right one can be a difficult task. The best way to narrow it down is to find what safe suits your personal storage space needs, locks securely, and has a backup option to unlock it should you lock yourself out.
We hope that we have given you enough information and plenty of choices to help you pick out the best car safe for your firearm.
If we have left out a safe that you believe deserves a spot on this list, please feel free to leave us a comment below and tell us a little about it!
Recommended Reading
Bedside Gun Safes For Quick Access