A Survival knife is one of the most important tools for any survival situation. So, it's of utmost importance you choose the survival knife that will serve you best for any emergency situation. But, how do you go about this? – there are lots of quality survival knives out there.
Choosing a Survival Knife
For starters, it's preferable to go with fixed blade knives, rather than switchblade or retractable knives. The reason for this is simple – durability. You'd want a knife that's as versatile as possible because you'll be using it for a variety of tasks.
Knife Tang
More still, you'd want a survival knife with a full tang. What is a knife tang? It is the extension of the blade that goes into the handle. Without a doubt the most important part of the structure of a knife.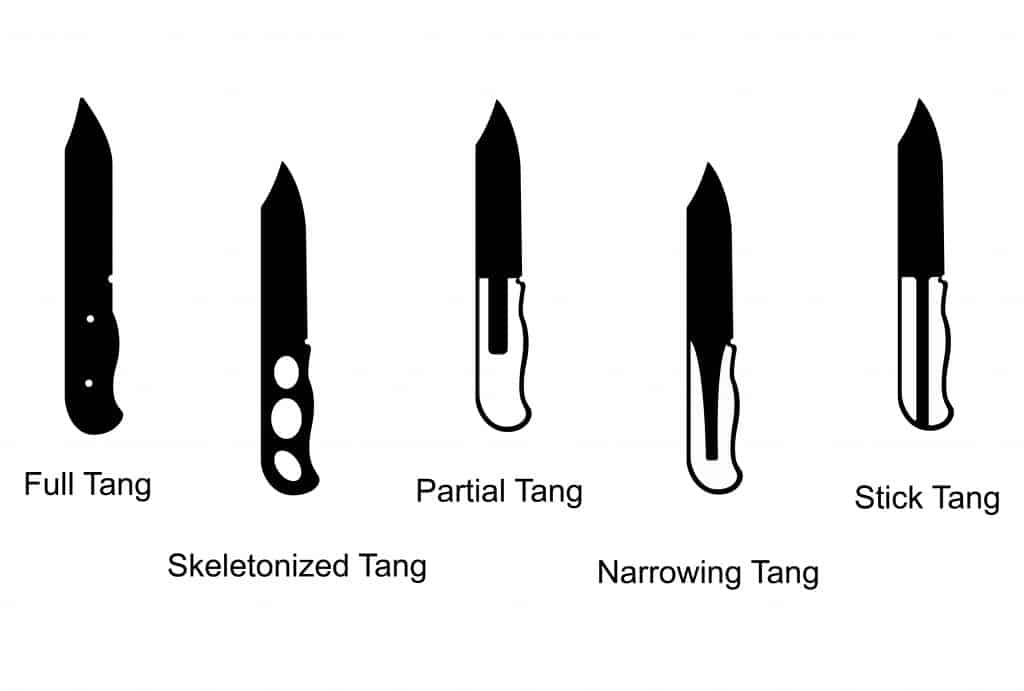 There are several types of knife tangs; to name a few there are the full tang, skeletonized tang, partial tang, narrowing tang, and stick tang. Knives with a full tang are stronger and less likely to break off at the blade handle. The full knife tang is better suited for survival situations due to its durability.
Full Carbon Vs. Stainless Steel Survival Knives
However, one difficult decision to make is whether to go with a stainless-steel or a full carbon model. Both have their advantages. The stainless-steel model lasts longer over time because they are less corrosive.
The full-carbon model, however, is preferable, because they are stronger and won't break easily. Nonetheless, both are good for emergency situations.
This all depends on how much you think you will care for your knife. Full carbon models require more attention and care.
Listed below are the best survival knives for bugging out. You can make your choice from any of them.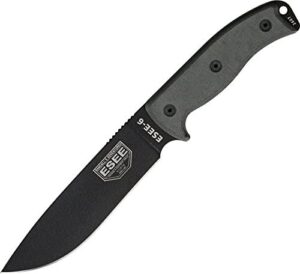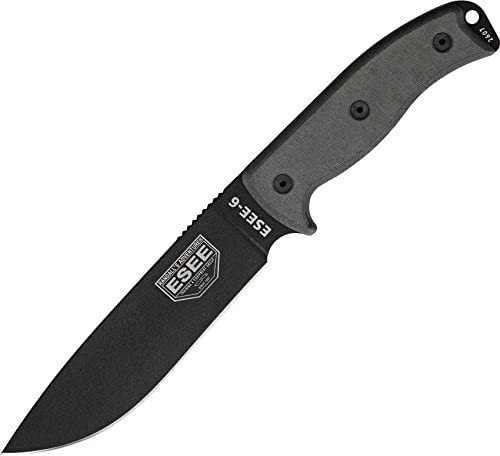 Esee 6P – a carbon steel knife with a 6 ½ – inch blade and a total length of 11 ¾ inches. This blade features jimping on the spine for increased thumb grip. The handle is made out of Micarta canvas.
This is a full tang knife. Comes with a heavy-duty molded polymer sheath.  One thing to note, it will rust and stain if not properly cared for – especially on the cutting edge and around the laser engraving. That said it is a great, reliable knife to have in an emergency.
One remarkable feature of the 6P is the hole in the handle. You can easily attach the knife to a lanyard, and let it hang down from your neck.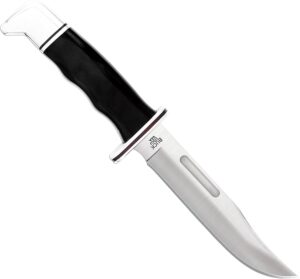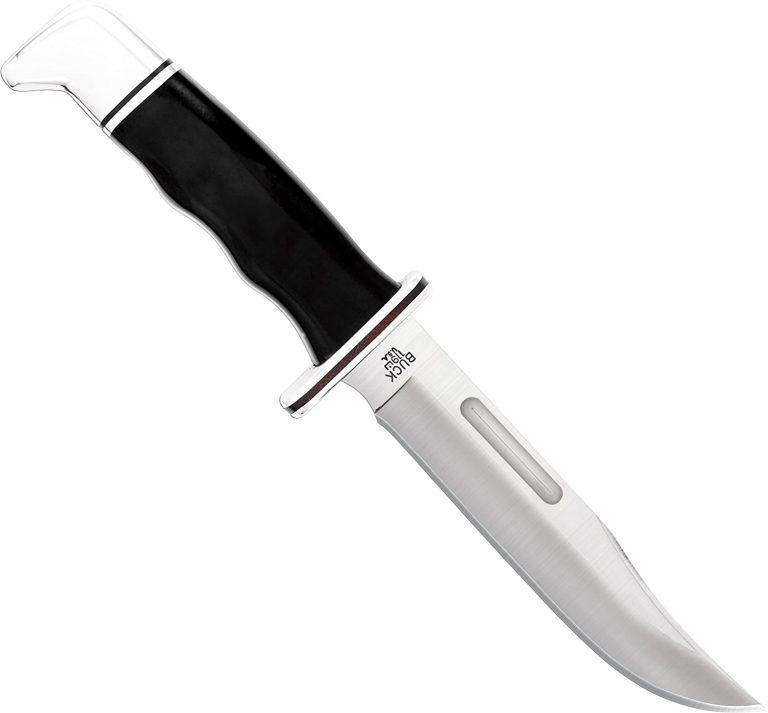 The Buck Knives 119 Special Fixed Blade is another good carbon steel survival knife. The knife is 10 ½ inches long, with a 6-inch blade. The RAZOR SHARP CLIP POINT BLADE has excellent strength, edge retention, and corrosion resistance for lasting durability. The clip blade is good for piercing, detail work, and cutting in tight places.
The traditional black phenolic handle has palm swells for a comfortable grip. Although this is not a full tang knife, it is a stick tang where the tang extends all the way to the pommel.
The 119 Special Fixed Blade is made in the USA and features a leather sheath with a snap fastener. The integrated belt loop allows you to carry the knife securely and safely on your belt. Since 1902 Buck Knives have offered a lifetime warranty on their knives. This knife is proudly made in the USA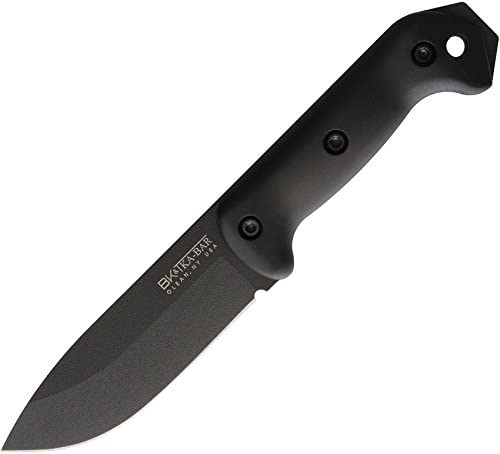 The Ka-bar Becker BK-22 Blade Knife features a full thang blade. The knife is just over 10 inches long, with a 5 ¼ inch blade. A full tang blade. The Ka-Bar works just as happily splitting out kindling as it does prying apart joints and skinning game, not to mention chopping onions for the campfire chili!
It's a solid and durable fixed blade knife, with an excellent budget option – costs around $87. You also get a polyester sheath for additional protection. There is an interesting safety feature on this knife. Once you secure the knife in the sheath, there is a spot on the back of the sheath where you apply pressure with your thumb to release the knife. The
knife locks into place for safety, so it doesn't fall out. This isn't a defect, the user has to apply pressure to a certain spot on the sheath so the knife can actually be removed from it.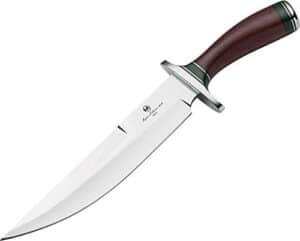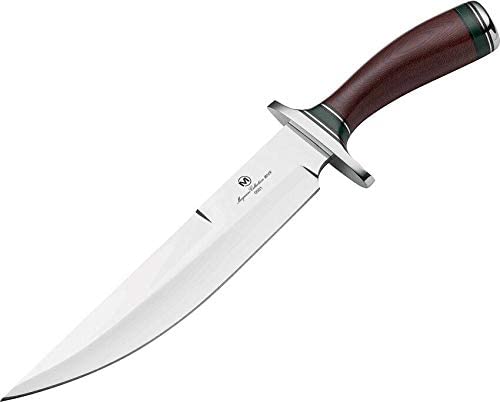 Boker Magnum Collection 2019 – a full tang, high carbon steel knife, is one of the solid survival knives out there. It can withstand just about any survival situation. The knife weighs 14 ounces and comes with an 8 ½ inch blade.
Designed by knifemaker legend Gary Groves. This larger knife features a bellied blade and oversize guard that allows for quick action. This is a limited edition so knife that will be an heirloom in your family.
If you're looking for a very strong survival knife for your emergency kit, then the Broker Magnum is your best bet.
This is one of the best knives for those running on a budget – costs around $10. But, don't be deceived by the low price. The MTech Combat Knife with a drop point blade has a sharpened top edge at the tip. 10.5″ overall length. This can also make a great boot knife.
The paracord grip is surprisingly comfortable. Says it is 440c steel which is impressive for the price! The one drawback of this knife is the sheath isn't great. Clearly, they spent the bulk of the cost of the survival knife on the knife itself.
The MTECH USA can very well match up to its higher-priced counterparts. It's a full tang stainless-steel knife and very durable.


This survival knife is also full tang but made with a fine edge carbon steel blade. One of the features of the Gerber Strong Arm, is the striking pommel at the base of the handle breaks through hard surfaces. Comes with a ceramic blade coating and rubberized diamond texture grip.
It has a coated ceramic blade, and you can get it in coyote brown or black. Comes with a sheath that can be mounted in a variety of ways, this knife offers reliable use. Gerber has been making survival knives for those who serve since 1966, rising to the challenge of honoring decades of experience while continuing to innovate. Both the knife and the sheath are made in the USA.
Survival Knife Conclusion
There are lots of good survival knives out there. The best one for you will undoubtedly boil down to your intended use. If you are looking for more of a survival multi-tool solution, check out our we have you covered there also.
It's probably best to have a couple of them in your bug-out bag, so you can use the best-fitted knives whenever the need arises.