Many hunters are taking all-terrain vehicles (ATVs) to their favorite hunting spots these days. The reason is simple. You can get deeper into the woods than you can on foot, and ATVs can go places your truck simply can't go. There are some limitations to using your ATV on a hunt, however. New accessories are coming to market each year that make hunting with an ATV easier than ever. Here is a list of some of the best ATV hunting accessories available now.
We don't have gun racks for ATV's here because we have an article dedicated to just gun racks for ATVs. 

One of the limitations of hunting with an ATV is the limited carrying capacity. Some ATVs come with a carrying rack on the front or back, but not all. Very few come with closed and locking storage.
The Lund ATV Storage Box has that problem covered. Lund makes ATV storage boxes in several different sizes, so you can find the one that fits your needs exactly. They also come available to mount on the front or rear of your ATV.
This is no flimsy, lightweight box that will break the first time you take it out. This box is made of a durable aluminum diamond plate with a black powder coat. Stainless steel latches complete the package.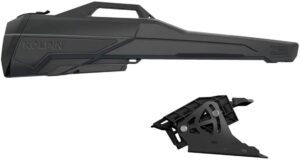 The most important piece of equipment you can bring on a hunt is your weapon, right? For rifle hunting, a good gun boot will secure your rifle safely and legally until it's time to hunt. Kolpin is one of the leading names in gun boots for all-terrain vehicles.
The Kolpin Strongbox is their latest gun boot on the market. It features a universal mount included that mounts to any all-terrain vehicle at just about any angle making this gun boot extremely versatile. The boot is a one-piece system, so there are no detachable pieces to lose in the field.
The lid opens one-handed for convenience and is secured with a heavy-duty lockable latch.  It also has a removable impact foam liner for maximum protection. It fits rifles and shotguns up to 52" in length and includes ample room for guns with optics attached.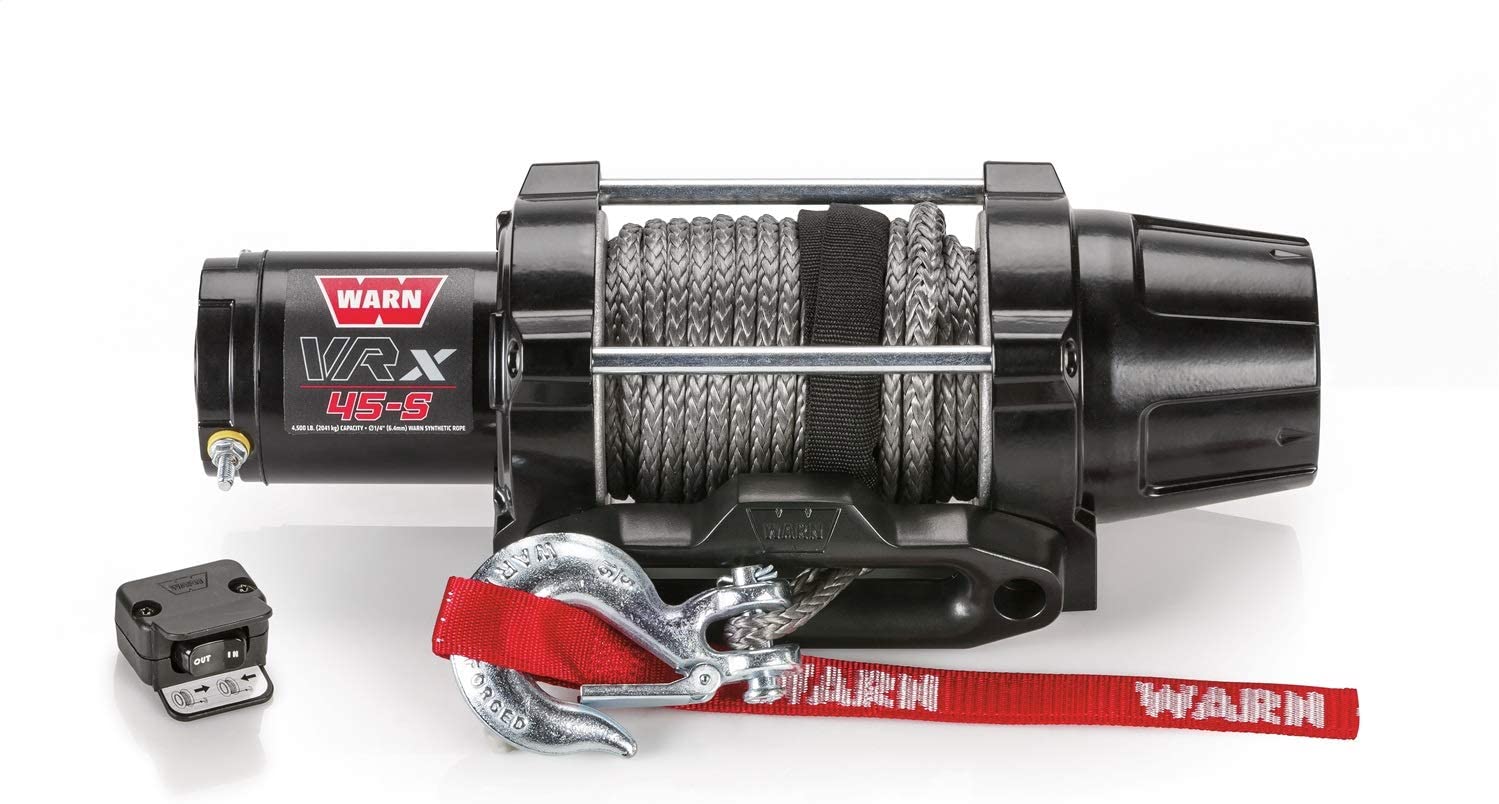 Anyone who has ridden an ATV through deep mud is aware of the reason why a winch is a must-have piece of equipment. But besides for the obvious reason, a winch can be a lifesaver on a hunt as well.
Imagine you take down a once-in-a-lifetime 400 lb buck. How are you going to get it on your ATV? If you have a Warn VRX 45-S Winch, all you need is a little clever rigging and you have a hoist powerful enough to lift your 400 lb trophy.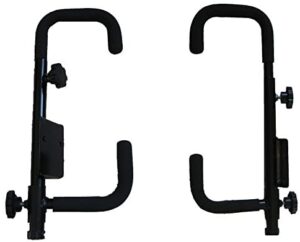 One of the most essential pieces of equipment on a hunt is also one of the heaviest and most bulky. A treestand allows you to get a better view of your surroundings and puts you above the line of sight of the animals you are hunting.
But getting a treestand to your hunting spot on an ATV could pose a problem. That's why you need a treestand carrier. It is specially designed to hold your treestand tight while you drive. It's on the back cargo rack so it's out of your view while driving.
The treestand carrier attaches securely to the cargo rack and holds your treestand upright with two padded holders. It's held tight while at the same time easy to release when you get to your destination.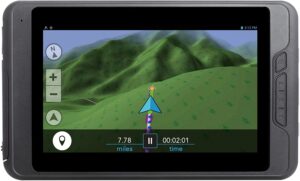 The next few items aren't specifically hunting accessories, but they are still great items to have if you're planning to hunt from your ATV. A good GPS navigation system is a must if you plan to head deep into the forest.
Magellan makes a GPS navigation system called the TRX that is made specifically for offroad use. The TRX-7 comes preloaded with over 115,000 ATV, dirt bike, and snowmobile trails. It also supports traditional over the road navigation as well.
The Magellan TRX-7 also features a 5MP rear-mounted camera with LED flash, just in case you take down a trophy buck and leave your smartphone in your truck. The TRX-7 includes lifetime updated maps and software updates and features the familiar "turn-by-turn" navigation that most of us are so used to by now in our cars.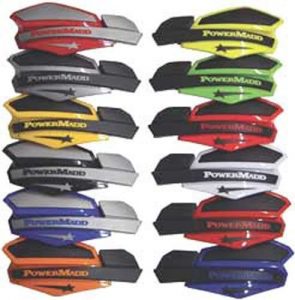 Anyone who has ridden an ATV through thick underbrush knows the value of a pair of handguards. It doesn't matter if you're wearing gloves or not, when you drive through the underbrush, the branches can whip and tear at your hands and really cut them up.
Especially when it's thorny underbrush. PowerMadd makes some great looking handguards that are available in just about every color you could imagine.
They are tall and wide and provide excellent protection to your hands, wrists, and even forearms when driving through the brush. Not only are these handguards functional, but they look great and add aesthetic value to your ATV immediately.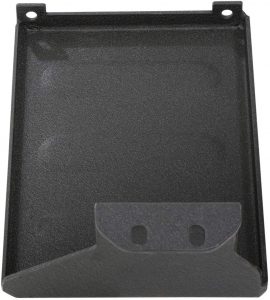 Just like on your truck, the undercarriage of your ATV is home to many important wires, tubes, and cables that are essential to the proper function of your ATV. Brake lines, electric cables, and the oil pan just to name a few.
Even ATVs with best-in-class ground clearance can run the risk of damaging these important parts when riding over logs or other thick underbrush. To avoid getting stranded in the middle of nowhere, a skid plate can protect the underside of your ATV from damage.
Skid Plates have long been favorites of truck offroaders because a few bucks now can potentially save thousands if you damage your transmission.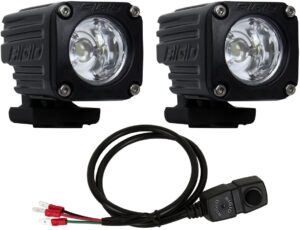 Everyone loves more lights on their vehicle, right? These small but mighty lights produce 1000 lumens with an LED bulb, enough to light your way home through the dark woods. Mounting them is very simple, they attach with a Go-Pro mount.
The Ignite Series lights feature high and low beam options, as well as a push-button control switch. They are low voltage so they won't draw too much power from your small ATV battery.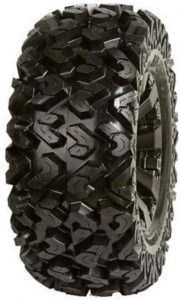 A good set of off-road tires can really help you navigate the rough trails to your hunting spot. Sedona makes some great ATV tires with a deep, chunky tread that will be sure to eat up the trail. Sedona rates their Ripsaw R/T tires as "aggressive-extreme tread", and for good reason.
The Sedona comes with a 1 and 1/8th inch deep tread in a zig-zag pattern. No trail is too tough for you with Sedonas on your ATV. The Sedona Ripsaw ATV tire is not just aggressive, it's durable as well. They will last you a long time and make Sedona Ripsaw R/T Tires a great value and a wise investment for your ATV hunting trip.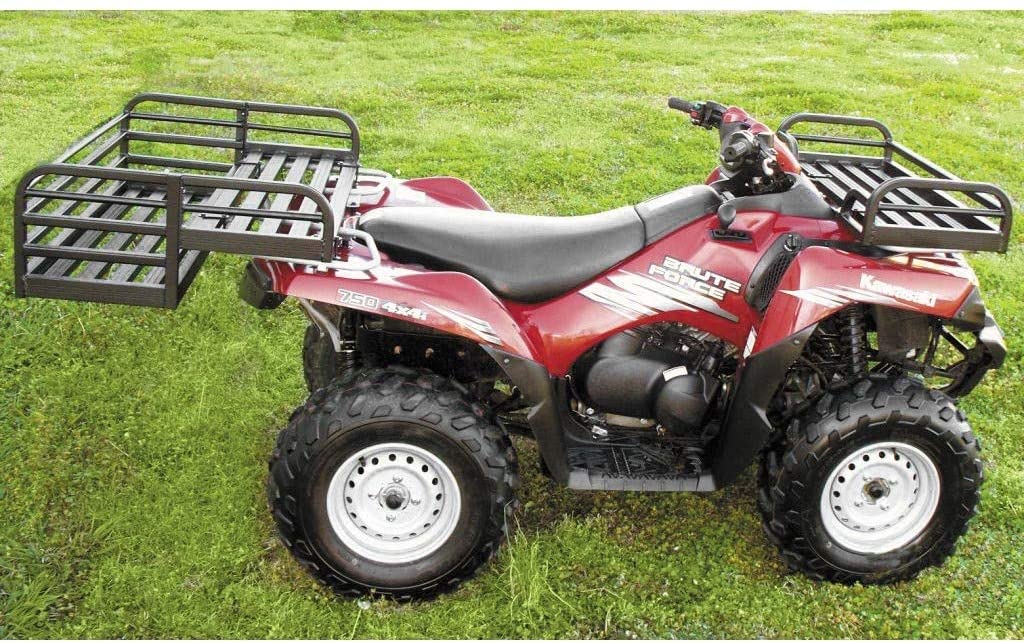 If you have a smaller ATV, you know that it doesn't provide much storage or cargo space. A good rack basket can increase cargo space and let you carry more to your hunting location.
Great Day makes fantastic ATV products and their Deep Rack is no exception. It attaches to your current cargo rack and extends it into a rack/basket combo. The rack still provides the same amount of rack space as before, complete with tie-down space.
The basket is deep enough to secure your gear without worrying about it falling out. But just in case, the basket also comes with tie-down options. The entire basket weighs just 25 lbs, great for smaller ATVs because it won't weigh you down.
ATV Hunting Accessories Conclusion
We believe adding a few of these accessories to your ATV will make your hunting journey all the easier. Some of these items are in high demand.  We have been trying to keep up with ATV accessories in stock.  Good luck. Be safe.