When it comes to hunting waterfowl, hunters will stop at nothing to be successful.  Hunters dress in head to toe camouflage, deck out their boats and weapons in camouflage, and more, just to gain a small advantage over their opponent. However, when it comes to face painting for duck hunting, some hunters decide to stop there and leave their face bare.  While some think that face painting is unnecessary and going too far, others believe that duck hunting face paint gives you the extra edge you need to increase your success rate. Some experienced duck hunters even claim that their face paint along helped them kill 25 percent more ducks throughout the year.
No matter how much camouflage you wear on your body or boat, if you want to be successful, you should consider painting your face as well. Now this leaves the question, what kind of face paint should I buy?  And how exactly should I paint my face for duck hunting?  Below is a list of some of the best face paint for duck hunting and a few suggestions on how exactly to apply the paint.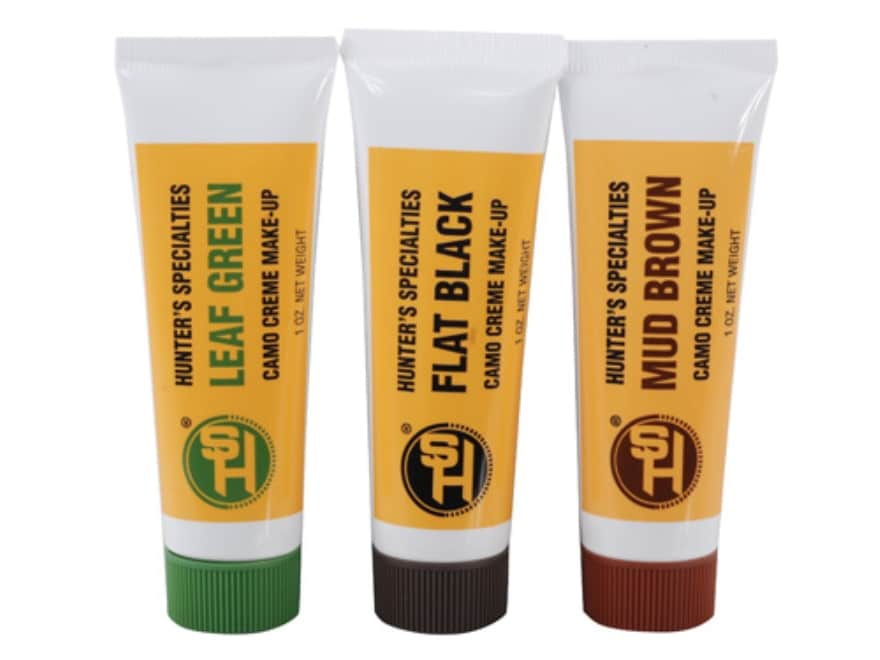 The Hunters Specialties Tube Camo Makeup set in Woodland is a great option for duck hunting face paint. It is a cream-based makeup and applies smooth and easy to your face.  It also can be removed very easily with soap and water or face wipes. 
This set includes three, 1 ounce tubes of different colors: leaf green, mud brown and flat black. 
The combination of these colors will properly camouflage your face in any woodland or water environment. Users love that the paint stays on all day, even with face touching, and doesn't streak with sweat. 
Pros:
Small tubes are light and easy to carry
Three colors for customized look
Easy on/easy off
Cons:
Have to keep track of three tubes
Need to use fingers to apply
The Dead Down Wind Ambush Face Paint is a great option for someone who wants to apply quickly without getting paint on their hands. This patent pending design holds three sticks of color for you to apply on your face with one swipe only.
Simply flip back the top and swipe on your face to get four lines of color on your skin: brown, green, black, and gray. This is a great no-mess option for those not wanting to get their hands dirty. 
The formula for the paint is hypoallergenic as well, and stays put on your skin for a long day of hunting.
Pros:
No-mess facepaint
Four different colors
Hypoallergenic formula
Cons:
Paint can melt in warmer temperatures
Sticks break off easily if you're not careful
This hunting face paint kit is made up of three different colors arranged in a mirrored compact. The Hunters Specialties Three-Color Camo Compac Makeup Kit in Woodland gives you mud brown, leaf green, and flat black face paint. 
This allows you to create any type of camo look you could want for duck hunting. This is an affordable option for face paint and gives you a lot of room for creativity when it comes to design. It is a small size, great for carrying around all day in your pack.
Pros:
Three colors in one compact
Included mirror for use on-the-go
Allows for more intricate face painting designs
Cons:
Thicker formula
Have to use hands to apply
The last face paint option on our list is the Wildgame Innovations Commander War Paint.  This face paint was developed by the Duck Commander crew for extra concealment.  This kit comes with three natural colors to help conceal you in a variety of different environments. 
While this paint is smudge proof and stays put during a long day of hunting, it is also easy to wash off at the end of the day.  Its special formula does not irritate your skin or cause glare in the sun. 
Pros:
Three natural colors
Comes with compact mirror
Smudge-proof
Cons:
Some users complain of a bad smell
We included this kit, as it comes with an unbreakable mirror which is a nice touch.  And we borrowed one of the photos for the article!
How to Apply Face Paint
Once you have chosen the face paint that is right for you, then it is time to apply the face paint. Applying face paint for duck hunting is really quite simple.  The main thing you have to remember is to make sure the sides of your face are asymmetrical, or not the exact same.  Use blotches, lines, and shapes to cover your face randomly and with different colors. These colors should be the darkest on parts of your face that stick out, like the nose, chin and eyebrows. 
For more recessed areas of your face, like the eye sockets or under your nose, should be the lightest colors.  When you are done with your face, extend these splotches down your neck and onto any other exposed skin.  Once all the paint is in place, you can use your fingers to smudge any harsh lines.  This blends the colors together a little bit and makes the paint look more natural.
Conclusion
Learning how to apply face paint for duck hunting is a simple and effective way to increase your success rate.  Not only is face paint relatively inexpensive, it will really help to give you the extra edge you need to down all the ducks that enter your sight. Check out our article on the best choke tubes for duck hunting.