Buying your first gun is an exciting endeavor, but it also comes with a lot of responsibility. There are several things you should consider before investing in a firearm. Followed by additional things you should do in the days and weeks after you've bought your first handgun. The goal is to ensure you understand the laws affecting your ownership and use of the gun and that you are proficient in the use of your weapon.
Buying your first gun can be an intimidating experience. This is, in part, because there are so many options available. Even if you are looking for a gun for a specific purpose, there are different firearm brands and models from which to choose. To a new gun owner, this can seem like an overwhelming experience. The best thing you can do is invest some time in researching your options and then turn to expert advice for making your final decision.
The Perfect Gun
Keep in mind, though, that expert opinions on various weapons will vary. There is no such thing as a "perfect gun." It all depends on intentions for use and what your skills and capabilities are. For example, you might get a recommendation for a great gun for home protection, but if you intend to have your elderly mother use it and her hand strength isn't that same as yours and she can't comfortably pull the trigger, the "best" gun is suddenly a useless gun. The point is everyone has a different point of view and it's important to weigh all of the various factors that play a role in your purchase of a gun.
You aren't going to look stupid or be judged for asking questions. Gun shop owners would much rather answer basic questions over and over again than have a mishap occur. They want to share their knowledge with new gun owners and promote responsible gun ownership. They also know that not everyone who walks into their shops is an expert and can make decisions about gun purchases. Being open and honest about your intentions for buying a gun and sharing your questions and concerns helps them help you make the best decisions.
With all that said, what are the top five things to consider before buying a gun?
1. Invest in Research First
Doing your homework is an important first step before buying a gun. Unfortunately, there's so much information out there it can be difficult to find what you need to help you make your decision. Make sure you gather information from reliable sources and look for materials that address how you intend to use your gun. For instance, you don't want to read a book or website about hunting if you intend to buy a gun for personal protection. It could be extremely valuable information but if it's not targeted to what you need to know.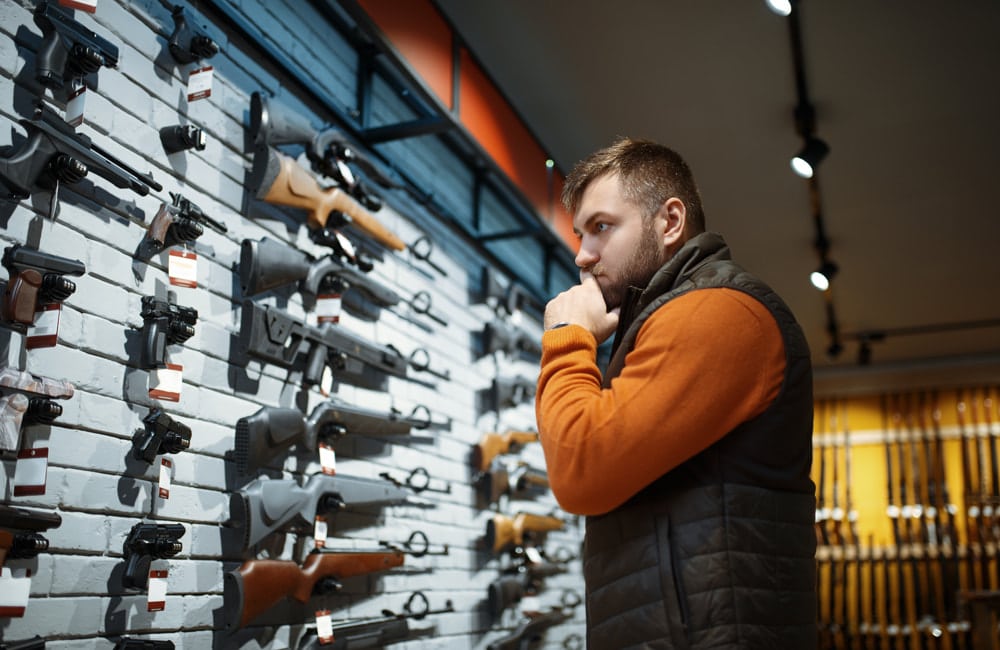 Source: canva.com
So, begin by figuring out the purpose of your gun, whether it will be used at home, away, or both, and who is going to use it. Are you going to use it for shooting sports or only at the gun range? Once you've figured out these basics, you can begin looking into what the best options are based on those needs.
2. Choose a Gun that's a Good Fit for You
The best gun on the market won't do you any good if it's not the right gun for you. Your first gun should be well-suited to your needs. It should feel comfortable and be something you can become proficient in handling.
In some cases, you will need to try out a few options before you settle on the right rifle or pistol for you. If you are investing in a single gun for a single purpose, handling and possibly even shooting several guns intended for that purpose is the best way to get a handle on what's the best option to buy. A gun is an investment and you need to have as much hands-on, working knowledge about that investment as you can before making your final decision.
3. Shop Where You are Comfortable
Finding the right gun shop might also require a bit of research. Your best bet is to peruse shops in your area until you find a gun store and licensed dealer where you are comfortable. Many people are comfortable buying their guns from a so-called Big Box store but this isn't right for everyone. There's a chance you won't get the same attention to detail and expertise that you'd get from a gun dealer or gun store that exclusively sells guns. These shops also tend to offer gun safety training and might even have a shooting range on-site so they're more of a one-stop-shop experience for people buying their first gun.
4. Nothing is Perfect
One important thing to remember about buying your first gun is that opinions about guns are not rules. There are people out there who sing the praises of just about every handgun but your goal is to find the gun that is right for you. Even an expert opinion on a particular gun holds no weight if it's not the right option for you. That said, if you share your intentions for your first gun with a gun shop owner, chances are good they can guide you in the right direction.
5. Invest in Time at the Range
As mentioned, you might get the opportunity to shoot the gun you are considering before buying it. This is an important way to get a feel for different types of guns and it's one you should take advantage of.
If this is not an option for you, find a way to go shooting. Spend time at the firing range before making a purchase. Many people who are considering a new gun might think they know exactly what they want based on what they've read or heard. However, until they've actually shot, it's impossible to tell which gun is right for you. A hands-on shooting experience is the best way to make the right decision about a gun.
Source of Featured Image: canva.com