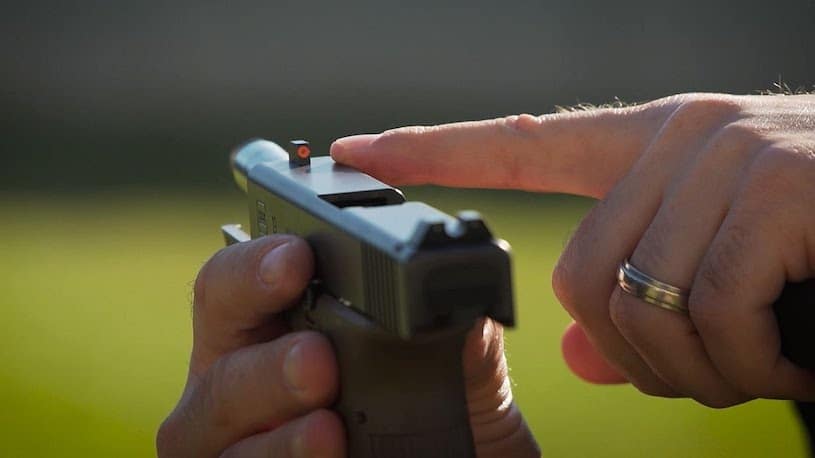 The Glock 43 has proven to be one of Glocks most popular handguns. The Glock 43 is a single stack 9mm handgun designed for concealed carry. This is Glock's smallest 9mms and one of the easiest shooting single stack 9mms on the market. The Glock 43 is an overall amazing little gun that's almost perfect. One place where the Glock 43 is lacking is its sights.
Get Great Guns and Ammo Deals!
---
What's Wrong with the Sights?
Glock seems to have a major problem producing stock high quality sights and tossing them on their guns. They do in fact make great sights, but for some reason do not like to sell them with the gun.
The Glock 43's stock sights leave a lot to be desired. They are a cheap plastic with some white paint and that's just about it. They aren't even three dot sights.
One of the few necessary upgrades to the Glock platform is the sights.
---
What Kind of Sights?
Well the Glock 43 is a concealed carry handgun. It's not necessarily made for sport shooting, hunting, or even target practice. This gun is made for saving (your) life.
In other words, the G43 is made for combat. The best sights for the Glock 43 are going to be fixed sights, preferably high visibility or night sights.
You want fixed sights because you need 100% stability. Adjustable sights really do allow you to dial your sights in. This makes them incredibly precise and excellent for hitting small targets and producing small groups.
They sound great right? Well they are… but not for combat. If the gun is dropped, knocked around, or slammed those fancy adjustable sights can drift off target. The Glock 43 is a concealed carry handgun, not a target handgun.
Why High viz sights? If I've said it once I've said it a hundred times. This is a concealed carry handgun. It's made to defend your life and it needs to be ready 24/7. You also want sights that are going to be quick to eye. The fast you get your eyes on the sights, and the sights on your target the higher likelihood you have of winning the fight.
---
Your Shooting Style
When it comes to choosing sights you always need to consider your training with them. Different sights are designed to function with different styles of shooting. What's important is identifying the shooting style you are most comfortable and choosing a set of sights that compliments it.
The Glock 43 is a great gun, and you have lots of options available when it comes to choosing sights you want to choose the best right?
Well, that's what we are here for. We've combed through the world's best Glock 43 sights and have chosen 5 of the best.
---
Best Sights For Glock 43

You want the same night sights used and trusted by our military? Then the Trijicon Night Sights are for you. Trijicon Handgun sights are some of the best on the market.
They aren't just designed to be incredibly bright and easy to see, they are designed to last in the harshest conditions imaginable. These sights are made from aluminum and can take a beating. Unlike the stock plastic Glock sights, they won't break when met with some real force.
Trijicon handgun sights use tritium to produce a bright and consistent glow in low light conditions. The front sight features a high visibility orange ring for easy daylight visibility as well. The rear sight is subdued black with serrations to reduce glare during shooting in bright conditions. The rear sight still features two tritium lamps, but they are recessed and only truly visible at night.
These sights are surprisingly easy to install, but if you can't separate a wrench from a screwdriver spend the 50 bucks and have a gunsmith do it. The Trijicon night sights are designed to last and perfect for law enforcement. The Glock 43 does make an excellent backup gun for law enforcement and these sights are perfect for serious tactical use.
XS Big Dots are some of my all time favorite sights, regardless of what platform they are on. They are for the shooter who prefers to point shoot and use the front sight as a guideline. Front sight focus is a popular saying relating to the technique of shooting fast and accurate against an attacker.
Focusing on the front sight is simple because with XS big dot sights they are massive. The front sight of the XS big dot sights are easily twice the size of a standard front sight. This massive sight is designed for both day and night time use.
For daytime use the massive front sight has a wide high visibility white circle that's eye catching and easy to see. Place this front sight on a man sized target and you won't have an issue hitting it. When the sun gets low you'll still need the ability to see your sight right? In this situation the front sight incorporates a tritium vial for easily visibility.
Compared to the front sight the rear sight is actually small. It's subdued and forms a slight V versus the standard U configuration. This is designed to increase your speed on lining up the massive front sight with the small rear sight.
Incorporated into this rear sight is a Tritium vial that sits up and down. When using the sight at night you want to treat them as a lowercase i. The front sight is the dot and the rear sight is the base. If you dot the i you'll hit your target.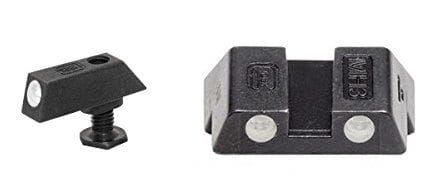 I mentioned above that Glock has the capability to make good sights, but for some reason they insist on that terrible U dot configuration. This is an example of what Glock can with sights when they set their minds to it.
The Glock OEM night sights address the concerns most Glock owners have with the standard plastic Glock sights on their guns. These sights are a 3 dot style sighting system. All 3 dots glow brightly and large enough to easily capture the eye. These sights are insanely easy to install and perfect for any Glock 43 shooter.
These sights are made entirely of steel and much more durable than the stock plastic Glock sights. They are guaranteed to keep working and stay on target after years of abuse. These sights glow nice and bright when used in low light conditions and the greenish white dots are easy enough to see during the day.
These simple but effective sights also tend to be quite affordable for night sights. Glock's OEM sights. The Glock OEM Night Sights match stock Glock sights in height and width, and simply change the layout.
What does Hackathorn means in the name of these sights? Hackathorn stands for Ken Hackathorn. Ken Hackathorn is a legendary firearms instructor whose spent time training the Army Special Forces, the FBI, dozens of police forces and civilians in how to use a firearm. Saying the man knows his way around a gun is a bit of an understatement.
These sights are made by Ameriglo and designed by Hackathorn. These sights are unique in that the focus is mostly put on the front sight. The rear sights are plain black and serrated to reduce glare. The idea is that an additional two dots would distract the shooter. If you can see the front sight you can hit the target.
The Hackathorn sights are dedicated to front sight focus and quick target acquisition. This style of shooting isn't for everyone, but its proven to work. The high visibility front sight is perfect for and night shooting.
In incorporates a tritium vial that glows brightly when the lights are low and it's time to put lead on target. During the day the front sight uses an orange center that's big, visible, and easy to see.
Last on our list of Glock 43 Sights is the Truglo Brite-Sites. These are for the budget G43 concealed carrier who needs the ability to see in the dark, but need to shop on a budget. The Glock 43 isn't an expensive gun by any means and is perfect for the everyman.
The Truglo Brite-Sites are perfect for close quarters shooting and fit perfectly on the Glock 43. The Brite-Sites are packed with a total of three vials of Swiss Tritium for low light shooting. Two in the rear and one in the front site.
This simple system installs easily and provides Glock 43 owners with a sight of serious night sights. The design overall is snag resistant and smoothed over for an easy draw regardless of the holster.
The Truglo Brite-Sites are coated with a hard finish to protect them for year after year of hard use. These sites are impressive, especially when you consider the price they are coming in at. These are the best Glock 43 sights for any budget shooter.
---
Glocked Out – Glock 43 Sights Conclusion
Finding the best Glock 43 sights is easy if you follow our guide. The Glock 43 is one of the premier concealed carry guns and you have a right to be picky when it comes to choosing your sights. Your life depends on it.
Recommended Reading
Best Holsters For The Glock 43