So you own this .22 or you are thinking of getting one and you're wondering, what is the best Sig Sauer mosquito holster? You know how important it is to find a holster that fits your needs. If you are looking to concealed carry you'll probably want a holster that's not too bulky. No matter how you carry your Sig Mosquito, you want quality, comfort and affordability.
There are plenty of holsters out there to choose from. I've done the research and have come up with a few great holsters for you to choose from. My favorite holster for the Sig Mosquito is the SigTac Roto Retention Holster.
This holster combines their quick release tension lever and an extra magazine pouch. It is comfortable, contoured to fit, and is positioned to where your trigger finger normally rests at the ready.
Get Great Guns and Ammo Deals!
---
Things To Consider When Buying a Sig Sauer Mosquito Holster
Most people really do some research when they buy a firearm. Unfortunately, some people don't realize how important it is to do some research when buying a holster. A holster is probably the second most important piece of equipment in your self defense arsenal.
Only you can decide the key features you are looking for in a holster. Comfort, concealability, safety, quality…..the list can go on and on. It is important to have a good idea of the key features you are looking for in a holster.
A holster needs to do two basic functions. It needs to keep your firearm secure and you need to be able to get to it quickly, if needed.
Price Vs. Quality
Not too many of us have money to burn. Most of us want to make sure, when we spend our hard earned money on something, it's not going to go to waste.
The key is balance. There is an old saying that says, "You get what you pay for," yet you don't have to break the bank to get a quality holster. In the end, if you use your holster for self defensive carry, your life is worth paying a few more bucks for a higher quality product.
Retention
As I mentioned earlier, a holster need to do two things. It needs to keep you gun secure and you need to be able to access it quickly, if needed.
The way the holster keeps your gun secure is called retention. There are different levels of retention. Level one, two three, etc. The number correlates to how many features there are to keep the gun in the holster.
Just like how much you decide to spend, retention is also a balancing act. Too little retention and your gun falls out. Too much and you'll rip your pants right off as you draw your weapon.
Materials
In addition to quality and retention, the material your holster is made from is also something to take into consideration.
Leather
Leather is probably the very first material that holsters were made out of. Leather is durable, long lasting and handsome. It becomes more comfortable the longer you wear it.
With leather you need to avoid heat and moisture and it does need some maintenance to keep it in optimum condition.
Kydex
Hard plastic holsters have some major advantages. They're tough, scratch resistant, low maintenance, and precision molded to your gun.
Hybrids
Hybrid holsters blend leather and kydex for the ultimate holster. You can have the comfort of the leather up against your body and the kydex pouch where your gun goes. Hybrid holster are growing in popularity all the time.
Nylon
Nylon is the cheapest material for a holster. This is usually where you don't want to skimp. Most nylon holsters don't have much retention and the don't support the weight of a gun very well.
Nylon holsters have their place. If you're carrying in your home or around your yard, etc, they are fine. If you are trying to carry concealed or need something very secure and safe, kydex or leather may be a better option.
How To Wear It
There are different places to carry your weapon. After you have thought about the material you like, the level of retention you want, and the budget you have, you want to look at the different ways to carry.
Belt Carry
Carrying on the hip is the most popular choice. You can either open carry or concealed carry on the hip. Inside the waistband (IWB) is the most comfortable way to carry on the hip. The gun sits between your pants and you. The grip is about the only part of the gun that is above the pants.
Outside the waistband (OWB) has the whole assembly outside the pants. This is a good way to open carry, yet you can conceal this way with long shirts or jackets.
Shoulder Holster
Shoulder holster is what you see on all the detective shows. The holster goes over your shoulders and the gun sits under one arm and extra mags can sit under the other arm to balance the weight.
Pocket Carry
Pocket carry is popular with smaller guns. Not much is more convenient than putting your gun in a holster and slipping it into your pocket. Pocket holsters work for jacket pockets and front and rear pockets of pants.
Ankle Holster
Ankle carry is also for smaller guns. Most ankle carry is for a backup weapon. It can be awkward to try and get to your weapon on your ankle.
Putting It All Together
The different varieties of holster can be overwhelming. It seems people come out with new ideas all the time. Some ideas are game changers and some ideas are gimmicks and aren't worth a dime.
Keeping all these different features and qualities in mind will help you as you look for a good holster.
---
Top Picks for Sig Mosquito Holster
This is Sig Tac's only holster that combines their quick release retention lever and an extra magazine pouch. It rotates 360 degrees for every application (strong side, small of back, cross draw) and has a contoured paddle so you are most likely able to find a comfortable position.
SigTac Standard Sig Sauer Mosquito Holster – Features
Protective sight channel

Adjusts with simple allen key

Contoured paddle

Trigger finger rests at the ready
| Pros | Cons |
| --- | --- |
| Perfect fit for the Sig Sauer Mosquito | Right hand only |
| Locking mechanism works great | Bulky |
| Comfortable | Magazine pouch sits at awkward angle |
| Easy draw | Not the best for concealed carry |
| Doesn't scratch or wear gun | |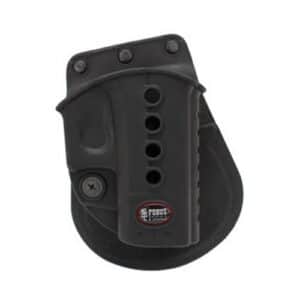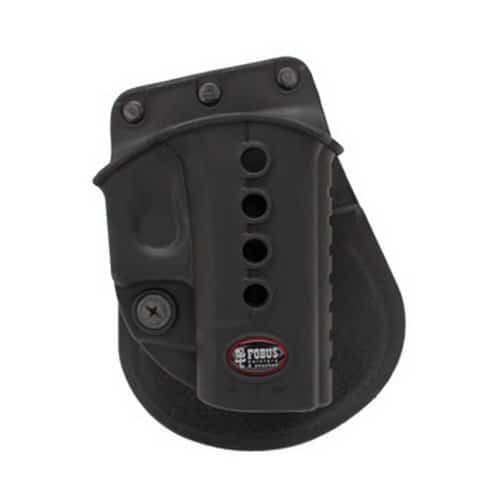 This holster uses a passive retention system so there isn't any mechanisms to fiddle with as you draw your gun. It is designed for safe carrying, accurate fitting and easy drawing of your firearm.
Features
Lightweight

Protective sight channel

Rubberized paddle

Lifetime warranty

Steel reinforced rivet attachment
| Pros | Cons |
| --- | --- |
| Adjustable retention | Right handed only |
| Won't scratch or wear gun | Very tight |
| Weighs 2 oz | May push slide back if too tight |
| Lifetime warranty | |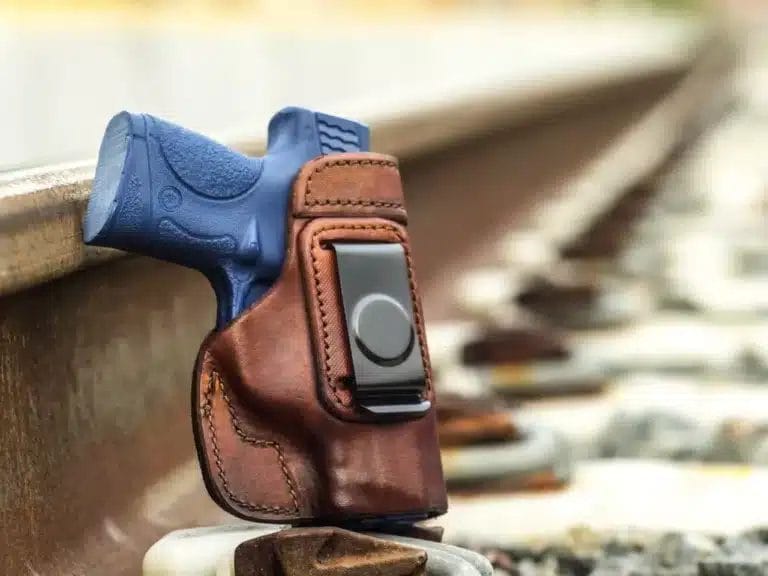 This is an IWB, concealed carry holster. It is handcrafted of genuine leather. Outbags states they are going for a balance between price and quality with this holster. They keep the price high enough to use high quality materials and handcraftsmanship, but not too high.
Outbags IWB Conceal Carry Sig Sauer Mosquito Holster – Features
| Pros | Cons |
| --- | --- |
| Good retention | Extra material by magazine release may need some trimming |
| Comfortable while sitting | Needs a break in period |
| Right or left hand option | Very stiff at first |
| Fits great | |
| Good value | |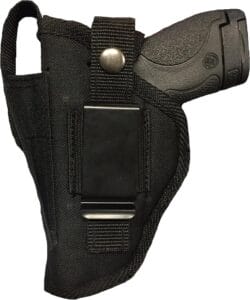 This holster is durable and versatile. Velcro straps it onto your belt and you do have the option of vertical or horizontal carry.
Nylon Gun Holster for Sig Sauer Mosquito – Features
Stitched with strong bonded nylon

Double stitched at pressure points

Durable velcro
| Pros | Cons |
| --- | --- |
| Fits gun good | Only a 30 day money back guarantee |
| Great for the range | Velcro holds loosely |
| Thumb break | Bulky |
| Double stitched at pressure points | Not for concealed carry |
---
Best Sig Sauer Mosquito Holster – Conclusion
The Sig Sauer is a great .22 and finding a holster for it can be difficult, depending on how you want to carry it.
After my research I have decided the SigTac Roto Retention Holster to be the top pick. This is a well made, durable holster. It feels secure and comfortable at the same time. I like the Roto Retention feature and this is the only holster that combines it with an extra magazine pouch.
The paddle looks big and may make you think that it couldn't be too comfortable. The paddle is actually a big part of the comfort. The contoured paddle really helps the holster fit comfortably.
Recommended Reading