Listen here, folks. The few pins and screws that make up the sight of a Glock might not seem like much when you look at the whole picture. But, damn it, these little components are vital partners when you find yourself in a hairy situation. They can either bust your ass or save it. So, when Tyrant CNC knocked on the industry's door with their Glock Compatible Night Sights, we propped up our ears as we did with every gear that promises a shift in the game. Boy, was it worth it?
Glock Night Sights Construction that Endures
The purpose of a night sight is to give you a clear aim in the dusky hours. They need to be precise, durable, and bright. But most night sights out there have made a habit of failing when you need them most. Like a dead lantern in a horror flick. So, the first thing we eyeballed was how the Tyrant CNC Glock Compatible Night Sights were holding up.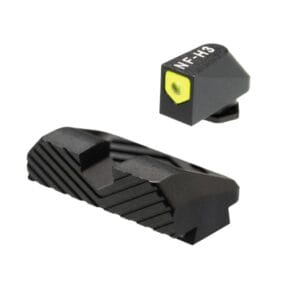 Milled from 4140 steel, these sights are built from the ground up to take a beating and still stay intact. The front sight features a tritium plus fiber optic illumination circle that ensures you don't lose your target in the dark. And the rear sight is solid steel. That's one tough cookie if you take our word.
Separating From Other Glock Compatible Night Sights
Now listen, we went for accuracy tests. Because when it's you against the bad guy, you can't get hosed by a poorly constructed sight.
This is where your buck would feel worth a damn, let me tell you. The Tyrant sights gave us precision we've rarely seen. Those front and rear sights give you a sight picture that could only be described as lightning-fast and slap-in-your-face prompt. You get your target locked, squared and delivered, in a blink of an eye.
Glock Compatible Night Sights Installation, a Cake-walk or a Drag?
First thing is you will need to remove the current Glock Sights. We suggest some tools that will make the whole process easier.
This tool makes a perfect fit for square slides like on Glocks. The vertical adjustment and a Ridged solid jaw to support the slide not allowing it to easily move in a vertical or horizontal direction while in use.
Here are some shots we took while we removed the existing Glock sights.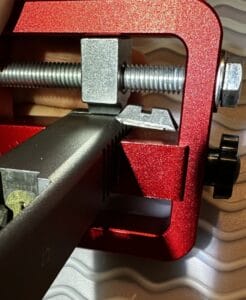 Once you have the old back sight removed, we recommend another tool made for removing the front sight and installing the new Glock compatible front night sight.
The rear sight was probably toughest, but the front was much easier.  Here is a comparison of the old and new front sight.
You can see where the front screws in.
The installation includes fitting the front sight with a 3/16 hex screwdriver and securing the rear sight using a Glock rear sight tool. If you're packing these in your arsenal, you're set. Worry not if you don't because these tools aren't hard to get your hands on. And if you've got some crafty hands on you, you can have them installed in 10 minutes tops.
Tyrant has great video to help if you get stuck at any point.
Visibility Beyond Compare
What really separates these Glock compatible nights sights is the front sight that is equipped with tritium inserts.  Tritium is a self-illuminating goo that requires no external power source. Tyrants version of the Glock night sights feature an exclusive neon green insert.
A Worthy Spend or Just Another Rip-Off?
Here's the scoop. Tyrant CNC Glock Compatible Night Sights are excellent gear. They deliver on their promise with their sights lit up like a Christmas tree. Their fitting makes them competent for both daylight and low-light use. The nights won't be the same if you've got these babies on.
But ain't no such thing as a free lunch. So does this translate to you shelling hundreds of dollars on it? No sir. Priced at just a notch under $100, these sights offer you a bargain that not many competitors can match.
Tyrant CNC Glock Compatible Night Sights FAQ
Here are some frequently asked questions about these Glock Night Sights:
FAQ 1: What are the key features of the Tyrant CNC Glock Compatible Night Sights?
Answer: Tyrant CNC Glock Compatible Night Sights sport a brilliant Tritium vial for low-light and night time shooting. Designed for faster target acquisition, they have a serrated front design with a U-notch back, ensuring they guide your eyes to the target. Made of CNC machined steel construction, they are rugged and sturdy for long-lasting use.
FAQ 2: Are these sights compatible with all Glock models?
Answer: These night sights are compatible with most Glock models, but it's always good practice to check product specifics to ensure they match your particular model.
FAQ 3: How hard are these sights to install on my Glock?
Answer: Installation of the Tyrant CNC Glock Compatible Night Sights is relatively straightforward with the right tools. Here is a link to a video on installation provided by Tyrant CNC. 
FAQ 4: What makes the Tyrant CNC Glock Compatible Night Sights better than others?
Answer: It's the combination of features. Their Tritium vial provides excellent visibility in low light conditions; the U-notch rear sight helps in faster, more precise target acquisition, and the durable CNC machined steel construction ensures longevity. Plus, the sleek design ensures minimal snag for quick and smooth draw and re-holster.
FAQ 5: Will the Tritium in the night sights stop glowing after some time?
Answer: Yes, Tritium does have a half-life of 12 years, which means it will still glow, but less brightly as years pass. However, even after a significant amount of time, it will still be effective in low light.
Call of the Night 
If you're a serious shooter or a Glock loyalist who's ever been caught in the dim light of the night, you know the importance of a quality night sight. 
Tyrant CNC Glock Compatible Night Sights come well recommended in our books. They offer an unbeatable combination of price, precision, and performance. They install pretty easily and hold up against challenges like troopers. 
So, are they the perfect nighttime Glock companions? We'd say, oh, hell yeah! But as always, don't take our word for granted. Get those bad boys, put them to use, and see the difference yourself.  We recently updated our best Glock Sights article and included these.