The 1911 is the most ubiquitous and recognizable handgun in existence today. You've seen the 1911 pistol in hundreds of movies, and it's probably the first gun that comes to mind when you think of a pistol. Before we take a look at our  picks for best 1911 pistols, let's explore the history of this iconic gun.
What is a 1911 Pistol?
In this article, we are going to tell you everything you need to know about this iconic gun. We will start with a history and general outline of this type of pistol. Then, we will jump into an outline of companies who make these guns.
We will then focus mainly on your options for a 1911 pistol at each different price point. We aim to give you a comprehensive outline of what you can expect to get with each price that you are willing to spend. With this, you can match your choice to your needs and choose the perfect pistol for you.
We will finish with a buyer's guide to help you make the perfect decision. Let's start with a quick look at some of the best 1911 handguns by manufacturer.
Get Great Guns and Ammo Deals!
---
Best 1911 Pistols by Manufacturer
The original M1911, originally produced by Colt (one of the original AR-15 makers), has become a portfolio item for a broad range of manufacturers, both American or foreign, and nowadays you can find 1911s manufactured in South America, Asia or Europe.
It is almost like every major company has their flavor of the classic, yet the pieces are not equal.
Since the 1911 pistol is a standard, whenever a gun company is expected to be taken seriously, it develops a 1911 of its own. It is both a benchmarking and a maturity test at the same time.
For you the buyer, this creates both an array of opportunities and a headache to select the best piece of metal for your money.
The natural question is "what is the best 1911?",  and is the price justified for the expensive ones?
To cut through the confusion of multiple models and prices I'm going to look at some of our top models to find and share our best picks.
Now, let's take a closer look at each model.
---
Best 1911 Pistols by Price Range
Best 1911 Under $700 (Price at time of publishing)
Most guns in this range are not produced in the U.S., but offer a fair amount of quality for the price. You can expect minor flaws, but they still score high in reliability and can act as a trustworthy partner for self-defense.
The important thing you need to keep in mind off the bat is that you can expect some correlation between price and quality. While not absolute, you can definitely expect to receive a more quality gun the more you are willing to spend. Not only will they have more quality parts and accessories, they may be durable and last longer. However, this is not a perfect rule, so it is still worthwhile surveying the options below.
The build quality of the Tisas 1911 Stingray Carry is quite impressive. It features a stainless steel slide and frame, which adds durability and a sleek appearance to the firearm. The fit and finish are excellent, with tight tolerances that contribute to its overall solid construction.
One of the standout features of the TISAS 1911 Stingray Carry is its size. It has a 3.5-inch barrel, making it compact and easily concealable. This is ideal for those who prioritize discreet carry or have smaller hands. Despite its compactness, the pistol maintains the classic 1911 ergonomics, which ensures a comfortable and familiar shooting experience.
The recoil is manageable, allowing for accurate follow-up shots. The single-action trigger has a crisp break and a short reset, enhancing the overall shooting experience. The only con of the Tisas Stingray Carry is the sights are not adjustable. However they provide a clear sight picture and are easy to acquire.
This handgun — crafted in the Philippines — is a good pick for the under $500 price tag. It can be used immediately, with no breaking-in period required.
Usually, displays no failures in either department, including feed, chamber, fire, or cartridge eject. Designed by Armscor, the pistol follows the lines of the original WWII patent carefully.
The most annoying feature can be the fact that the flat sides do not fit the grip frame perfectly, a problem that can be addressed by installing aftermarket grips.
The RIA is a great choice for self-defense. If you want a simple weapon to defend your home and family this is an affordable choice that is highly reliable. Good, solid value addition to your armory.
Don't let the name fool you, this is also made in the Philippines but it's extremely accurate and reliable.
The Metro Arms is rugged enough to keep in a toolbox, under the car seat, or in the glove box.
It has an extended slide stop for safety and beavertail grip for comfort. Expect a skeletal combat hammer and a tuner trigger. The wooden scaled grip might seem odd, but can be replaced if you want something more aggressive.
Impressive accuracy and sturdiness. A buck well spent. I have 2 Metros as backup pieces.

The Taurus 1911 is an affordable gun, manufactured in Brazil, hand-fitted for accuracy, with a dovetail sight, lowered and flared ejection and 5″ barrel.
The nice thing about this piece is that is hammer forged, and you can see that by checking the serial numbers on the parts. A good crisp short trigger completes the ensemble.
This particular piece ranks high in safety due to the ambidextrous safety and Taurus' special system on the hammer that disables the gun. It comes with two magazines and a bushing wrench from most gun dealers.
Great price and a high-quality item for sure.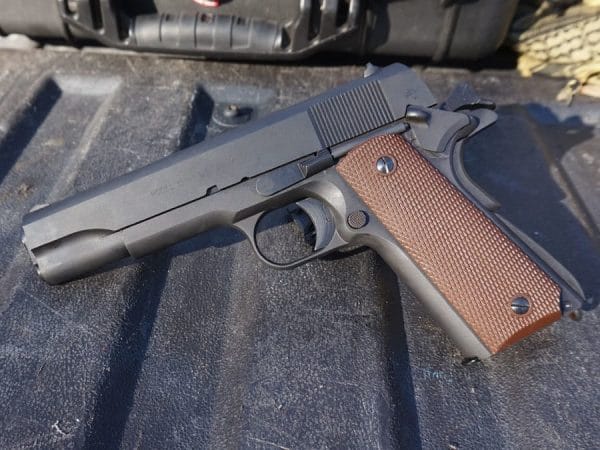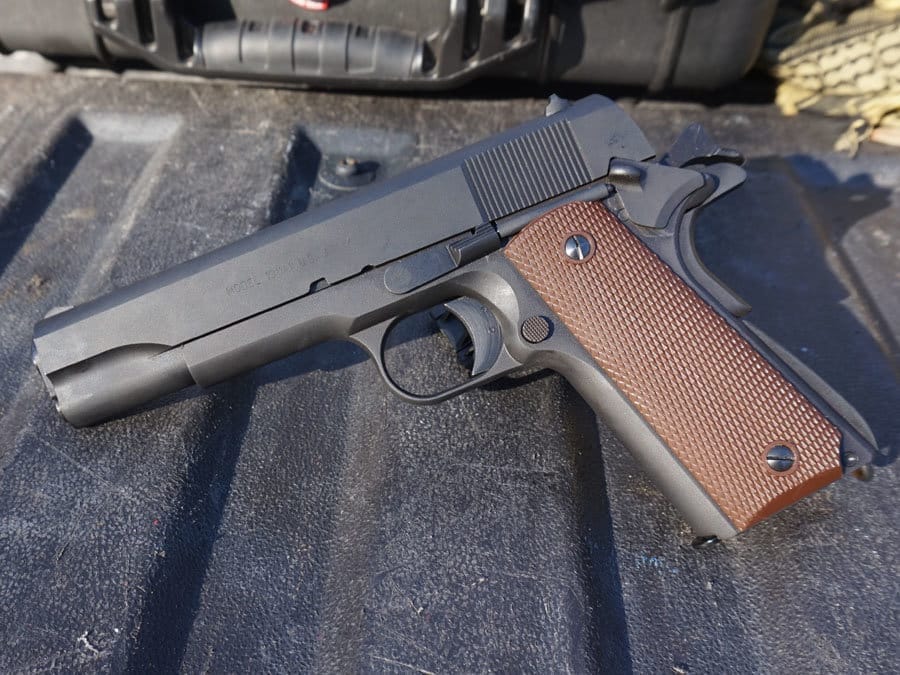 If you will settle for nothing less than American, the AO 1911A1 pistol should scratch your patriotic itch. Best in its class (for the money), AO's BKO model excels at trigger compression, doesn't stutter, and gives top accuracy after you pass the break-in period.
Be sure to give it enough time and rounds, lubricate long bearing-bearing surfaces and expect some malfunctions during this time.
This is as close as it gets to the mid-20th century gun.
If you do not have the patience and just want a weapon that works just out of the box, this is not the option for you. Great choice and value once again.
---
Best 1911 $700-$1000
In this price range, you can expect a high standard of quality. Expect to find some trademark names including Remington, S&W, Springfield, Sig, Kimber, Para, and of course, Colt.
As long as you are not looking for anything custom-made, but more for a long-lasting piece of equipment, you are in the right place.

This beautiful 5″ GI style piece comes in stainless steel or parkerized finish and features the 3 Dot combat sights.
The SA mil-spec comes with an original 1911 short trigger and a GI style thumb and grip safety, as well as a GI hammer.
The beveled magazine assists in quick loading and unloading, holding seven rounds.
The performance and accuracy of this gun are impressive, just needs some little extras, like a beavertail grip safety.
A SOLID pick for anyone looking for an upgrade on the cheaper 1911s.
This .45 caliber carbon-steel frame gun is equipped with a skeletonized trigger, single column magazine and dovetailed sights, and a low-mount combat sight.
The full-length recoil guide rod makes the Deagle 1911 operate and cycle much smoother, also improving the lifetime of the slide.
The grip made out of checkered wood enhances control. For ease of recharging the beveled magazine well can help a quick change. It has extended thumb safety and beavertail grip safety.
The shooting accuracy of this piece is hard to match, offering an excellent price-quality ratio.
You can choose the simple or enhanced model of 1911 made by one of the first manufacturers after Colt.
This is one reliable, accurate and enduring handgun.
It does not wander too far away from the original WWII piece, with a crisp trigger, dovetailed rear and front sights, and checkered double-diamond walnut grips.
A subtle evolution of the standard 1911 is the lowered and flared ejection port for eliminating the empty cartridge faster and more accurate.
The Remmy 1911 is an enhanced model, which comes with extended beavertail safety.
It comes with a full range of accessories such as sights, triggers, and grips to transform it into a tool suited for your needs.
The stainless-steel gun features a beavertail safety grip and thumb safety, and its distinctive feature is the Titanium firing pin.
Produced from a single piece of metal to keep the homogeneity of color and hue, it also features a lowered and oversized ejection port.
This is one of the guns that keep the original design as much as possible, including the three-dot sight. It comes with a bushing wrench and it is a favorite for sturdiness and reliability.
It has no loose parts and has one of the easiest recoils. If you're a beginner or intermediate shooter who loves Rugers, you'll get along quite nicely with the SR1911.
Recommended as a great gun for a beginner since it is supposed to work flawlessly straight out of the box.
Think of it as your companion for self-defense or your best friend in a shooting competition.
The most useful feature of this gun is the green fiber optic front which helps in accurate target acquisition and fast switching between targets.
The two eight rounds magazines keep you in the game, while the skeletonized trigger is crisp and precise.
The only downside of this gun can be the grip which is made from polymers, and some might consider it cheap-looking, but has no impact on the superb performance.
It is difficult to find this pistol these days. But if you are willing to search the used market or ask around, you may be able to find this. If you are really keen on this model, it may be worth the search.
---
Best 1911 Handguns between $1000-$1500 
A step up, but this is where the real quality comes into play. These are the kind of 1911s you can get and keep for years.
Not your typical .45 Colt, but a particular version for 10mm, the Delta Elite is the current weapon of choice for most FBI field agents.
You can buy it and shoot it on the same day, no break-in period is needed. This one scores high on safety, featuring a large beavertail grip safety against slide cuts. The thumb safety is ergonomic, offering an excellent firing grip with the thumb on top not under the safety lever.
The sights, front and rear are dovetail-mounted in the slide, yet some adjustable sight would improve that a bit. The three-white dots, a standard option that comes in handy during nighttime enhances accuracy. I've also seen these used with holographic optics systems before.
The gun might seem too sharp on the edges; it could use some rounding. It also has a pronounced recoil, more than the .45 version, so you need to handle it firmly.
The "loaded" descends from the GI specs of the original 1911 and is just going a step further than one size fits all approach.
The .45 handgun comes in 5 different styles, so there is a high degree of customization and offers options for everyone.
One of the few models with an ambidextrous thumb safety, and the standard extended beavertail grip. The 1911 Loaded .45ACP from SA has a lot of room for customization including accessories that can be added all over.
You can attach lights, red dots, and lasers. The only downside could be the fact that it uses seven rounds of mags instead of 8.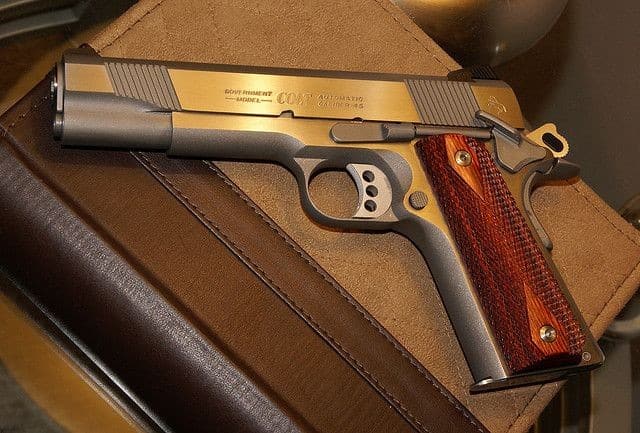 Meet the grandson (or great-grandson) of the original 1911 Pistol.
Good features still run in the family with a few modern twists, including white dot sights and a lowered ejection port for extra reliability. It also has a great recoil spring system, long trigger, and a flat mainspring housing like the Colt legend.
The grips consist of elegant checkered rosewood adorning the solid carbon steel frame. This pistol requires a bit of strength to use effectively as the trigger is pretty stiff.
The XSE only carries 7 rounds in the magazine which limits it a bit. Either way great design and functionality. This Colt Government model is a solid choice and makes our list of best 1911 pistols for good reason.
---
$1500+ 1911 Pistol Options
The Cadillacs of 1911s.
These are usually highly customizable and enjoy the finery nuts of bolts of design and craftsmanship.  Some justify the price tag by manufacturing and precision, others by uniqueness and brand.
We have made a selection of some of the best 1911s if you have some cash to spare.
In this price range, you can expect some pro toys. The tactical gun from Wilson is just what SWAT units and Military Special Operations have in their holsters.
Ain't she beautiful
You get a real powerhouse which includes a light mount frame and a massive cone barrel.
The CQB Tactical LE's trigger works crisply and clean. It is available in .45 (8 rounds), 10mm, 9mm (10 rounds), and .38 super.
Features a beautiful combat matte black finish with no glare and at this price tag, you should take advantage of all the additional modifications you can add to it.
Despite the high ticket, the CQB Tactical is frequently out of stock. I suggest bookmarking the product page at at Guns.com and checking it from time to time.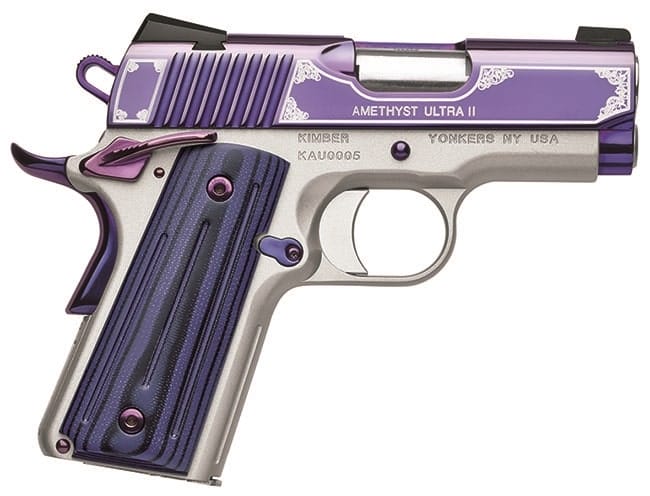 This 3-inch barrel piece of purple jewelry looks like a toy but is as accurate and extremely reliable.
This pistol is also ready to shoot right out of the case. The 9mm or .45 mini – which can hold up to 7 rounds in the magazine – also features a full-length guiding rod and ambidextrous thumb safety.
Considering its target market, the slide cycle is notably heavier than other popular handguns for women, and the grip could be improved.
The antique feeling of this piece can make enthusiasts forget about the price. As the manufacturer describes it, "here is an ode to John Browning".
The look is achieved through a proprietary chemical process applied to the steel. These are not the only Cabot innovations you can find in this piece.
The Cabot Machined-in-Place Perfect Fit Ejector, the Cabot Billet One Piece Guide Rod, and the Cabot's Full-Cycle Technology are just a few of the patented parts that make the handgun distinct from its lookalikes.
Cabot really made a name for themselves with the Vintage Classic 1911 Pistol.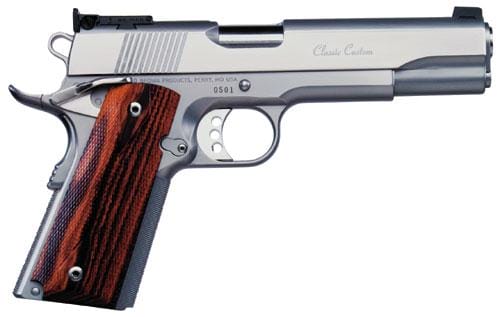 It does not get any more classic than this.
The Ed Brown 1911 has a mirror finish to make it stand out, but only on the parts that don't interfere with the sight, to preserve accuracy. Serrations are inserted on the rear of the slide for the same reason.
The producer believes in the product so much it offers a lifetime guarantee. Since this is a customizable product, you can go wild and mix patterns, engravings, and grips to make it match your imagination.
A beautiful 1911 for anyone who is a firearms collector in your family. It's tough to get your hands on a Classic Custom via the internet, but you can check for deals on Gun Broker and Guns America, or visit Ed Brown's website here: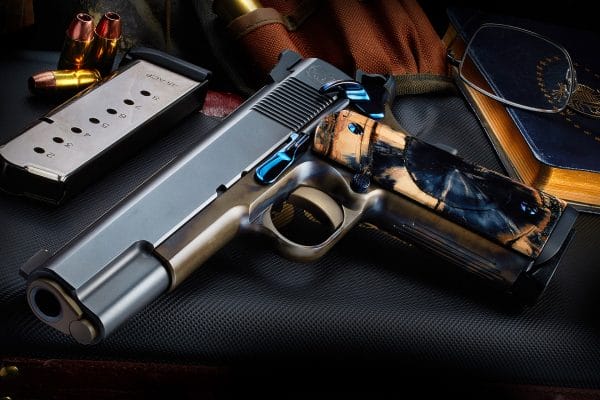 This is it. Probably the thetop-of-the-market 1911 available as of the day this article was posted. 
The motto guiding Nighthawk Custom is, "One gun, one gunsmith at a time."
They create unique, hand-crafted, custom-made 1911s. This is an eye-catching pistol featuring ivory grips, a 14K gold front sight, and most likely will be part of a collection.
Of course, you can shoot .45 like any other Government 1911. The rear sight is a Heinie Pro, and the gun features a design with a smooth recoil spring plug with a thick barrel bushing, and this is just an example.
Ready for the price tag? I sure wasn't.
The Turnbull VIP 2 is not for budget shoppers. Check out the current retail price here at Nighthawk's website:
---
What to Consider When Buying the Best 1911 Pistol?
So with all of the above choices and all the different types of 1911s on the market, how do you make your choice for the best 1911 pistols? You might be finding yourself at this point now. When it comes down to making your choice, it can all be a bit overwhelming.
In this section, we will give you the factors you should give consideration before making a decision on the 1911s. Basically, you want to simplify your decision as much as possible. You can do this by pinning your decision on a few key factors. If you can think of the type of 1911 you want, you narrow the field significantly and can focus on the best one for you.
1911 Pistol Price
Of course, we have divided our above list by price, and this is an excellent place to start. But you need to keep in mind that we divided our list by price because it is typically associated with quality. Usually, the more you pay, the more you can expect. So don't simply settle on a higher price point because you think you will be more satisfied, you need to make sure the extra quality and features are worth it to you.
So by settling on an ideal price point, have an idea of the types of features you are actually willing to pay for. Next up, we will evaluate some of these features.
1911 Pistol

Features
As you have seen throughout our list, there are many different 1911s out there with many different features. The key is deciding which features are important to you. The best way to do this is to consider how you are actually going to be using the gun. For example, someone who only needs target practice will have different needs from someone looking to purchase a gun for self-defense.
Ideally, you want to first evaluate how you will be using your gun now and into the future, and then you will see what features are most important to you. From a better-crafted grip to a gun that functions better and jams less, you can find something out there if you really analyze product offerings.
What are the Main Features of 1911 Pistols?:
Here we will talk about specific features of the 1911 handgun to consider when buying the best 1911 to suit your particular needs.
Action of the 1911
What does the term Action mean? Simply put, that's just gun lingo for the mechanics of how your pistol works, right from the trigger squeeze through to the round leaping free of the barrel. Now, while the vast ocean of firearms can bring you an array of action types, the 1911s are typically rooted in three main variants:
Single-Action (SA):
Now, the SA 1911 is the purist's choice, the original recipe, the straight-ahead classic. Picture the first 1911s rolling off the Colt production line back in the day, that's your Single Action. It works like so: when you cock the hammer back, that's it, it's locked, loaded, and ready for business. Tap on that trigger, and the hammer drops, firing the round. No other functions are linked to the trigger. Simple, straightforward, and effective. 
Double-Action (DA):
Let's fast-forward to a more recent era, and meet the Double Action 1911. This one had a few extra tricks up its sleeve. With a DA, you pull the trigger, it does double-duty. First, it cocks that hammer back, then releases it in one smooth motion to fire off your shot. You get the advantage of a quick first shot without manual cocking, a feature many gun owners appreciate. 
Double-Action/Single-Action (DA/SA):
Now let's shift gears and take a gander at this chameleon. Made famous by the likes of Sig Sauer and HK, the DA/SA sets you up with options. Your first shot is Double-Action, just like what we talked about before. Cocking and releasing that hammer all in one trigger pull. But once that slide cycles, recocking the hammer, in comes the SA mode. Your next shots would be Single-Action, making them lighter and faster.
What 1911 Caliber Should You Choose?
Alright, so you've got your eye on the 1911, eh? Classic. Timeless. Reliable. However, you're stuck on the caliber, aren't you? Not to worry, I've got your back. We're going to solve this quandary together. 
Purpose of the 1911
The first thing you need to mull over is Purpose. What do you plan on using your 1911 for? Is it for self-defense, target shooting, or competition? For self-defense, the .45 ACP is a popular choice due to its stoppage power. For the precision required in target shooting, many lean towards .38 Super, while competitive shooting environments might prefer the 9mm due to its low recoil and affordable ammunition.
1911 Recoil
Next, consider the Recoil. The choice of caliber will significantly affect the recoil of your firearm. In the world of 1911 calibers, typically, the .45 ACP has the most recoil, followed by the .38 Super, then the 9mm, which is known for its friendly recoil. If you're man enough to handle a heavy kick, by all means, go for the .45 ACP. But if you've got a softer touch, the 9mm might be more up your alley.
1911 Ammo Availability and Cost
Now, let's talk about Ammo Availability and Cost. The 9mm is a worldwide favorite and can be found just about anywhere, making it relatively cost-effective. The .45ACP is also easily found and the cost per round is reasonable. The .38 Super, on the other hand, can be more difficult to find and is typically more expensive.
1911 Ammo Capacity
Capacity is another important factor. Because the 1911 is a single-stack design, the round count can vary depending on the caliber. The 9mm usually holds the most rounds. A standard full-sized 1911 in.45 ACP carries 7 to 8 rounds while in 9mm it's 9 to 10 rounds. Your choice in caliber will determine your maximum capacity, so keep that in mind.
1911 Weight
Finally, we consider the Weight of your 1911. We're talking about the weight of the ammo here, not the firearm itself. More rounds require more space and weigh more. The .45 ACP is the heaviest of them all, with the 9mm rounds being the lightest.
So, there you have it. Your choice of 1911 caliber comes down to these key factors. It's all about what you need and what you can handle. No one size fits all, especially when it comes to firearms. Be sure to give it some good, hard thought, and if possible, try out a few calibers at your local firing range to get a feel for each before you make your final decision. 
What 1911 Barrel Length Should You Choose?
While a longer 1911 barrel length means more accuracy, due to sight radius and balance.  A shorter barrel length means easier concealment.  If you plan on using your 1911 for everyday concealed carry, you should consider a shorter barrel.  If you're using for home protection or open carry, a full size 1911 is probably you best 1911 choice.
1911 Sights
Most 1911s come with iron sights standard. All are pretty similar. However, if you are planning to use at night or low light, you might want to consider upgrading your 1911 sights to those featuring Tritium. We are fans of  TruGlo sights for the 1911.
1911 Trigger Configurations
There are basically two 1911 trigger configurations that are most common on the 1911, M1911 and M1911A1. In essence, these two models differ in their intricate aspects.
M1911 Version
The M1911, John Browning's original design dating back to the early 20th century, had a flat mainspring housing, longer trigger, a smaller ejection port, and no scallops around the trigger guard. With its slim grip frame and tidy stack of cartridges, it was an innovative design for its time. This model was well-regarded for its accuracy and reliability, making it an ideal choice for military and law enforcement agencies.
M1911A1 Version
Contrastingly, the M1911A1 is an improved version of the M1911 which emerged in 1926. Multiple enhancements were made to this model, which include a shortened trigger with serrations offering better grip. The modifications were aimed at accommodating soldiers wearing gloves – a condition often faced in the colder climates. It also introduced an arched mainspring housing for a more comfortable grip.
The M1911A1 also incorporated scalloped indentations near the trigger, providing more space for the shooter's fingers. The ejection port was cut away more drastically, providing a more reliable system to discard empty shells. Reliability, after all, was a driving force behind the modifications made to the original M1911 design.
Evidently, these tweaks aimed at improving the shortcomings of the original M1911 model while preserving the features that made it a robust, reliable firearm. Today, these changes persist on most 1911s, except for models specifically designed to be replicas of the original M1911.
1911 Frame Materials – Steel or Aluminum?
Choosing between steel or aluminum for your 1911 frame can greatly affect your shooting experience.
Steel frames offer more weight which can reduce recoil and improve accuracy, but they're heavier to carry.
Aluminum frames are significantly lighter, which makes them ideal for concealed carry purposes. However, aluminum frames can result in increased recoil due to their lighter weight. Ultimately, your choice should be dependent on your intended usage for the firearm.
1911 Pistol

Styles
Many of the guns above also put a heavy emphasis on style or tradition. Some use very high-quality materials like ivory, and some are crafted to the exact specification of traditional models. If the style is important to you, make it an integral part of your decision-making factor.
Overall, you really just want something that allows you to use the gun in your intended manner, without overpaying for features that you don't need.
As you can see, with this section, we have placed heavy emphasis on finding the features that matter to you most. The best choice is the one that most closely matches your personal preferences. Take some time to figure out what these are, and then read through our guide to decide.
History of The 1911 Pistol
The 1911 pistol is an American icon. It has been in the hands of 5 generations and its popularity is still rising. This pistol has become synonymous with power, durability and the American military.
Military and law enforcement quickly adopted the original design by John Moses Browning (JMB) as a sidearm. The high versatility of the perfect and straightforward design of the gun made it appropriate for different purposes from self-defense to hunting, target-shooting or competitions.
At the end of the 1800's, there was a huge demand for a more reliable gun, a self-loading pistol.
The standard back then was the .38 Long Colt, but a more reliable .45 was required. This was exactly what JMB had in mind when he crafted the semi-automatic pistol that would pass the most rigorous US military tests.
Simulations included shooting the gun after it has been thrown in mud, submerged in acid or loaded with deformed cartridges. Over 6000 test rounds were performed at the time on this piece of metal, which was the only one to emerge from the competition with other notable brands such as Smith Wesson and Savage.
The 1911 stood the test and that's why it's still a badass gun to this date.
The U.S. was so impressed with this weapon it bought over 2.7 million M1911s and M1911A1 between 1911 and 1986 when Beretta replaced it. This gun has been everywhere from WWI, WWII, Korean War and Vietnam War.
Even now some units of the US Navy, Marine Corps, and Special Forces use it as their sidearm.
How the 1911 Pistol Works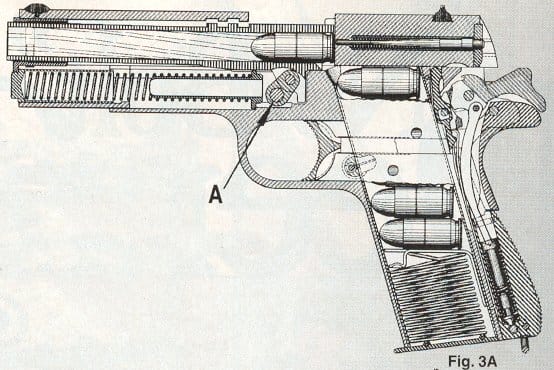 Diagram of the original schematics of the 1911 Pistol
The 1911 is a single action, magazine-fed, recoil operated, semi-automatic pistol, usually working with a .45 ACP cartridge. For more about ammunition – check out our bullet and caliber guide.
The pressure of the combustion gases pushes the round down the barrel at speeds averaging 850 feet/second. The empty case is then ejected by a kick in the rear, the slide is pushed forward by a spring and pulls a new cartridge from the angled magazine, depositing it into the firing chamber.
1911 pistol's durability is due to the lack of fasteners except for some grip screws. The recoil spring keeps the vital components in place.
The great thing is that this pistol can be disassembled and reassembled by using its components as tools.
The model employed by the military comes with a grip safety and a manual safety, while commercial models also include a firing pin safety. Some 1911 pistol's have rails to mount scopes and other add-ons for hunting or sports, being the weapon of choice in many competitions.
Can a 1911 Pistol Shoot Hollow Points?
Yes a 1911 pistol can shoot hollow points. In fact, hollow point rounds are a popular choice for self-defense purposes due to their ability to expand upon impact. When using hollow point ammunition in a 1911 pistol, it's important to ensure that the firearm is properly maintained and in good working condition. Some older or vintage 1911 pistols may have feed ramp designs that are not optimized for hollow point ammunition. In such cases, it's advisable to consult with a knowledgeable gunsmith who can inspect and potentially modify the feed ramp to ensure reliable feeding of hollow points.
Best 1911 Pistol Options – Conclusion
Depending on your needs and budget there is always 1911 out there for you.
Before you make your choice for the best 1911 pistol, take your time to study the market. Always consider cheaper 1911 options if you are not a collector.
Some are bare bones, but sometimes it's all you need to cover self-defense necessities with a sturdy and reliable handgun.
The difference in price sometimes comes only from the economic differences between the originating country and the US.
You should not always take this as a mark of inferior quality when it comes to the best 1911 pistol.
If you're looking for a gun to last you a lifetime, an investment in a well-known brand such as a Colt or a Springfield might give you the best value for your money.
Some folks treat their guns as an extension of their bodies and even personalities, not just as a utilitarian tool. Therefore, it makes sense to select an accessory that speaks for itself.
The 1911 pistol is most of the time a workhorse, but collectors like to take it a step beyond. By ordering custom-made 1911 pistols, sometimes one-of-a-kind pieces that satisfy both technical and aesthetic desires they create a legacy piece.
The sky's the limit for the price tags on these pieces. However, this is irrelevant when you're creating a custom pistol.
The 1911 pistol is so much more than a gun, is a symbol of freedom, courage, and lineage.
Recommended Reading
10 Best Handguns For Home Defense
10 Best 9mm 1911 Pistols Available Today
10 Best Handguns For Women (for Self Defense CCW)
10 Best 10mm Pistols & Handguns
5 Best Handguns/Pistols For Beginners