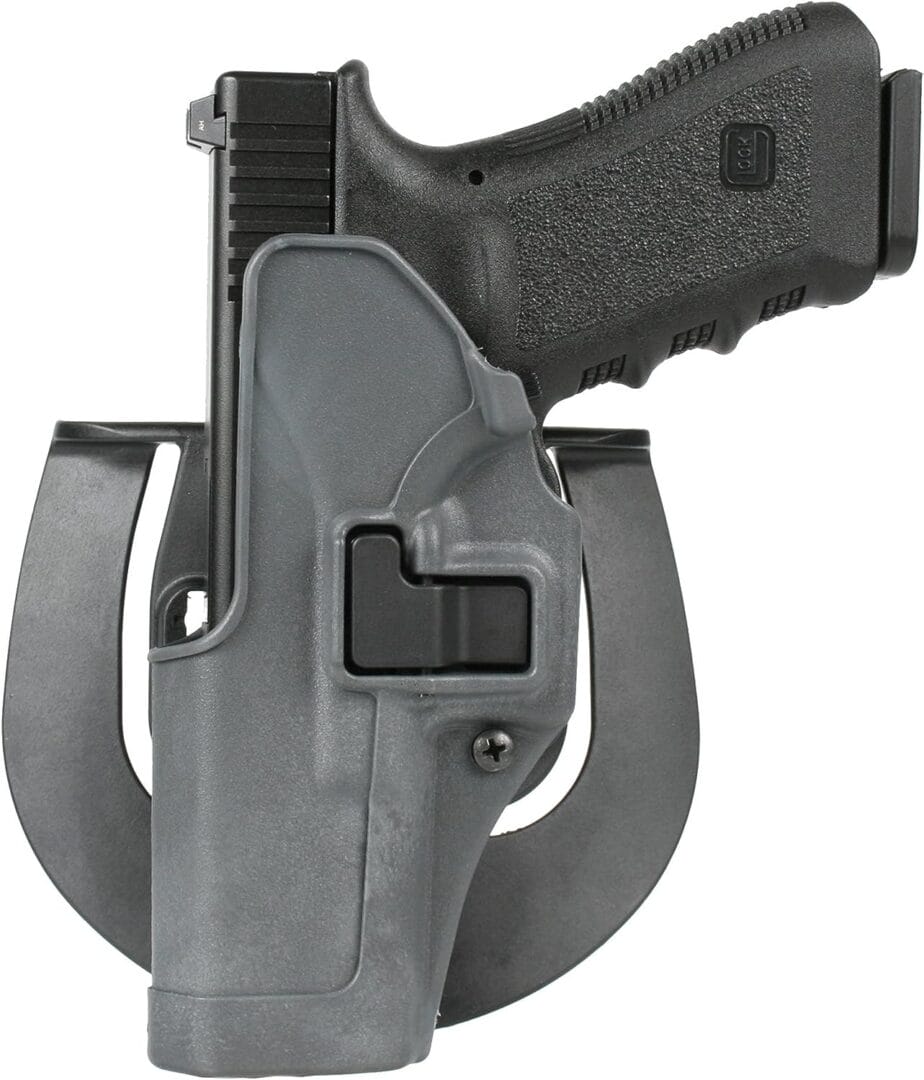 The Smith & Wesson SD40VE is a lot of people's self-defense weapon of choice. A reworking of the older Sigma series, SD handguns feature improved ergonomics, such as a better grip and improved trigger action. A great gun for self-defense is nothing without a decent holster to carry it in. With that in mind, we've put the competition to the test and found what we consider to be the best holster for the S&W SD40VE.
After putting in the homework, we've decided that the Blackhawk Serpa CQC Sportster takes the number one spot as the best holster for the S&W SD40VE.
Get Great Guns and Ammo Deals!
---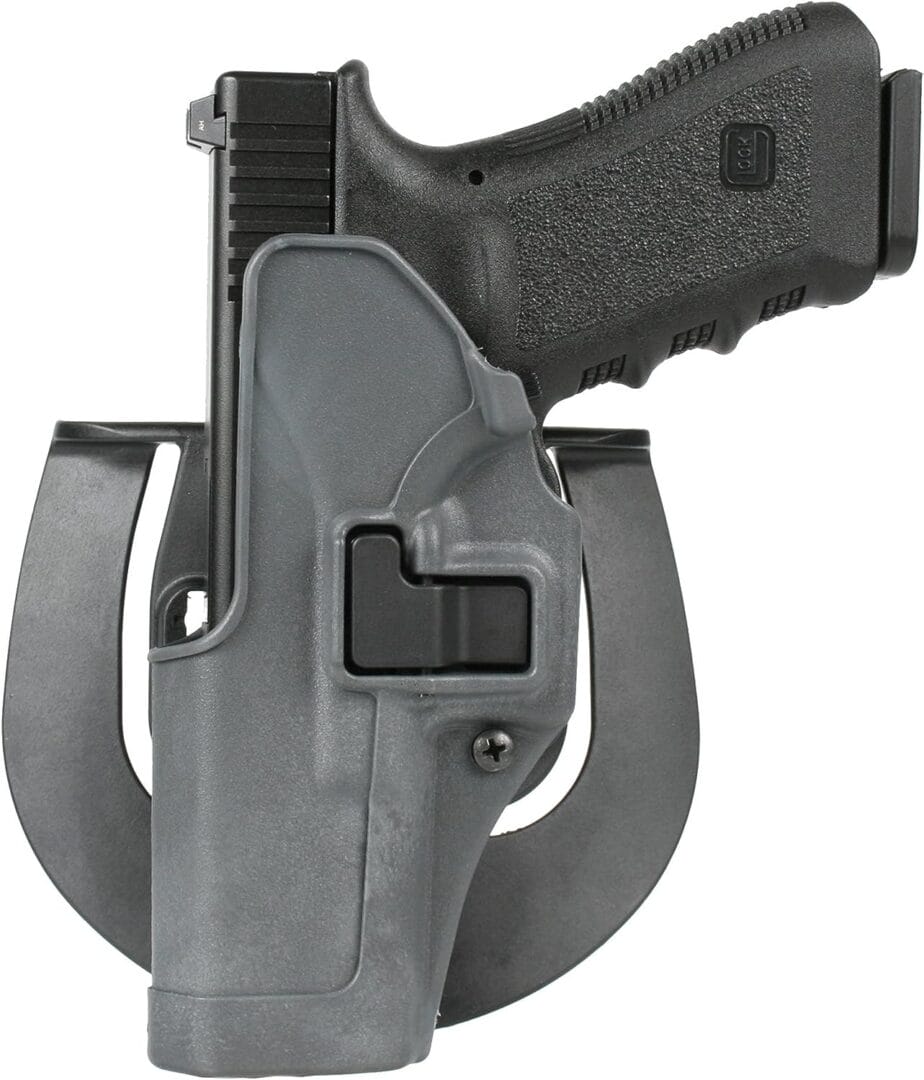 Yes, it's for an M&P, but this holster fits the SD40VE like a charm. It's made from durable injection-molded polymer, and attaches to your belt with a sturdy paddle platform. All in all, it's easy on the eye and functions well.
| Pros | Cons |
| --- | --- |
| As well as good passive retention and adjustable retention screws, there is an auto-lock release system which you push as you draw the firearm. | It is somewhat bulky, which makes it a bit more difficult to conceal. You'll probably need to wear a jacket to really get away with carrying concealed in this holster. |
| The draw is very smooth and easy, and the auto-lock can be released with one hand. Many people find it easier than a thumb-break. | |
| The paddle platform is very difficult to remove from your pants, meaning there's no chance of it coming off in difficult situations. | |
---
How to choose a quality holster for the S&W SD40VE
The SD in SD40VE stands for "self-defense" and the 40 for .40 S&W ammo. For those less familiar with this gun, it is a reliable semi-automatic that is often compared favorably to other handguns chambered in .40 S&W, such as the Glock 23. One of the biggest attractions of the SD VE series is affordability – in terms of value for money, this particular handgun is considered one of the best on the market.
After picking up an SD40VE, one of the first things you'll notice is that there doesn't seem to be many holsters designed specifically for this gun. I'll let you in on a little secret here, most holsters made for the S&W M&P will also fit the SD40VE.
Nevertheless, when you purchase a holster you want to make sure it's exactly right – both for you and your gun. That's why we've found a few holsters, which work particularly well with the SD40VE.
Holster Attributes
Below are detailed some of the core requirements of a quality holster:
Safety
when carrying, safety is of the utmost concern. The last thing you want as a weapon owner is for your gun to accidentally discharge.
The basic safety aspects of any good holster are a) retention and b) trigger protection.
Good quality retention ensures your weapon doesn't slip out of your holster unwanted. Retention devices include thumb-break snaps, retention screws, and automatic locks. Importantly, retention devices shouldn't slow your draw speed in life and death situations. For a detailed description click here.
Most holsters will cover the trigger guard of your firearm. That way, it's very difficult for foreign objects to cause your gun to accidentally misfire.
Materials
As we mentioned already, a holster should prevent accidental misfires. Another way you can ensure that this doesn't happen is by getting a holster made of tough material. If a holster is too flimsy, there is a risk the trigger isn't being properly protected. To counter this, go for sturdier holsters made of leather, kydex, or tougher nylon (ballistic-grade Cordura is a safe bet).
A holster made of quality materials will last longer. It should also keep your handgun looking good for longer. Not such an issue for the SD40VE with its stainless steel slide, but a decent holster should have a soft lining to prevent damage to the finish of your gun, and to ensure a faster draw.
Holster Styles
Now that we know what to look for in a holster, let's consider some of the more common holster styles.
Belt Holsters
Belt holsters are a popular choice both for concealed and open carry. There are two kinds of belt holster:
Belt loop holsters
This type of holster has loops which you thread your belt through to hold your holster securely on your waist. The biggest issue with this kind of holster is difficultly getting them on and off.
Paddle holsters
These clip on to your belt. The biggest advantage they have to offer is their versatility – they can be adjusted to sit on the most comfortable position on your waist. However, they do tend to be a bit on the bulky side, and can stick out from your body.
Waistband Holsters
Often called IWB (inside-the-waistband) holsters. These are worn tucked inside of your pants or jeans, because of this they have the obvious advantage of offering excellent concealment.
Another good thing about waistband holsters is that they allow you to wear lighter clothing as you won't need a jacket to conceal your firearm. However, some people find them uncomfortable and you will have to wear slightly larger pants to accommodate for an IWB.
Pocket Holsters
Pocket holsters are a good choice for concealment, and provide a considerably safer option than simply placing your firearm loose in a pocket.
This kind of holster often has a sticky exterior to stop it moving around in your pocket and to make sure you draw without pulling your holster out of your pocket.
It's worth nothing that the S&W SD40VE is really too large for standard pocket carry.
---
Alternative S&W SD40VE Holster Reviews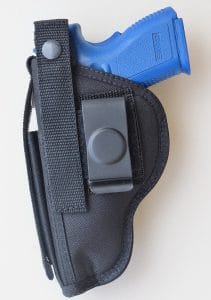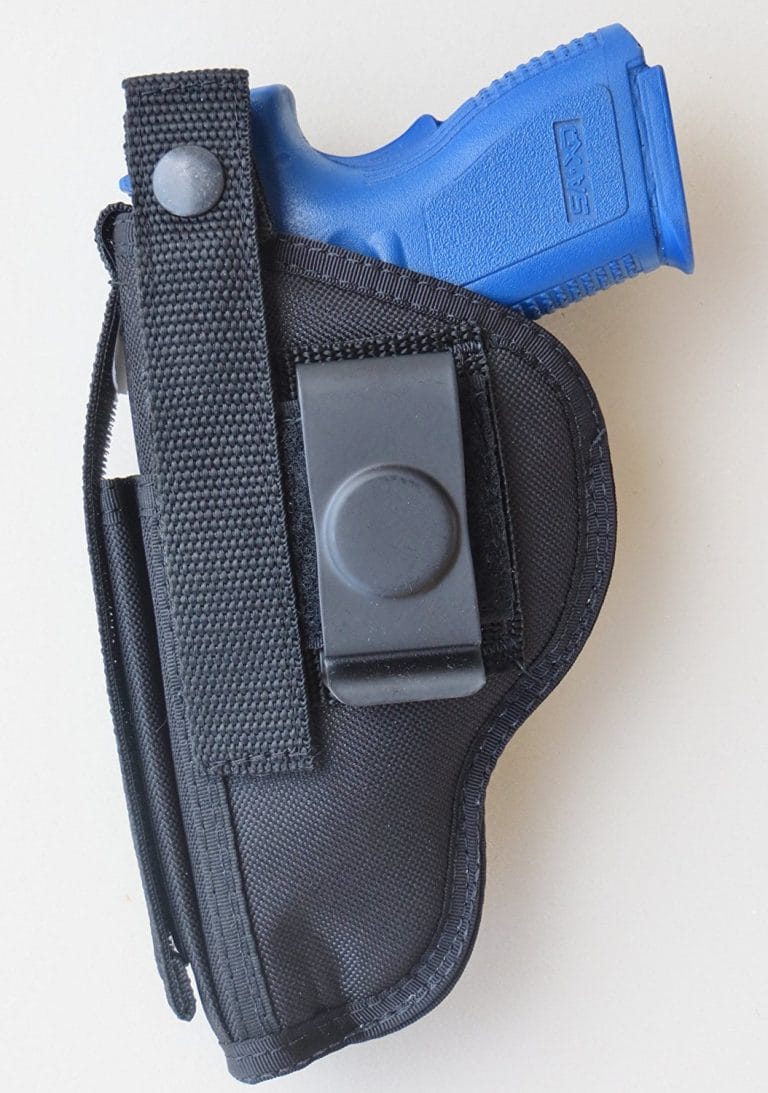 This is one of the few holsters designed specifically for the S&W SD40VE. It's a pretty standard nylon belt holster which attaches either by a clip or belt loops.
It's a low-cost option making it very suitable for first-time gun owners. Despite its low price, the quality really shows on this holster, especially in areas like the stitching.
| Pros | Cons |
| --- | --- |
| The interior of the holster is made from a smooth nylon, which is easy to draw from. | It's a bulky set up and not particularly useful for concealed carry. |
| It has the additional bonus of an extra magazine pouch. | Velcro attachments are prone to wearing out over time. |
| The thumb-break strap is sturdily made and functional. | |
| As an ambidextrous holster, it can be worn on your strong-side or crossdraw. | |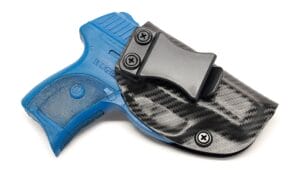 Made from durable Kydex that is custom molded to fit the S&W SD40VE, this holster is designed to be worn inside the waistband for maximum concealment. Its minimalist design makes for a very lightweight holster.
It's available in both right and left-hand version, so don't make the mistake of ordering the wrong one (it happens more often than you would imagine).
| Pros | Cons |
| --- | --- |
| This holster has great passive retention; it even gives a satisfying, audible click when the firearm is holstered correctly. | There is a tendency for some of the Kydex to come off on the serrations of the SD40VE when drawing the weapon. |
| It also features adjustable retention screws, and has adjustable cant from 0 through to 15 degrees. | |
| There is a sweatguard that faces against your body to keep moisture off your weapon; this feature also helps to guide your weapon back into the holster. | |
This is a nice-looking leather holster with something of a traditional feel to it. It's custom molded to fit the gun you order it for, and attaches to a belt with 1 3/4 inch belt slots.
It's also available in tan leather for a slightly elevated price, if that takes your fancy. Either way, with its excellent workmanship, this is an attractive holster that you won't shy away from showing off.
| Pros | Cons |
| --- | --- |
| This holster features passive retention that you can adjust with a retention screw. As it's molded specifically for the SD40VE, it will hold your weapon very well. | It's only available as a right-hand holster. If that doesn't suit you, you'll have to try another holster. |
| There are two belt slots on the front of the holster, allowing for flexibility with cant adjustment. | |
| It's a comfortable holster that can be worn high and close to the body for easy concealment. | |
---
Best Smith & Wesson SD40VE Holster – Conclusion
At first glance, it may not seem like there are many holster choices for the Smith & Wesson SW SD40VE. After reading through this review, you should have a better idea of what's available.
All of the holsters featured in this review are of a high degree of quality, and will back you up in both casual and self-defense situations.
It's difficult to single out a holster, but if we had to we'd say the Blackhawk Serpa CQC Sportster cannot be matched for its design and functionality. It's made from a durable polymer that will stand up to the most extreme conditions, and it features a unique retention device that is easy to use. On top of that, it's attractive and looks good with the SD40VE.
Recommended Reading
Holsters For Smith & Wesson 642
Glock 43 Vs. Smith And Wesson M&p Shield
Concealed Carry Holsters For The S&W SD9 VE
Smith & Wesson SW22 Victory Pistol
Smith & Wesson Governor Holster
Best Holster For Smith & Wesson