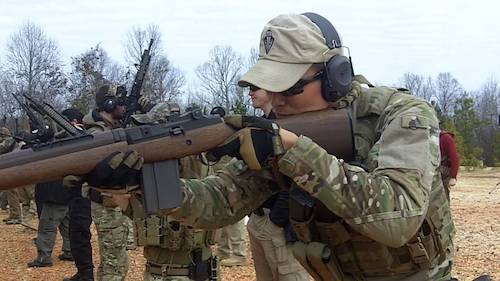 If you could only own one rifle, what would it be? Obviously, you would want it to be a rifle that could fulfill a wide variety of different purposes, from big game hunting (if you're a hunter) to home and property defense to tactical use to casual shooting and so on. That rifle is a Scout Rifle.
This scout rifle would ideally be chambered for a popular and versatile round that would be capable of long-distance shooting while also being of a more compact size so it wouldn't be too unwieldy in tight situations.
The rifle that fulfills the criteria set above already exists. It's called the Scout rifle. Originally envisioned by Jeff Cooper, the Scout rifle is basically a compact rifle with a full-powered rifle cartridge. Let's learn more about the Scout rifle, its practical applications, and then the six best Scout rifles available today.
Get Great Guns and Ammo Deals!
The Concept Behind The Scout Rifle
The Scout rifle was basically envisioned by Cooper as being the one rifle to have if you could have only one. In fact, Ruger markets their scout rifle (the Gunsite Scout Rifle or 'GSR' for short) as being precisely that in their advertising campaign.
The Scout rifle is intended to be a multi-purpose, lightweight, and compact rifle chambered in the .30 caliber or higher. It would also be a bolt action (though not all Scout rifles produced today are, as we shall soon see), with iron sights, a detachable magazine for fast reloading, and a scope that was located forward of the receiver for proper eye relief.
While the Scout rifle would not necessarily be the best choice for everything, it would be a suitable choice for everything. It would be an excellent rifle to take on patrol or in the woods, to keep in your vehicle as a so-called 'truck gun,' to take down big game, or if necessary, to defend your home and family.
So, is the Scout rifle the 'perfect' rifle to own? No, but it is arguably the most multi-purpose rifle you could own, and even if you have plenty of other rifles in your gun safe already, there would be nothing wrong with adding a Scout rifle to it due to its many applications.
---
Best Scout Rifle Options – Our Favorites
Here are the top six best scout rifles that money can buy you today:
Cooper specifically envisioned the Scout rifle as being a bolt action, but that doesn't mean that a lever action wouldn't work as a Scout rifle. In fact, a lever gun presents many advantages over a bolt action.
One of the biggest advantages of a lever action over a bolt action is you have a faster rate of fire. You can shoot, re-chamber, and shoot a lever action faster than you can a bolt action. It's just that simple. This would be an excellent advantage to have if you have to quickly defend your life against deadly big game animals or multiple attackers.
Advantage of a Lever Action Scout Rifle
Another advantage to the lever action carbine is now narrow it is, which makes it very easy to store or transport in a vehicle. Finally, the lever action with a loading gate such as a Marlin or a Winchester presents you with the easy opportunity to shoot one or two rounds and then load one or two rounds, to ensure that you always have ammunition in the magazine tube.
The Marlin Model 1895SBL is a lever action carbine chambered for the large .45-70 round. This is a hard-hitting round capable of bringing down anything in North America. With an overall length of just 37 inches and a weight of 8 pounds, the 1895SBL certainly fulfills Cooper's criteria for a Scout rifle from a size perspective.
It also features the ability to mount a scope forward of the receiver for proper eye relief, XS ghost ring sights, and a large loop lever so you can easily operate the rifle when wearing gloves. Total capacity is 6+1 rounds.
The .45-70 is a large round and as a result, it is noted for its high recoil. If this is not desirable to you, then a good alternative to the 1895SBL would be the 336 in .30-30 Winchester.
The .30-30 is a good round for games such as deer, black bear, or wild pigs, but is a poor round for larger games such as moose or elk. The trade-off, however, is that it is much cheaper and easier to shoot than the .45-70.
The Mossberg MVP Scout in .308 Winchester is a true Scout rifle in every sense that Jeff Cooper intended it to be. One of the biggest advantages of the MVP Scout over other Scout rifles in its class is that it accepts both AR-10 and M1A magazines.
In contrast to this, most other Scout rifles on the market such as the Ruger GSR use proprietary magazines that are expensive and difficult to find. The fact that the MVP uses magazines that are cheaper and very easy to find is a major plus, especially if you are considering the Scout Rifle as an SHTF rifle.
This also means you could potentially have a capacity of 20+1 rounds with the Mossberg MVP. That's pretty good, considering that most Scout rifles will hold ten rounds or sometimes only five or so.
Furthermore, the MVP Scout is often sold as a combo package with a Vortex 2-7x32mm scope. Very few other Scout rifles are sold with an optic of any kind, so it's certainly a nice feature.
The MVP also comes installed with a Picatinny rail forward of the receiver, also as Cooper originally envisioned, with a fiber optic front sight. The barrel measures 16.25 inches, with a total length of 37.5 inches and a weight of eight and a quarter pounds.
The Ruger Gunsite Scout Rifle (or GSR) was introduced by Ruger in 2011 and developed in conjunction with the Gunsite Training Center in Arizona, hence the name. It is available in a variety of calibers, including .308 Winchester, .450 Bushmaster, 6.5 Creedmoor, and 5.56x45mm NATO.
The Gunsite Scout is essentially a carbine length and detachable box magazine-fed version of their popular M77 bolt action rifle, which utilizes the proven Mauser action. The GSR has a total length of 40 inches with the 18.l7 inch barrel, a wood laminated stock or black synthetic stock depending on the model you choose, and a matte blued or mate stainless steel barrel depending on the model you choose. A shorter 16-inch barreled version is available as well.
As with other M77 rifles, the GSR has a three-position safety and a single-stage trigger that breaks at around four pounds. It features a forward Picatinny rail that allows for the mounting of a variety of different Scout scopes and Red dot sights.
The standard magazine capacity holds 10 rounds, while 5 and 3-round magazines are available as well. The magazines are proprietary and are quite expensive, which is a downside to the rifle.
Another highly popular Scout rifle is the Savage M11 Scout in .308 Winchester. It is built using the 110 style of action developed by Savage. The rifle has an 18-inch barrel with a muzzle brake that adds another two and a-half inches; however, the brake is removable.
The advantage of the muzzle brake is it reduces both recoil and muzzle flip, which simply makes the rifle more controllable. On the other hand, though, it also makes the rifle much louder, so wear hearing protection.
The M11 uses a synthetic tan stock that has three different attachment points for adding a sling. This was done specifically according to Cooper's design. The three attachment points are located at the front, center, and rear of the stock.
The standard magazine for the Savage M11 holds 10 rounds, with a forward Picatinny rail for adding scopes and optics. The bolt is oversized so it is easy to operate when wearing gloves. The tang mounted three position safety will lock the bolt closed when it is turned on.
Another big advantage to the Savage M11 is Savage's trademark AccuTrigger, which is fully adjustable and can be lowered to just 2.75 pounds, making it one of the lightest and crispest trigger pulls of any Scout rifle on the market.
The M1A Scout Squad from Springfield Armory is the only semi-automatic rifle on this list. This is technically a battle rifle, it being a semi-automatic .308 with a detachable box magazine, but it's also an excellent choice for a truck gun, a brush gun, or even a hunting gun if you want it to.
A semi-automatic naturally has a number of advantages over a bolt gun or a lever gun, and if you could only own one rifle, many people would want that rifle to be semi-automatic for the simple reason that you have a faster rate of fire. In fact, a strong case can be made that a semi-automatic rifle chambered for .308 rifle could be the most versatile rifle that you could own.
The Springfield M1A Scout Squad has a total length of just over 40 inches with a barrel length of 18 inches. It is constructed out of carbon steel with a parkerized finish and has a weight of just under 9 pounds. It ships with a 10-round parkerized steel magazine, but larger 20-round M1A magazines are also easily available.
The last Scout rifle on this list is actually the first official one that was ever invented: the Steyr Scout Rifle in .308 Winchester. Produced originally in 1998, this was the first commercial 'Scout Rifle' and has the distinction of actually being a cooperative effort between Steyr Mannlicher and Jeff Cooper himself.
In other words, if you want a Scout rifle that gets as close as possible to what Jeff Cooper had in mind, this rifle is probably it.
The Steyr Scout Rifle has a polymer stock with an aluminum receiver and is very lightweight at just over six and a half pounds. The barrel measures 19 inches and is hammer-forged. There is a Weaver style of rail that is mounted forward of the receiver for the easy mounting of optics and scopes. The overall length of the rifle is just over thirty-nine inches.
This rifle also comes installed with a two-stage trigger that is very light at around four pounds. The rear sight is adjustable for elevation and both sights are flipped up. Another unique feature of this rifle is the fact that it comes with an integral folding bipod, which is hidden in the bottom of the stock. With the simple push of a button, the bipod is released for rapid deployment.
---
Best Scout Rifle Review – Conclusion
The Scout rifle isn't just a cool concept on paper. It's a truly applicable rifle in real-world situations. There's a reason why it's become more and more popular in recent years.
Recommended Reading