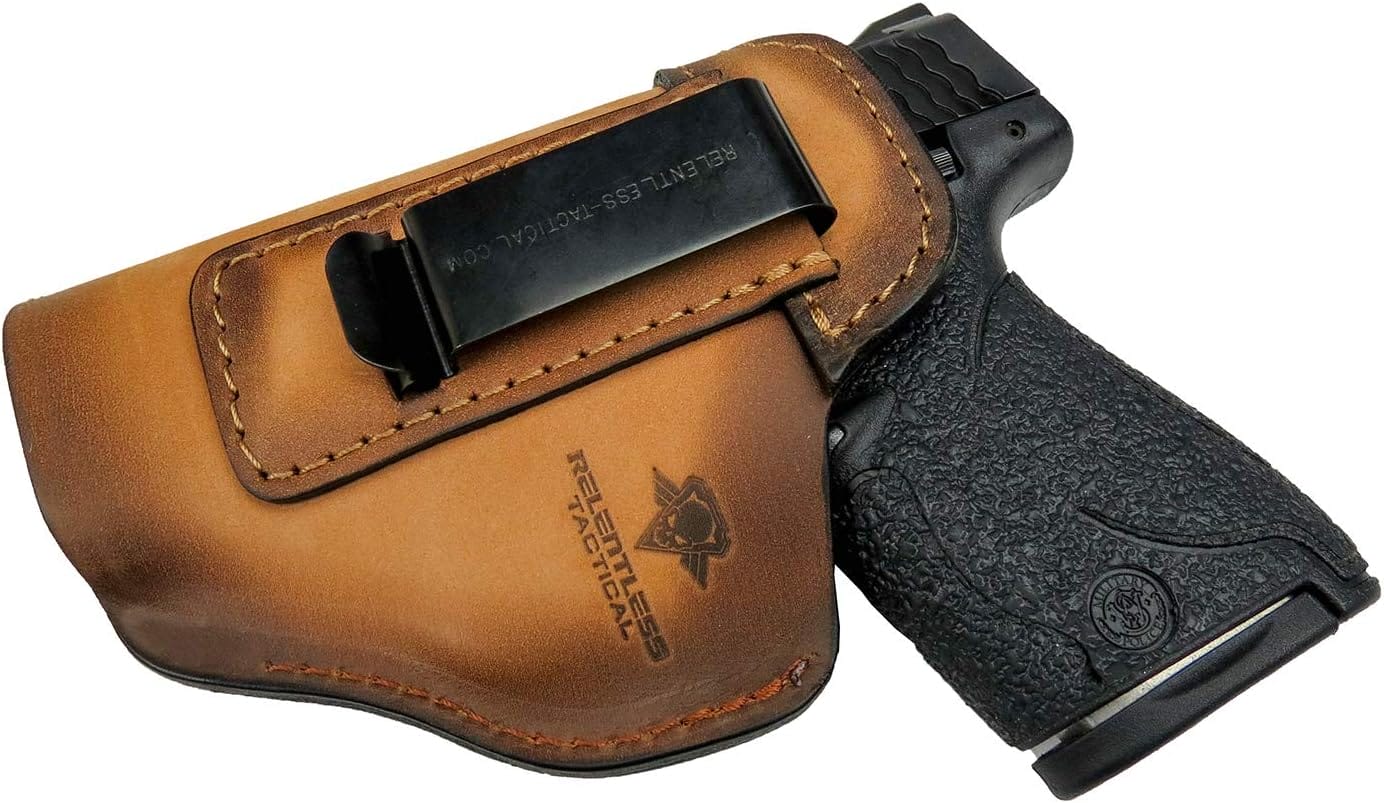 You want a good holster to go with your sub-compact, 3" 9mm Springfield XD Mod. 2. Where do you start, though? That all depends on what you are looking for in a holster, and who you are.
One holster that I have found to be a great fit for the XD Model 2 is the Alien Gear Holsters Cloak Tuck 3.0 IWB Holster. It is available for a wide variety of sub-compact firearms, and that includes your Springfield XD Model 2. The quality is impressive, and since these smaller sidearms are good for concealment, this IWB will do exactly what you need.
Get Great Guns and Ammo Deals!
---
What to look for in a Springfield XD Mod 2 Holster
When shopping around for the perfect holster, there are many components to look into before you purchase. If you keep in mind the following things then you will be able to spot the right match for your sidearm.
Common Holster Styles
OWB (Outside the Waistband)
Popular with military or law enforcement

Popular among open carriers

Concealable under long/loose clothing

Generally sits high or behind hip

Can have magazine pouch
IWB (Inside the Waistband)
Ideal for concealed carry

Clips to the inside of your pants or skirt

Generally clips to belt

Variety of clip sizes to belt sizes

Works better with tighter/tucked in clothing

Can have magazine pouches

Also the option of appendix inside the waistband holster (AIWB)

Allows you to wear it inside the front of the pants rather than the side or back
BWB (Below Waistband)
Made popular by Urban Carry Holsters

Sits directly below the waistline for deeper concealment

Two handed draw required

Might have magazine pouch
Concealed carry holster

Goes in your pants or shorts pocket

Generally tacky exterior to keep from slipping

Meant for compact guns
Generally two pieces put together (Resembles a pouch)

Worn further back from the hip

Pulled close to body

Ideal for concealment

Best worn with an undershirt
Elastic holster goes around lower torso

Generally above belt line or higher

Gun can be holstered in many positions

Generally good unisex option

Most are adjustable to a certain size

Concealable under different types of clothing

Often includes magazine pouches
Two connecting straps

Holster pocket on either the left or right strap

Gun can be pointed in different direction depending on holster

Weight of sidearm is distributed evenly over your shoulders

Ideal for concealed carry under a coat or shirt

Can be worn as open carry.

Not ideal for women
Common among law enforcement for secondary weapon

Worn on opposite leg of dominant hand

Gun positioned on inside of leg

Ideal for concealed carry beneath loose jeans or pants
---
Things to Consider When Choosing a Springfield XD Mod 2 Holster
Gun Belts
A gun belt is essential with any hip holster, especially for heavier sidearms. An everyday belt won't always do it, and if you end up with a belt clip or slide holster then you will want a belt specifically made for carrying.
Generally clips will fit a certain size belt, so keep that in mind and make sure your belt will be fitted accordingly.
Having a belt will help in the area of weight distribution, rather than having to bear the weight of a gun without any assistance.
Make sure you get one that will keep your holster secure and snug to your body. Even if they're adjustable, you want don't want it too loose. You generally won't have to worry about your wallet when it comes to price for belts so make sure you are getting quality.
Wardrobe
Wardrobe is important with holsters, especially when it comes to concealed carry. Tight and fitted clothing will reveal the edges and shape your you gun more, whether it is in an IWB or OWB holster. Especially with pistols, the grip may be identifiable.
You will want to consider and plan your outfits according to the level of concealment you want. Do you care if a little printing shows? Are you wanting it to be undetectable? Or are you carrying open and don't care at all?
Remember, even with an IWB you will want to test your garments. Just because it is on the inside does not mean it will be hidden.
Carrying Options and Comfort
How exactly do you plan to carry? Open? Concealed? Do you want to cross draw or strongside draw? Every aspect of carrying style plays into your comfort. Some options are better than others.
If you are planning to carry concealed, note now that it is not always comfortable. You can, and probably will, get used to it given the reliability of a good holster, but it might not start of feeling natural.
Wear your holster around, get used to it, practice drawing and reholstering. These are the ultimate steps to take for getting used to it.
Right or Left Handed
Did you know roughly 12% of the world is left handed? This statistic can vary, but you will usually find it between 10%-15%. Considering that there are over 7 billion people on Earth, that number is not a whole lot.
While a good majority of holster manufacturers give right or left handed options, or even make the holster ambidextrous, you will still find those that don't have any other option but right handed. Make sure you are picking the right option according to how you want to carry!
Retention
Different holsters have different levels of retention. Do you want it to be a quick draw or do you prioritize retention mechanisms? Depending on what you want, you can find out the level of retention fairly easily by studying the features and components of a holster.
---
Top Picks for Springfield XD Mod. 2 Holster
Now that you have had a chance to see one of our favorites and have been given some information on holsters, let's look a little closer at the top pick and some other holster options.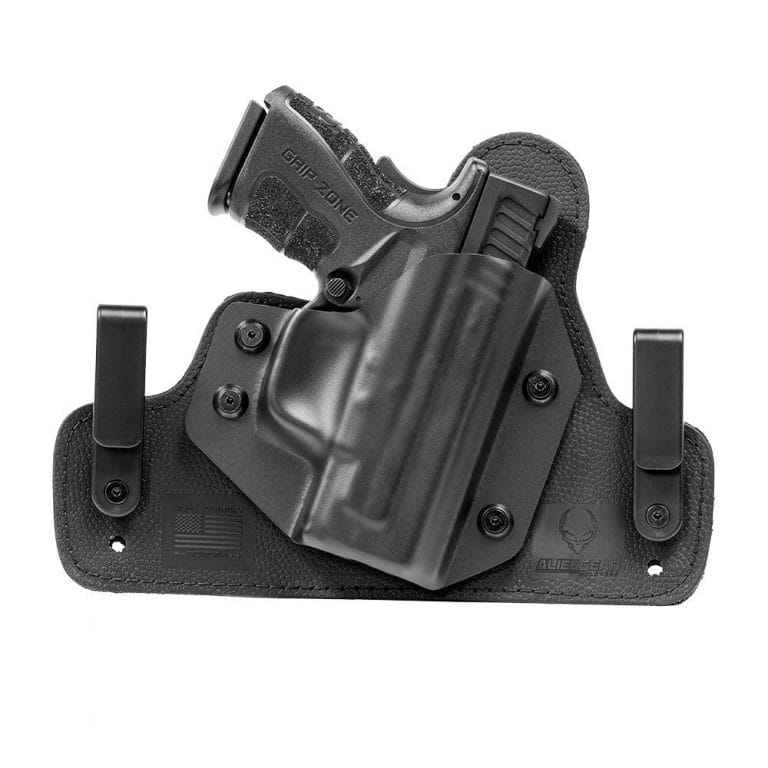 Made with a flexible and form fitting neoprene, this holster avoids the tedious and time-consuming process of breaking it in. It is a fantastic IWB option for concealed carry, and fits the XD Model 2 like a glove.
Alien Gear Holsters Tuck 3.0 IWB Springfield XD Mod 2 Holster – Features
American made

No maintenance needed

No breaking it in

Adjustable ride height

Adjustable cant

Adjustable retention

Waterproof backpad

Lifetime warranty

30 day trial period
| Pros | Cons |
| --- | --- |
| Forms to body quickly | Neoprene backing may wear off and leave plastic edge exposed |
| Great retention | Sweat shield may be too wide for preference |
| Conceals great | Can be hard to position |
| Adjustability | |
For an option made specifically to fit the Springfield XD Mod. 2, this option is the one to go with. It is simple but reliable, and has some great features.
Concealment Express IWB KYDEX Springfield XD Mod 2 Holster – Features
Made for Springfield XD MOD.2 3"

Adjustable Retention Pressure & Carry Angle

Thickness: .08″ KYDEX

Weight: 2.5 oz.

Belt Clip: 1.5″

'Posi-Click' Audible Retention Lock System

Integrated Full Sweat Shield

Made in USA

Lifetime Warranty
| Pros | Cons |
| --- | --- |
| Minimal printing | May have sharp edges that need smoothing down |
| Adjustability | Not enough belt clip size variety |
| Functionality is good | Hip may get sore after all day-wear for some |
| Quick draw | |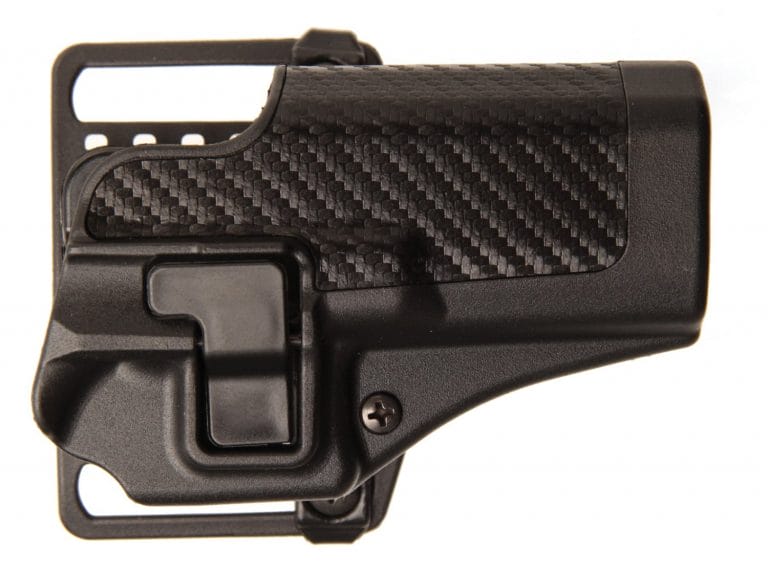 A unique holster that abandons the thumb break in order to help with quick draw, this option works great and is made for your sidearm.
BLACKHAWK! Serpa CQC Gun Metal Grey Sportster Holster Springfield XD Mod 2 – Features
Passive retention adjustment screw

Immediate retention click when re-holstered

Includes paddle platform
Gunmetal gray holster body with black SERPA Auto Lock release
| Pros | Cons |
| --- | --- |
| Good protection | Paddle may be tough to remove from pants until practiced |
| Secure retention | May be half an inch too long |
| Comfortable | Adjustment screw could be bigger |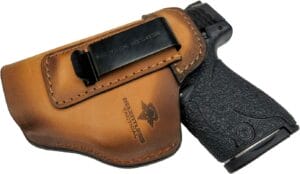 With a variety to fit many gun types, this IWB is made with quality materialand meant to last for a long time.
The Defender Springfield XD Mod 2 Leather IWB Holster for Springfield XD Mod 2 – Features
Bullhide leather

Handmade in US

Lifetime warranty
| Pros | Cons |
| --- | --- |
| Comfortable | May need additional breaking in |
| Good quality | Might be too snug of a fit fit |
| Strong clip | May cause slide to pull back |
| Stitching is strong | May carry too deep |
| | Slightly bulky |
---
Springfield XD Mod 2 Holster – Top Pick
As you saw in the beginning of the article, the Alien Gear Holsters Cloak Tuck 3.0 IWB Holster is my top choice. Taking a closer look at the features helps to narrow down exactly why it is such a fantastic option, and the pros really outweigh the cons.
The adjustability and retention are what set this holster apart from the rest, as well as the concealability and comfort.
Now that you have had a chance to see some other options, perhaps one of the others is your favorite? Maybe you had to consider some of the different styles and other components that play into what makes the perfect holster. Whatever you end up choosing, I hope this helped to inspire you and lead you in the right direction.
Every sidearm deserves a good holster, and the decision should not be made lightly. I hope you have found some valuable information in this article, and that you will return to our site for any future firearm needs.
Recommended Reading
Best Concealed Carry Springfield XDM Holster
Concealed Carry Holsters For Springfield XD
.300 Win Mag VS .30-06 Springfield
.308 Winchester VS. .30-06 Springfield