Being equipped with the proper gear on your next hunting or hiking trip can be a massive game changer. After all, it is better to be safe than sorry, right? We think so, which is why we have taken the time to review some of the best tactical backpack options available right now.
One of the most important pieces of gear every outdoorsman needs to have is a tactical backpack. It carries all your valuable equipment while giving you the comfort of knowing that all of your equipment is safe and easily accessible when you need it.
Get Great Guns and Ammo Deals!
---
5 Best Tactical Backpack Reviews
So, join along with us as we review our top picks for the 5 best tactical backpacks.
Kicking off our list is The Condor 3-day Pack. This backpack is a must-have if you are planning a lengthy outdoor excursion.
This backpack comes with a total of seven compartments and two main storage units for just about any gear you need it to hold. Within these two main compartments, you will find various internal sorting pockets ranging in size and shape for various items. And for those hot summer days, there is also a dedicated pouch to hold a 3-liter hydration bladder.
If you are carrying multiple items and starting to feel a little bulky, you can use the compressions straps found on either side of the pack to help reduce your profile a good amount.
Sizing up to about 3038 cubic inches of space, the Condor 3 Day Assault Pack can hold you over with supplies for roughly a week-long adventure.
So, we know about how much gear this thing will hold internally but it is also what is known as a MOLLE (Modular Lightweight Load-carrying Equipment) backpack. This means that it is loaded with horizontal and vertical webbing and a few D-ring attachments to support all your MOLLE-compatible gear.
We found the shoulder straps to be extremely comfortable even under heavier loads. The cushioned back panels add to this comfort by keeping everything well-ventilated.
Looking for a Black Tactical Backpack?
This pack comes in 5 colors including black!
| Pros | Cons |
| --- | --- |
| Huge amount of storage space | No YKK zippers |
| MOLLE compatible | Feels heavier than the advertised weight of 2.5 pounds |
| Comfortable, padded back panel | |
Looking for a tactical backpack that has found its way into military use? Then take a look at the Tactical Rush 72 Backpack.
Best suited for no more than a 72-hour trip, the design of this backpack is well-thought out and extremely versatile. It is water repellant, comes with huge storage compartments, and even an easily accessed pocket for your sunglasses.
On the outside, there are more than enough MOLLE compatible webbing to accommodate all of your gear and then some. To further add to the load capabilities, the bottom of this pack comes with lashing straps.
And with dedicated space for dual 2-liter water bottles, and a hydration bladder, you should never become dehydrated while out on the trails.
Another Black Tactical Backpack as well as 4 other colors.
| Pros | Cons |
| --- | --- |
| Solid YKK zippers | Expensive |
| Tons of pockets | Heavier than most other tactical backpacks |
| Heavy duty stitching | |
| MOLLE compatible | |
The Rush MOAB 10 is a daypack with 1093 cubic inches of space for all your gear. This includes compartments for your main gear, a smaller front compartment, a shoulder strap pocket, and multiple interior pockets to keep all of your smaller stuff organized. If that isn't enough space for you, it also includes a pocket large enough to accept a 1-liter hydration bladder, and a fleece lined pocket for your sunglasses.
Assembled from a sturdy, yet lightweight 1050D nylon, the MOAB 10 is at the top of its game when it comes to both performance, and durability as well. It is rather compact, providing you with a low profile when everything is tightened up and secured to your back. The comfortably padded shoulder strap makes this a comfortable fit.
Lining the front exterior and side exterior of this pack is MOLLE webbing, and a tier system to allow your backpack to integrate with other RUSH packs. Top all of this off with a sturdy carrying handle and you have yourself a really nice tactical backpack.
| Pros | Cons |
| --- | --- |
| Made from 1050D nylon | No stabilizing straps |
| YKK zippers | Not great for heavier loads |
| Compact design provides a low profile | |
| Can integrate easily with other RUSH packs | |
| 7 Tactical backpack colors including black | |
The Blackhawk Cyane Dynamic Military Pack is a powerhouse of a tactical backpack. For starters, this thing is made of a tear-resistant material known as 500 Denier rip stop. This lightweight, yet durable material alone makes it worthy of a spot on your next outing. The MultiCam version of this pack features CORDURA nylon instead.
The storage space you get with the Cyane Dynamic Pack is just outstanding. Totaling up to right at 1,329 cubic inches, you should have plenty of room for anything from hiking gear to tactical range equipment.
This space consists of a main compartment, a front-facing zippered pocket, and a beavertail-style compartment. You can also add on a pocket for carrying your hydration bladder, but this is sold separately.
Of course, this pack is MOLLE compatible as well. On the back, you will find seven rows of webbing. This is best used for attaching a back panel. On the sides, you have four rows of webbing, and on the front compartment, you have three rows of webbing. Can we say "gear for days"?
Overall, we highly recommend you consider the Blackhawk Cyane Dynamic Pack as the next daypack to add to your collection.
| Pros | Cons |
| --- | --- |
| Tons of MOLLE compatible webbing | Shoulder straps are very thin |
| Made from 500 Denier Rip stop material | Middle zip pocket takes a little work to get into |
| Removable back pad | |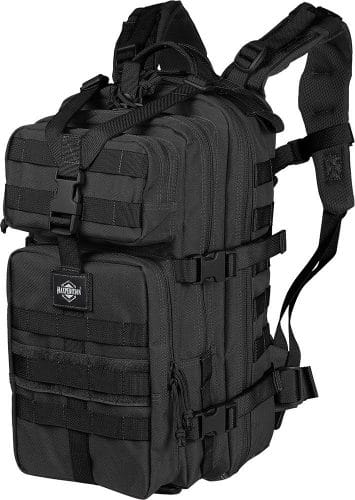 If organization is a big concern for you, you need look no further than the Maxpedition Falcon 2. Featuring a roomy main storage area, this backpack has layers of independent compartments with tons of pockets, pouches and PAL attachment areas. Couple that with the two 3-liter water reservoirs for a total storage space of 1,520 cubic inches.
The build quality of this backpack is phenomenal. This durable tactical backpack is made from 1050 Denier nylon, so you can be sure that it is water and abrasion-resistant. The buckles and dual-directional YKK zippers are all heavy duty as well.
When you look at it, there is no question that the Falcon 2 was built to be ergonomic. The foam-padded double shoulder straps contour to your chest nicely while the sternum suspension belt helps to distribute all the load weight evenly.
Whether you are just going on a hiking trip for the day or planning on taking this backpack on more tactical missions, it will never let you down.
| Pros | Cons |
| --- | --- |
| Ergonomic design | Buckles are noisy when clasping or unclasping them |
| 1050 Denier nylon | Can get bulky very quickly |
| Heavy duty buckles and YKK zippers | |
---
How We Review Tactical Backpacks
When we review tactical backpacks, we are taking into consideration a few different variables. The most important of these are: the material it is made from, how comfortable it is, and of course, how much storage space it provides for all of your gear.
By doing this, we are able to narrow down the best of the best. Any backpack that didn't meet or exceed our expectations, were not included.
We have reviewed some of these backpacks by getting our hands on them and actually trying them out ourselves. A few others we have reviewed by scouring the web and seeking out the input of others who have owned them.
---
Why Should You Get A Tactical Backpack?
Tactical backpacks are an invaluable tool to have at your disposal if you spend a lot of time enjoying outdoor activities like hunting, camping, or hiking. All those tools you will more than likely need for your outdoor excursion aren't just going to carry themselves. You really don't want to risk it with a pack that isn't designed to hold up, do you?
If your outdoor adventures can get tough, you also need something that can withstand all the beating you are probably going to be throwing at it. The best tactical backpacks out there are specifically designed for this very thing.
They are usually made of material that is designed to hold up well through all kinds of weather conditions, and these materials just happen to be some of the highest quality materials available on the market.
So, if you are an adventurer who is a little tough on their equipment, nothing else will perform quite as well as a designated tactical backpack for carrying everything you need out in the field.
---
Things To Look For When Buying A Tactical Backpack
Not all backpacks are created equal, so it helps if you know what to look for when you are planning on buying the best tactical backpack. Luckily for you, we've went ahead and did most of the legwork for you. Here are the top three features you should pay attention to when buying a new pack:
Materials
The type of materials that were used to make your backpack are of the utmost importance. Most tactical backpacks are usually made of a nylon. If you can buy one that is made from Denier nylon, that would be best as Denier is water and abrasion-resistant.
Then there are the zippers. Want to know something I've had the pleasure of learning the hard way? There is no worse feeling than being in the middle of a hiking trip and having your zipper get stuck, or worse, break. Have fun picking up all your supplies from the hiking trails! Pick something with a trusted zipper that has YKK imprinted on the zipper itself.
So, pick a tactical backpack that is created from 1000 or 1050 Denier nylon, and has YKK written on the zippers. Do this, and you are sure to
Comfort
The main purpose of a tactical backpack is to carry around tools and other supplies you may need. But you are only going to be able to get so many supplies in there before it begins to really gain some weight. Imagine how your shoulders and back might feel after a while.
For this reason, you really should consider picking the most comfortable backpack you can get your hands on. Most have foam-padded shoulder straps or back pads. At the end of the day, your shoulders and back will either love you, or hate you.
Storage Space
The amount of room you have in your backpack will determine how much gear you are able to tote around. If you thinking about buying a daypack, storage isn't always a deal breaker as you don't need to carry as much. If you're going hiking or fishing you'll need to have a place to store your gear without getting it all cluttered up.
However, you need something to take with you for a week-long trip, we recommend picking a backpack that has over 1,000 cubic inches.
Ask yourself what gear you need to take with you, and then narrow down the space you may need. Additionally, if you have any MOLLE compatible equipment, look for a tactical backpack with plenty of MOLLE webbing.
---
Best Tactical Backpack – Final Thoughts
In this review, we have looked at the top 5 tactical backpacks that are currently on the market. We scoured through endless reviews found across the web, and even played around with a few of these ourselves to narrow down our list.
We hope this review helps you find the backpack that is best suited to you and all of your own needs.
Remember, high quality material, low profile design, and plenty of storage space are the key specifications to look for in your next tactical backpack.
If there is a backpack that we haven't included in this list that you believe deserves a spot in our review for best tactical backpack in the future, please feel free to let us know in the comments sections and we may take a peek for our next review.
Until then, we wish you many fun and successful adventures!
Recommended Reading
Essential Items For Survival Kits