The .17 HMR or the .17 Hornady Magnum Rimfire came on the scene in 2002. It's suitable, famous and it's also one of the more detailed rimfire cartridges you can buy in 2018. For most shooters, the .17 HMR is the weapon of choice for varmint or rabbit hunting —  if you have hunted either of these, you've probably used the .17 HMR. However, if you're more interested in an elk hunting rifle, some other models might be better suited for you.
On the other hand, if you've never used this rimfire cartridge and are looking for more information, you've come to the right place! Let's go over some basics before we get into our review of the top three .17 HMR's and a couple of .17 HMR rifles.
Get Great Guns and Ammo Deals!
---
Background: .17 HMR
Besides being used in rifles, this rimfire cartridge can also be used in revolvers. It's true that Hornady was the mastermind behind the .17 HMR, but he was also assisted by Marlin and Ruger. The plan was to observe various cartridge manufacturers who were in the process of creating rounds that were based on speed.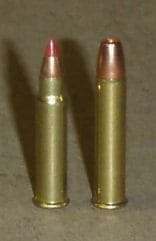 The .17 HMR is an heir of the .22 WMR. Moreover, the .17 HMR can be described as one that has a smaller neck and comes in at 15 to 20 grains.
It's also the best kind of bullet for hunting smaller targets (see above — varmint or rabbit hunting). The .17 HMR is as accurate and reliable today as it was at its first inception.
In the early 1970's, the 5mm RMR rimfire round was one of the fastest rimfires in production. Hence, the most lucrative rimfires always went full circle to the .22 caliber — minus the best ballistics. Hornady settled that their choice would be none other than the petite .17 caliber bullet.
To put it simply, Hornady tweaked the .22 Magnum shell to .17. The weight of 17 grains was determined by Hornady as a way to increase the speed boundary. In addition, the company created an advanced V-MAX bullet to adapt to the .17 caliber and 17-grain weight. Hornady definitely surpassed all expectations with the quickest and smoothest rimfire designed!
---
Usage: .17 HMR
As we've pointed out earlier, the .17 HMR is generally the cartridge of choice for small-game hunting. In addition, this round is so intense that it may even be too detrimental for little critters such as squirrels and chipmunks.
However, the .17 HMR is optimal for large animals such as coyotes. It's also a solid choice for plinking, due to its accuracy (see below).
---
.17 HMR Plinking Ammunition
Plinking is common among those shooters who want to improve their shot. There's nothing like that "plinking bell" sound when you hit a tin can. It's just pure fun. And when it comes to plinking, you'll need some ammo. Take a look at two of our top choices in .17 HMR …
The Federal Premium V-Max Polymer Tip is incredibly affordable, reliable, and full of intensity. It features a tough polymer tip and a swaged lead core. Best bet: Varmint Control!
If you're serious about varmint control, the Winchester Varmint is a major contender. Just like the Federal Premium V-Max, the Winchester has one job and one job only: varmint control!
In addition, the Winchester comes with an attractive price tag! Whether you choose Federal V-Max or Winchester, you really can't go wrong.
---
.17 HMR Hunting Ammunition
If you've been looking for hunting ammunition, you're in good hands with the following choices. Both options feature budget-friendly prices and supreme quality. Take a look!
The Hornady company has been a top manufacturer of ammunition since its inception in 1949. Clearly, they have experience when it comes to bullets.
The Hornady Varmint Express V-MAX is the perfect choice for pest control. Available in three-grain choices: 15.5 grain, 17 grain, and 20 grain. And, whichever grain you choose, the end result is the same — unsurpassed efficiency.
If your goal is to not destroy your prize, the CCI Gamepoint is a top contender. It consists of a full metal jacket (FMJ) that will expand to just the right size. Completely reliable with pinpoint accuracy, the CCI Gamepoint will not disappoint you.
---
.17 HMR Rifles
If you've got the best quality ammunition, you're not going to want to load it in just a 'mediocre' weapon. While the choices of handguns are limited, there are some awesome rifles out there. We've rounded up two of the best on the market for your consideration:  Ruger 77/1 and CZ 455 American.
To put it simply, this one was created solely for .17 caliber ammunition. Ruger 77/17 is a traditional bolt-action rifle, however, it also features plenty of contemporary styles. It consists of a portable rotary magazine and stainless steel action, not to mention its cold hammer forging barrel.
Ruger 77/17 17 HMR Rifle – Highlights
Easy carry via fixed sling swivel mounts

Unified scope mounts attached to the steel receiver

Includes scope rings
Choices include:
HMR

WSM

Hornet (all three .17)
The CZ 455/.22 American Combo features a compatible barrel system so you can easily shoot the .17 HMR, .22 LR, and .22 WMR with the identical receiver. So, just how do you accomplish this?
First off, begin with only the receiver and fixed barrel or you can choose an all in one: the receiver, .22 LR barrel plus .17 HMR barrel. From there, you can purchase more barrels of your choice. This one is a choice that suits most shooters.
17 HMR Pistol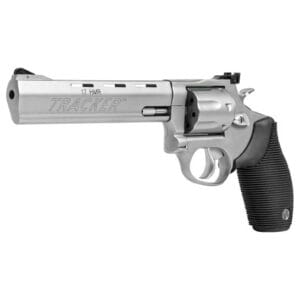 The Taurus Tracker offers a broad range of calibers to last you for years to come. Their 627 revolver is the ideal choice for small-game hunting. Complete with a nicely-grooved grip so you don't lose control, it also features a quantity of seven total shots. In other words, it offers you one additional shot so you will not need to reload — this awesome perk doesn't come with other revolvers on the market.
Safety is not an issue with the Taurus Tracker. This weapon can be secured with the included key so there's no chance of an unintended shot, as well as accidental injury. Simply unlock when you're ready to shoot again. The key fits any of the Taurus lines of pistols and revolvers.
---
.17 HMR Rifles, Pistol and Ammo – Final Thoughts
Most shooters are looking to improve their accuracy, whether the activity is long-range shooting, plinking or varmint hunting. Before you purchase any .17 HMR ammunition or rifle, consider your needs and your budget —  and do your research!
Factors to ponder are whether you will be shooting small game, big game or simply practicing target/distance shooting. One thing is a given — you want the best product at the best price! This review was written so you can gain valuable information about Hornady Magnum Rimfire ammunition and rifles — and ultimately make your choice.
Lastly, remember that no matter what product you buy, there will always be a disadvantage. So, be smart, be safe and be informed! Good luck and happy shooting!
Recommended Reading