Looking for a new iron or piece of kit to enhance the one you already own? Check out these 7 new bits of guns and gear to grow your firearms wish list.
The New Guns And Gear:
Anderson Manufacturing AM-15 Dissipator Rifle

Harking back to the early service life of the AR-15, Anderson Manufacturing released its take on what was considered the first carbine version of the rifle. The AM-15 Dissipator replicates the original Vietnam-era Colt 605 Dissipator, or "Dissy," giving shooters a compact retro option to add to their collection. The original was produced to meet the need for a more compact platform for the close quarters of jungle warfare and was simply produced by lopping off 5 inches of barrel. To avoid NFA regulations, Anderson doesn't go quite to those extremes, shrinking down the rifle to 16 inches. Keeping true to the original, the AM-15 also boasts a rifle-length gas system, which should make it quite a smooth shooter. Though the design is updated in some respects, the most obvious is the flat-top receiver.
MSRP: $600
---
Beretta A300 Ultima Patrol

Honestly, Beretta sits at the cusp of making most pocketbooks pucker in pain. That's not quite so with the release of its newest tactically minded smoothbore, which has a price nearly as sweet as its performance. Sure, the A300 Ultima Patrol doesn't boast the bells and whistles of some of Beretta's tonier options, but it's likely most shooters will be satisfied by what the Italian gunmaker has brought to the table. The gas system makes the 3-inch chambered 12-gauge very manageable shot to shot, and its self-cleaning pistol adds a measure of resilience. Not to mention, it's not a picky eater—pitching everything from slugs to birdshot without batting an eye. Its 7+1 capacity (2¾-inch shells) onboards plenty of firepower, and color options of black, gray and tiger-stripe camo give it a wicked look.
MSRP: $1,100
---
Mission First Tactical Extreme Duty Mag

Like a team, a rifle is only as strong as its weakest link. Mission First makes certain your magazine isn't what lets you down. Built with long glass fiber, the EXD Magazine uses a 50-percent stronger and three times more impact-resistant design compared to traditional glass-filled nylon. Additionally, Mission First has crafted the mags for easier carry and manipulation. The flared floorplate's slim bottom design allows for excellent draw protection and ease of handling, while still allowing for fit in double and triple magazine pouches. The raised front and rear ribbed finger impressions make the mags easy to handing, even with gloves on. Plus, tool-free disassembly makes cleaning and maintenance easy.
MSRP: $25
---
Brownells BRN-9 Upper

Looking to go pistol-caliber carbine with your AR? Meet the blowback-operated BRN-9 9mm upper receiver, complete with a 5.5-inch barrel. Making things easy, the Brownells upper drops in seamlessly into any standard AR-15 pattern lower as well as Brownells' BRN-180 lower receiver. No buffer assembly is required; in turn, folding stocks are a natural for the upper. Finally, the BRN-9 also fits 9mm specific lowers with any type of 9mm magwell—so, it can feed from Colt, Glock, Sig, CZ Scorpion or HK MP5 magazines. As a nice touch, the upper also sports a non-reciprocating charging handle that can be set up on either side of the receiver.
MSRP: $550
---
Vudoo Priest Double Stack 1911

As handgun fans most likely have caught wind, 2011-style pistols have been all the rage as of late. Vudoo Gun Works is among the most recent in this game with a gun that runs as fast as it looks: the 9mm Priest. The double-stack 1911-style pistol follows up on Vudoo's successful Möbius single-stack 1911 and builds off many of the gun's strong points. The steel-framed gun boasts an excellent trigger and gives shooters the ability to onboard 17, 19 or 23 rounds, thanks to its compatibility with STI/SVI-pattern magazines Additionally, the Priest is outfitted with a flared magwell, accessories rail, snappy trigger and optics cut on the rail (Trijicon RMR footprint).
MSRP: $3,100
---
Rock River Arms BT3 Predator HP 65C

Gas-gun class of precision competition or just something to take game at a country mile, Rock River Arms has both types of shooters in its sights with one of its new-est releases. The BT3 Predator HP 6.5 Creedmoor Rifle is engineered with the goal of unrivaled out-of-the-box accuracy, extended effective range and outstanding reliability. At the heart of the rifle, billet aluminum upper and lower receivers provide enhanced strength and rigidity, ensuring consistent shot-to-shot performance. Mated to a match-grade 24-inch stainless-steel barrel, it's long enough to milk the utmost ballistic potential from the long-range cartridge. Rock River finishes the BT3 Predator off with an adjustable two-stage match trigger, six-position Operator CAR stock and M-Lok compatible handguard.
MSRP: $2,100
---
Ruger Mark IV 22/45 Lite Optic-Ready

As generations have learned, there's nothing quite as sweet as a Ruger Mark IV—at least when talking .22 LR pistols. How about an optics ready variant of the famed rimfire with co-witnessed sights. This is what Ruger delivered with the introduction of Mark IV 22/45 Lite Optic-Ready. The new pistol features a standard Shield RMS footprint in place of a Picatinny rail, making the addition of a wide swath of available red-dots a snap. And if that poops out, the fiber-optic front and fully adjustable rear sights are ready to jump into action. True to the model, the 4.4-inch barrel iteration marries a lightweight, precision-molded, polymer grip frame with a ported, anodized aluminum receiver … and a threaded barrel.
MSRP: $1,100
Editor's Note: This article originally appeared in the October 2023 issue of Gun Digest the Magazine.
---
Get More Guns And Gear: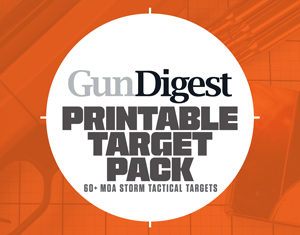 🎯 Next Step: Get Your FREE Printable Target Pack!
Dive into precision shooting with our 62 Exclusive MOA Targets featuring DOT Drills. Perfect for both rifle and handgun enthusiasts, these targets are designed for accuracy, especially for long-range shots.
Why You'll Love This Pack:
🎯 Expertly Crafted: Brought to you in partnership with the renowned Storm Tactical.
🎯 Versatile Use: Suitable for both rifle and handgun range sessions.
🎯 Precision Design: Target grids and bullseyes meticulously measured in MOA for the best shooting experience.
Bonus: By grabbing this offer, you'll also be subscribing to the Gun Digest email newsletter, keeping you updated with the latest in the world of firearms.
Don't miss out!
Simply enter your email below, and we'll send your downloadable target pack straight to your inbox.