Installing aftermarket sights on a pistol can be problematic. Back when I first began working in law enforcement, I ordered a set of night sights for my duty handgun and tried to install them. I ended up breaking the front sight off its base and had to order another one. The funny thing is that I took it to a gunsmith, and he did the same thing I did, but at least he paid for the third front sight. That's one of the reasons I've always suggested enlisting the services of a gunsmith for sight installation.
But now, particularly for Glock pistols, I've changed my mind: XS Sights has simplified the process of sight removal and installation with their excellent array of sight installation tools.
Several months ago, XS Sights sent me one of their sight installation tools. I wanted a set of the new XS Sights' suppressor height R3D 2.0 Night sights for my recently acquired Glock G43X MOS. (My G43X MOS project/experiment is detailed in this issue.) These new-and-improved second-generation R3D notch and post tritium sights are engineered to provide a brighter, stronger set of self-defense sights that are even easier to install than the original models, and they're built to withstand years of EDC use. I liked them so much that I ordered a set for my G17, too, and it was the perfect opportunity to try out this installation tool.
For Your Needs
XS Sights offers six variations of the Glock sight installation tool. The least expensive version is the Inline Sight Pusher Kit ECO Series that retails for $80. It's a one-time use, frame specific tool. The $150 Inline Sight Pusher Kit DIY Series isn't frame specific and should be good for 50 to 100 installs. The Gunsmith Series costs another $50, should last for 200 installs, and the front sight tool that comes with this unit has a magnet to hold the front sight screw in place. All three of these units are also available in a bundle that includes a set of R3D Night Sights. If you purchase the bundle, you'll save around 10 percent on the cost of the sights.
A good gunsmith will charge you between $75 and $125 to install a set of sights on your Glock. And more than likely, over the lifetime of your pistol, you'll either want to try a different type of sights or you'll need to replace your pistols sights due to tritium depletion and their loss of brightness. So, while you might not think you need a Glock sight installation tool, in the long run you'll be better off, and you also might even make a few bucks by charging your buddies to install sights on their Glocks.
It's also important to note that these aren't just sight installation tools. The rear sight on a Glock pistol is drift adjustable for windage, and you can use these tools to also fine-tune sight adjustment so that your point of impact matches your point of aim. Because these tools are so lightweight and compact, you can keep one in your range bag. This means that if you discover your sights aren't adjusted perfectly, you can correct—and check—the problem while at the range. This is a much better process than using a hammer and a brass punch.
Of course, to find success, the tool has to work. Based on my experience with the DIY Series, it works exceptionally well. XS Sights has plenty of videos on their website (XSsights.com) to explain how to use these tools, and very wisely, XS Sights has engraved a QR code right on the sight tool that you can scan with your smartphone for instructions.
Less Is Way More
XS Sights took the KISS (keep it simple, stupid) approach. The tool cradles your pistol's slide and when you get it lined up correctly with the brass pusher, you slide in a polymer wedge that locks the slide in place. Then, all you need to do is use the supplied hex head wrench to tighten the screw that drives the brass pusher. This will easily push your factory sight out of the dovetail. Also, because of the way the tool is designed, you can use it on a slide that already has an optic installed. This is very handy because you don't have to remove the optic to install new sights, which means the optic doesn't need to be re-zeroed.
As for the front sight, it's held in place on the Glock slide by a screw. This makes front sight removal and installation very easy, but only if you have the correct 3/16 socket that fits the screw head. Each XS Sights' installation tool comes with a front sight tool, and there are three versions depending on which model you select. One is made of aluminum, one is made of steel, and the third version is also made of steel, but it has a magnet to hold the front sight screw in place during installation.
Having never used this tool before, it only took me about 10 minutes to remove the factory sights and install the new XS Sights' FR8 2.0 suppressor height sights on the slide of my G43X MOS. In another 10 minutes, I had a set installed on my G17 as well. Not only has XS Sights made Glock sight removal and installation simple, I'm living proof that a West Virginia hillbilly can also figure it out and manage this machine without too much head scratching.
Editor's Note: This article originally appeared in the October 2023 issue of Gun Digest the Magazine.
---
More On Tools & Gunsmithing: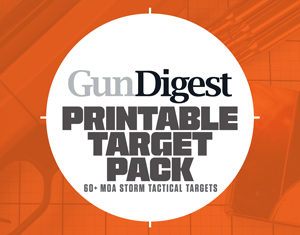 🎯 Exclusive Offer: Get Your FREE Printable Target Pack!
Dive into precision shooting with our 62 Exclusive MOA Targets featuring DOT Drills. Perfect for both rifle and handgun enthusiasts, these targets are designed for accuracy, especially for long-range shots.
Why You'll Love This Pack:
🎯 Expertly Crafted: Brought to you in partnership with the renowned Storm Tactical.
🎯 Versatile Use: Suitable for both rifle and handgun range sessions.
🎯 Precision Design: Target grids and bullseyes meticulously measured in MOA for the best shooting experience.
Bonus: By grabbing this offer, you'll also be subscribing to the Gun Digest email newsletter, keeping you updated with the latest in the world of firearms.
Don't miss out!
Simply enter your email below, and we'll send your downloadable target pack straight to your inbox.