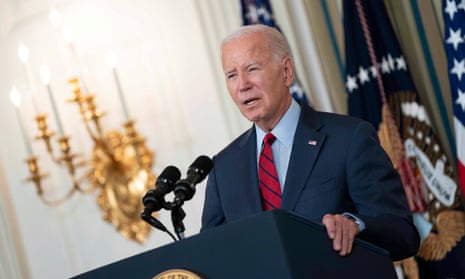 Republicans talking about Biden's age are 'one-trick pony' – campaign co-chair
US president's campaign co-chair, Cedric Richmond, tells CNN 'that's all they talk about'
Republicans attacking Joe Biden for being too old to serve a second term are "one-trick ponies", the US president's campaign co-chair said.
"Republicans are a one-trick pony talking about the president's age, that's all they talk about," Cedric Richmond told CNN.
Biden, 80, is the oldest president ever. He will turn 82 after the election next year. If he completed a second four-year term, he would be 86 on leaving office. His likely opponent – Republican former US president Donald Trump – is 77.
Polling shows that more than two-thirds of the American public think Biden is too old to serve an effective second term, with smaller proportions thinking the same of the 91-times indicted Trump.
Richmond, a former Louisiana congressman, told CNN: "It's now time to go into campaign mode and talk about the president's accomplishments because they are great accomplishments.
"Beating the NRA [to pass gun control reform]. Passing [an] infrastructure [spending package] which no other president could do, although they promised it."
Democrats lost the US House last year but only narrowly. They kept the Senate, after a campaign focused on warning of extremism in Trump's Republican party.
Richmond said: "We have to be solely focused on what not only this president and vice-president but what this Congress has done, the Democratic Senate and the Democratic House when we had it.
"And I think that that's going to prove to be a winning formula once again for all Democrats and for President Biden and Vice-President [Kamala] Harris."
Earlier, a CNN poll showed Biden and Trump in a dead heat in a general election. The poll also returned a low approval rating for Biden and showed around 70% of Democrats want someone else as their candidate next year.
The poll also showed the former South Carolina governor Nikki Haley as the only Republican candidate clearly beating Biden. Haley, 51, has called for mental competency tests for politicians over 75 and claimed a vote for Biden is really a vote for Harris, given the chances of Biden not completing a second term.
Richmond said he was "glad" to be asked about Haley, because of "her position on abortion, because I'll tell you that if you look at the vote in Ohio, just a month ago, a swing state, they soundly rejected the extreme positions on abortion. And that's Nikki Haley.
"Now about the president's age. Voters will see his vigour. Voters will see his accomplishments … he's traveling around the world over the next four-and-a-half days [to the G20 in India] to continue to show American leadership.
"So when they compare President Biden's traveled to that of Republicans, even Republicans that are running for president, he's traveling almost 30% more."
Polling also shows widespread belief that Biden's policies have been bad for the US economy, despite most observers saying it is performing strongly.
Richmond said: "This is about American families. And I think American families are going to look at the issues they have faced, and they're going to look at who's addressing those issues, who's talking about those issues, and who's doing something about it, and that's going to be President Biden."
Explore more on these topics