Dear Texas House District 31 NRA Member: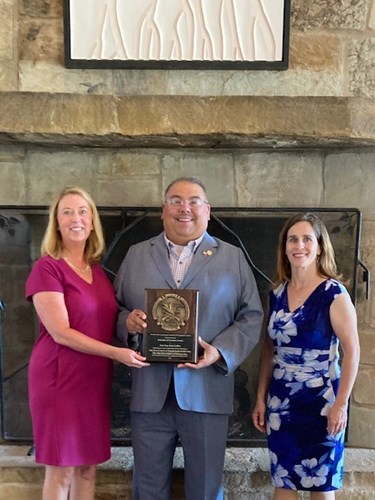 Texas State Rep. Ryan Guillen (R-TX HD 31) is presented NRA's Defender of Freedom Award by NRA-ILA State Director Tara Mica and TSRA Executive Director Dianna Greenwood
NRA-ILA Texas State Director Tara Mica presented State Rep. Ryan Guillen (R-Rio Grande City) with NRA's coveted Defender of Freedom Award this week. This honor is reserved for lawmakers with an outstanding record of leadership in the fight to protect our Second Amendment rights in the U.S. Capitol and state legislatures. Rep. Guillen currently serves as chairman of both the House Homeland Security & Public Safety Committee and the Select Community Safety Committee. During the 2023 session of the Texas Legislature, he voted for passage of a trio of NRA-backed bills which were signed into law and took effect over Labor Day weekend:
House Bill 2837 prevents financial institutions and their agents from requiring licensed gun dealers to use a firearms-specific merchant category code (MCC) to identify retail gun purchases, rather than using a general merchandise retailer code or a sporting goods retailer code. It protects the privacy of lawful gun buyers by preventing payment card processing systems from collecting and misusing this data to surveil, report or disclose these legal transactions.
House Bill 1760 limits restrictions on firearm possession under Penal Code Section 46.03 to actual premises owned by, and under control of, a school, or locations where high school, collegiate, and UIL activities are taking place. Without this important clarification, roving "gun-free" zones could be created anytime students are present or educational activities are taking place off-campus in public buildings or at private venues.
House Bill 3137 expands the state firearms preemption law to prohibit municipalities and counties from requiring gun owners to obtain liability insurance, preventing such California-style regulations from being imposed on Texans in the future.
Rep. Guillen has one of the most extensive and distinguished records of support for our right to keep and bear arms in the Texas House. In previous legislative sessions, he sponsored and passed legislation imposing civil fines on state agencies, cities or counties which ban License To Carry holders from public property with the improper use of 30.06 and 30.07 signs. He was a joint author of Texas' open carry and constitutional carry laws, as well as the Lone Star State's Right to Hunt & Fish constitutional amendment. NRA-ILA is proud to recognize Rep. Guillen as a true champion of the Second Amendment and staunch defender of our freedom and liberty.