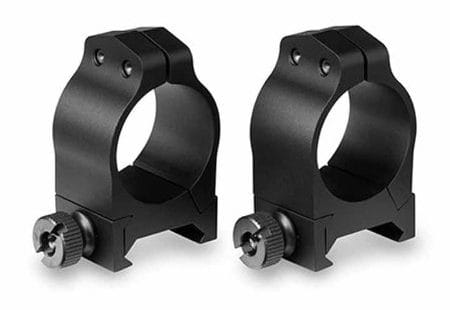 When choosing a scope for your rifle, one subject that you simply cannot ignore is choosing scope rings for that scope as well.
No, scope rings are not exactly as an exciting topic as the scope itself, but it's still something that you need to take into consideration.
If you think about it, you can't even use a scope without the mounting system. That's why it's still very important that you know what to look for in rings for your scope so it can be mounted properly and so you can make accurate shots.
Get Great Guns and Ammo Deals!
---
Scope Rings vs. Bases
Scope rings and bases are often confused with one another. Both of these terms are often used a lot in discussions of scope mounting systems, but the two terms are hardly interchangeable with one another.
Basically, the scope base allows the rings to be raised. This in turn means that you will not need to purchase higher rings.
In addition, a scope base allows you to add other optics. But even so, a base is not necessary for certain types of rings either, because some rings are designed to be mounted directly onto the receiver of the rifle (it's particularly easy to do so on AR-style rifles).
So to put things simply, both scope rings and bases are integral components of the mounting system, but they are not interchangeable terms and sometimes a base is not even necessary to add rings.
---
Factors To Consider With Scope Rings
There are many factors that must be considered when choosing scope rings. Some of these factors are rather obvious, such as the reputation of the manufacturer, the types of bases they can mount onto, their size and the scopes they can accommodate, and so on.
Basically, your rings have the task of holding your scope safely and securely in place. To this end, they have to be strong and durable enough to do the job, and that's why they need to be built out of…
Aluminum or Steel
You'll be glad to hear that the vast majority of scope rings manufactured today are made out of one of these two materials, so if you go out and just buy any scope ring right now chances are it's going to be strong enough to hold your scope in place.
Both aluminum and steel have their pros and cons. Steel is undoubtedly more durable, but it's also undoubtedly heavier.
QD System
In the case of the bases that you choose, the preferable option will be a quick detachment (QD) system. This means that you can quickly attach and detach your scope. The Picatinny and Weaver rails are both examples of a QD system. They will each have a slot where you can attach your scope rings.
In order to make sure that you have the right scope rings, you just need to find the base that is matched to your rifle, and then the rings that are matched to the base.
Additional Scope Ring Features
There are a handful of additional features to keep in mind with your scope rings as well, including:
Making sure they can accommodate the size of your objective lens
The finish (you'll want it to match your scope)
The brand reputation
---
The 3 Best Scope Rings You Can Buy
With the above information in mind, here are the three best scope rings you can buy, in alphabetical order:
The Aero Precision Ultralight 30mm Scope Mount is designed to mount onto a Picatinny rail system. It's constructed out of aircraft grade T6 aluminum alloy with a matte black, anodized hard coat finish.
The base of the mount is designed to attach to the Picatinny rail at three points, with a two inch eye relief. Each ring has four screws to ensure maximum retention.
One major advantage in favor of the Aero Precision is the fact that it is very light weight. Yes, this does mean that you will need to be careful about which scopes you use with these rings. But on the other hand, it means it will add little weight to the top of your rifle.
Overall, the Aero Precision is a solid option if you need a lightweight scope with plenty of eye relief.
Burris is a much bigger name in the optics universe over Aero Precision, and the AR-PEPR is one of the very best optics mounting systems that they have to offer.
These rings are built out of aluminum and are coated in matte black. One big advantage of the AR-PEPR rings is their retention: each individual ring has six retention points, and each has its own Picatinny rail slot on top in order to attach additional gear and accessories. The rings are also placed in a way to give you plenty of eye relief.
QD levers are present at the bottom of each mount, allowing you to choose between using your open sights through the see through slot or to remove your optic all at once.
As a Burris product, the AR-PEPR is highly durable. The retention system like we just went over only adds to that durability. And the fact that there are individual Picatinny rails present on top of each of the rings means that you can add things such as lights or lasers, without taking up any more rail space on your rifle itself.
Durable, convenient, practical, quickly detachable, and excellent retention capabilities are just a small handful of the words and phrases that can describe the Burris AR-PEPR.
Yet another large name in the optics world is Vortex. The Vortex Optics Precision Riflescope Rings are built out of 7075 T6 billet aluminum, with an anodized Type III hard coating.
The rings only add an inch of height from your rail, which makes them one of the most low profile scope rings on the market place. They are designed for a Picatinny rail system.
Each ring has four points of retention, with two retention points per side. Vortex also ships the Precision rings with a hex wrench and screws, in addition to a 100% guaranteed warranty from the manufacturer.
Since these rings are built out of a higher grade aluminum, they will cost you a decent amount of money. But the trade off is you are buying rings that are more durably built than most of their competitors. The Type III hard coating also presents easy scratching.
---
What Are The Best Rifle Scope Rings?
Any of these options are good to go, but the best choice would probably be the Burris AR-PEPR. Not only are you buying a high quality brand, you're buying high quality scope rings from a high quality brand. The AR-PEPR simply has the best retention and quick detachment system over the other two options we have analyzed.
But honestly, any set of scope rings will work for you so long as you keep those factors in mind like we discussed above. So long as you buy from a good manufacturer, get the appropriate type of your scope size, and keep yourself to rings that are built out of high quality materials such as steel or aluminum, you'll be all good to go.
Recommended Reading
How To Choose The Best Rifle Scope
Long-range Scope Over 1000 Yards