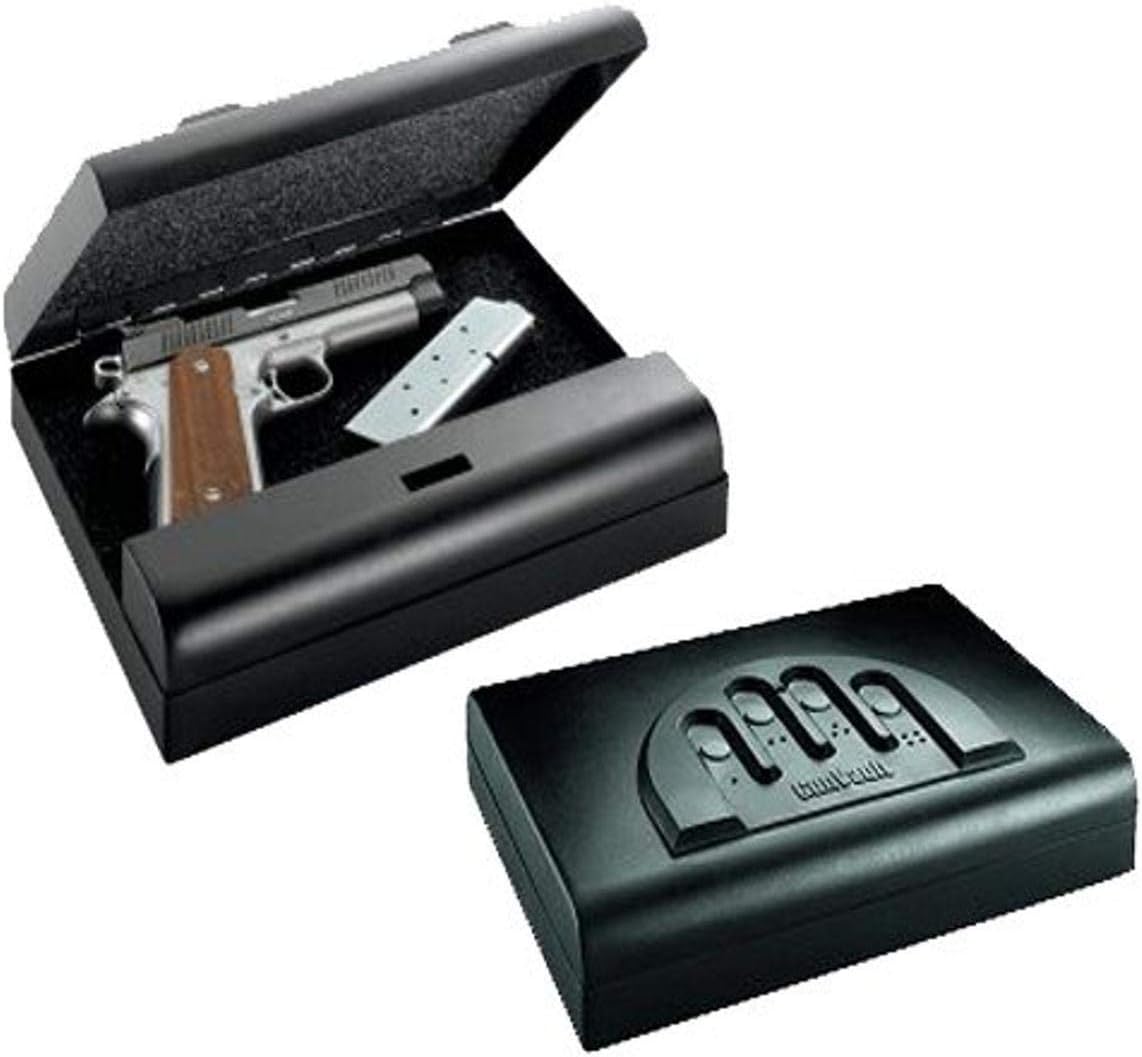 If you're serious about your guns, it's likely that you've already got a pretty good gun safe. Here we will talk specifically about the GunVault MV500 Gun Safe.
Now, whether it's an old cast-iron monster that's older than your house, or a high-tech machine that requires your fingerprints to unlock, having a good gun safe is an incredibly important part of firearms safety.
Get Great Guns and Ammo Deals!
Where is the Best Place for a Gun Safe?
By far the most popular and practical place to put your main gun safe is in your basement. Gun safes are heavy, and if you've got a few weapons even more so, so you need to put them somewhere where the floor can take the strain.
This causes a problem, however. If you've got a pistol in the house for self-defense, locking it up downstairs makes it pretty hard to get to in an emergency. If someone breaks in, you might even have to sneak past them to get your gun, which is definitely not ideal.
The other approach would be to have your gun in the bedroom. I won't go over all the arguments about why this is a bad idea, but trust me, it is. Especially if you've got kids in the house.
In reality, then, the only feasible solution is to get another gun safe, just for your self-defense pistol. I know safes are expensive, and I know that not many of you will be happy about spending another couple of hundred dollars on another gun safe.
But what price do you put on safety? Let's take a closer look and see if the MicroVault 500 is right for you and your guns.
---
Today, I'm going to take a look at a small safe that's designed to hold a pistol – the GunVault MV 500. We've reviewed a few safes like this over the years here at GND, and I have to say that they've been of variable quality. The temptation for manufacturers, with this kind of small safe, is to save some money by using poor-quality materials and awkward locking systems.
Going into this review, therefore, I have to say that I was a but sceptical. In the end, this small safe impressed me, and I think it's a pretty good solution to bedroom or car gun storage. I would never recommend it as your primary gun safe – not least because there's not enough room inside for more than one weapon! – but it does its job well.
First Impressions
It's not something I normally talk about in reviews like this, but I feel obliged to say that the guys at GunVault are really knowledgeable and also friendly. I know it doesn't have any bearing on how good their safe is, but after some pretty bad experiences over the years, it's refreshing to find a company that take their work seriously.
Anyway, I'm supposed to be talking about the safe. My first impressions were positive. The safe is designed like a notebook, which makes the most of the interior space. The build quality is good, with the steel lid and base fitting together without any gap between them. The hinges are smooth, but also feel pretty solid.
The safe looks a bit weird, I guess. The hand-shaped keyboard on the top is not the most attractive-looking design, but then this is not really a safe you'd use to impress your friends. In addition, that funky keypad design does have some big advantages when it comes to quick access, which I'll come to shortly.
Overall, the design of the safe is impressively functional. It will take some of the largest pistols out there, and is compact enough to be hidden inside furniture or in your car.
GunVault MV500 Gun Safe – Security
Let's get into the important stuff – how secure is this safe?
Well, it's made from 20 gauge steel, which is thick and hard enough to resist even the most determined thief. Take it from me: breaking into this safe is going to require hours of work, even with powered tools.
The security of the safe is also helped by the precision of the fittings. The two halves of the safe fit together with barely a crack between them, making it almost impossible to pry it open. The lock mechanism makes use of thick steel bolts, and so is similarly resistant.
I know that one concern that many people have with this kind of safe is that they can be pretty easy to steal or break into. No matter how secure the safe, a thief can potentially steal the whole thing, gun and all, and work on opening it later. Not so with this safe. As standard, it comes with a 4 feet long security cable, which allows you to anchor it to your furniture. This is also especially useful if you are going to carry the safe in your car.
Overall, then, the security offered by this safe is among the best available for this kind of small, compact safe.
Access
Having a secure safe is great, but this needs to be balanced against ease of access. It is especially important with this kind of compact safe, because if you are storing your home-defense pistol inside, you need to be able to get at your gun quickly, easily, and silently.
This is where that funny-looking hand on the top of the safe comes in. This is actually a system developed by GunVault, which  they call the "no-eyes Keypad". Basically, instead of a standard 3×3 keypad, here you have just 4 buttons, one for each finger, that need to be pressed in the correct order.
It works really well. You quickly get used to the pattern you have chosen, and even in the dark it's easy to input the code. Even after a few days, the movement to unlock the safe becomes second nature.
The system also blocks access to the safe after repeated incorrect entries, so if someone is trying to guess the code (or your kids are fooling around), you can be sure that only you have access.
One thing to note, however, is that the GunVault MV500 Gun Safe access system runs from a battery. If your battery is flat, the safe will not open. GunVault, therefore, recommend using high-quality cells with plenty of life left in them, so you don't lock yourself out!
---
GunVault MV500 Gun Safe – Final Thoughts
While the thought of getting a second safe might not sound so appealing from a financial point of view, it can have real advantages in the long term. Personally, I would never leave a gun loose in my truck, if only because I would constantly worry about it being stolen.
And for those of you currently sleeping with a gun under your pillow, please stop it. A huge part of being a responsible gun owner is keeping your weapons secure.
The GunVault MV 500 is a great choice if you're looking for a small, secure safe to hold your pistol. The sturdy construction will resist almost any form of attack, the security cable means that the safe itself is all but impossible to steal, and the safe provides quick and secure access when you need it.
And lastly, the safe actually makes for a pretty good carrying case! I know it seems silly to buy a digital safe just to carry a pistol, but hear me out. The foam inside the case protects your pistol against damage, even if it is rolling around in the back of your truck. And if you're going to buy something to carry your pistol around in, it might as well be as secure as possible.
Recommended Reading
Bedside Gun Safes For Quick Access