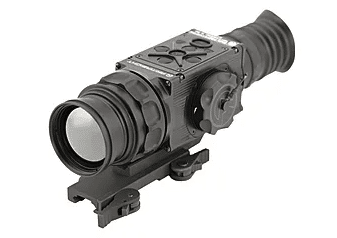 The best thermal scope is an incredible piece of hunting gear that every hunter should have in their arsenal.
They are great for those times when you are out in the field, and your night-vision scope simply isn't enough to actually see your prey clearly enough to pull off the perfect shot at that 250-yard mark. Or maybe you just don't really enjoy that green tint image your night-vision scope gives you.
Either way, we have rounded up what we believe are the absolute best of the best thermal scope options on the market currently to help you make the right purchase when it's time to scoop one up.
Let's take a look!
Get Great Guns and Ammo Deals!
---

ATN is known to most hunter and gun enthusiasts as a company that knows how to deliver the goods. They've been in the game for over 20 years now. In all that time, they have consistently pumped out numerous products that are well-built and perform above par.
Their Thor Thermal Riflescope is certainly not the exception. The body of this scope is constructed out of an aircraft-grade aluminum, making it extremely durable (even with a little bumping around in your range bag), lightweight, and a good choice as your "go-to" thermal scope.
The features you get with this scope include 5 reticle patterns, recoil activated video recording (RAV), a patented Smart Rangefinder, compass, barometer, and so much more that we can't cram into one article. Seriously, if you are looking for a fully-featured thermal scope, do not pass this one up.
This scope is what is known as a Smart Thermal Riflescope for a reason. Everything here is digital and it contains some cutting-edge software. It has an on-screen system menu that allows you to put all that hi-tech stuff to work for you.
By far, our favorite tool on this scope is the profile manager. With this feature, you are given the ability to save all of your ballistics and zeroing-in data for every weapon you plan to use with the scope.
What this means is that you never again have to worry about resetting everything every time you switch weapons. Just load up whichever profile you want to use, all your saved data is loaded up, and you are ready to get to shooting.
| Pros | Cons |
| --- | --- |
| Digital profile manager | Gets laggy when the battery is dying |
| Completely digital | Sighting with this scope is really sensitive due to how light it is |
| Feature-rich | |
| High-quality build | |
---

The Pulsar Talion XQ38 Thermal Riflescope is a thermal scope with quality in mind, and trust me when I say, it's built to last.
This scope is unique in that it produces heat signatures, but it does so in a green sapphire tint versus the typical oranges and reds that you would get from something like a FLIR scope. Having said this, it is still leagues above the quality of the green tint you will get from a normal night-vision scope, however. It even comes with the option of 10 digital reticles for your viewing pleasure.
It contains a core pixel array of 384×288, and it boasts a 50hz refresh rate. The image quality you get from this scope comes in at 640×480 across the clear AMOLED display. Any loss or degradation is made up for by the defective pixel repair technology.
Zooming is smooth and starts at a base of 1.6x magnification, but it can also be set at 2x, 3x, or 4x zoom when you really need it. In total, you can get roughly a 985-yard detection range.
And to keep your hunting, the Pulsar Core RXQ30V is powered by a CR123A battery that can give you about 3 hours with moderate use. If that isn't enough for you though, you can pick up an expandable battery pack to boost this considerably.
| Pros | Cons |
| --- | --- |
| 10 digital reticle patterns to choose from | Short battery life |
| Pixel repair capabilities | Green tint viewfinder |
| 50hz refresh rate | |
---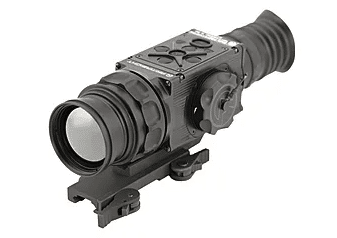 The Zeus 336 thermal rifle scope is yet another example of fine craftsmanship from FLIR. Constructed from CNC machined aircraft-aluminum alloy, and with sporting, law enforcement, and military use in mind, this scope is one of the lightest and most compact thermal scopes on the market at the moment.
Because of how compact it is, it has quickly become a favorite for many hunters not only as a rifle scope but also as a spotting scope or a handheld thermal imager. And thanks to the easy to use Picatinny quick-release locking mechanism, you can pop it on and off of your rifle fairly easily when you need it.
The view through the lens is crisp and detailed thanks to the 336×256 pixel array running at 60Hz. The viewfinder is an 800×600 AMOLED SVGA screen with digital zoom ability for 1x, 2x, or 4x magnification.
To make your sighting pleasurable, you are given the option of 6 digitally controlled reticle patterns that you can color to your style; black, white, red, or cyan.
Lastly, the battery life isn't too bad. Powered by two CR123A batteries, it will keep you hunting for up to about 4 hours but can be extended up to 12 hours with an optional extended battery pack.
| Pros | Cons |
| --- | --- |
| Digital Zoom | Reticle colors could be brighter |
| Compact | Fewer features than other scopes in this price range |
| Lightweight | |
| Long battery life | |
---
The R-Series of the Flir ThermoSight scopes are top of the line when it comes to quality. Our favorite has to be the ThermoSight RS64, by far.
Weighing in at only around 2 pounds, this is a bit heavier of a scope than most of on the market but lightweight enough to be easily transported. That extra weight isn't such a bad thing though, either as it helps stabilize it on top of your rifle. We've even found that the extra little bit of weight helps keep your rifle that much more weighted down even on a shooting rest.
The active matrix LCD display on this scope displays clean images at a resolution of 640×480 and is capable of 16x magnification.
The list of features on this thermal scope doesn't waste any time at impressing, either. There are 3 reticle patterns with 4 colors to choose from, digital zoom, a Picatinny rail, and video output capabilities should you want to record all of your greatest shots.
Lastly, the battery life on this scope is rated to last for up to 4 hours using the internal lithium-ion battery.
| Pros | Cons |
| --- | --- |
| Great magnification system | A little on the heavy side of the spectrum |
| Video output capabilities | Not many reticle patterns |
---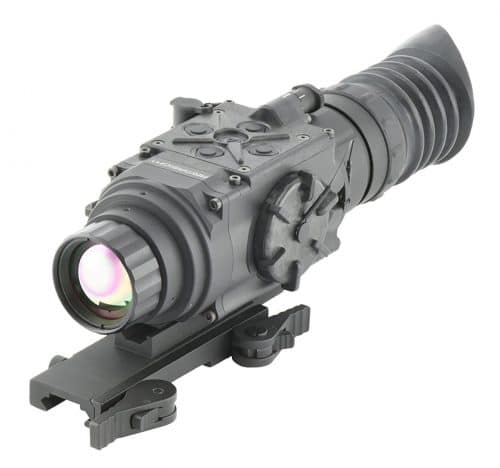 The Armasight Predator is a thermal imaging weapon sight brought to you thanks to the folks over at FLIR. Its body is constructed from CNC machined aircraft-aluminum alloy that is not only extremely lightweight but will also last you for years to come.
This scope is packed with tons of great features for such a compact scope. Needless to say, but you really just can't beat the impressive features for this price point, either.
Onboard this scope you will find 6 digitally controlled reticle patterns, a quick release mount for your rifle, and an integral Picatinny rail mount in case you want to add on some accessories.
If you like being able to record or replay your best kills, the Armasight Predator has a VGA video output onboard for live viewing. If you want to record your video, there is room for an optional video recorder with onboard replay.
This scope always seems to start up rapidly, and it keeps its power for a solid 2-3 hours in cooler conditions. If this isn't enough power for you, there is also a reasonably priced battery extender that you can buy for the Predator scope that will give you up to 8 hours of battery life.
| Pros | Cons |
| --- | --- |
| Lightweight CNC machined aircraft-grade aluminum body | Quick release mount is not always the smoothest |
| Moderate battery life | |
| Video output | |
---
A Few Things To Consider Before Buying A Thermal Scope
If these reviews still aren't enough to show you what your best options are, I have a few tips to leave you with that I hope will help you narrow things down a little bit further.
Night-vision vs. Thermal Scope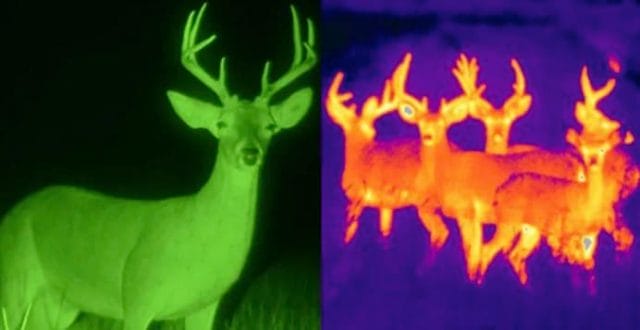 Most hunters and gun enthusiasts start off with night-vision scopes for their night time hunting trips. After playing around with night-vision scopes for a while, you will begin to realize the limitations that your night-vision scope has.
Night-vision relies on minimal external light sources or an internal infrared illuminator to function. Without a light source, night-vision scopes cannot perform at their peak level. Most night-vision can operate on just the light of the moon, but sometimes you simply just don't have that to work with.
Thermal riflescopes work a considerable amount differently than a basic night vision scope.
For starters, thermal scopes do not rely on light in order to operate properly. Thermal scopes work by spotting the heat signatures of your prey. Because of this, you will more than likely have more reliability with a thermal scope in darker settings than you would if you were to use a basic night-vision scope.
Secondly, when you look through the viewfinder of most thermal scopes you will notice that it displays an orange color to represent the heat signature coming off of your prey, whereas a night-vision scope typically comes with a standard green tint to the images it outputs.
Thermal Scope Resolution And Refresh Rate
Scopes can vary widely in terms of the quality of images they give output. This one thing is dependent upon the resolution at which images are displayed and at what refresh rate.
I won't be trying to break down what both of these mean in detail in this review, as that can take a while. Instead, I will briefly go over what is most important when looking at these numbers by giving you an idea of what is good and what simply is not.
If you want the best image from your scope that money can buy, try to spring for a resolution of about 1024×768, if possible. You can go lower than this if you'd like, but the lower your resolution, the lower the quality of the image you will receive when trying to view targets that are at a much further distance.
Refresh rate or "frame rate" of your scope is a little bit different. Refresh rate basically determines how smooth of an image you will be able to maintain as you zoom in, pan or tilt your scope. Most scopes have a refresh rate that ranges anywhere from 9Hz to 50Hz. The higher the frame rate, the less likely you are to lose any image quality when tracking prey.
Thermal Scope Battery Life
Lastly, you want to make sure that whatever scope you are considering purchasing has a decent battery life. We've all been on those hunting trips that go from being a quick 2 hour trip to an all-day event because we are on a roll.
When this happens, you need a scope that can stay alive and function at peak power for as long as it can. Plus, a lot of thermal scopes will begin to get laggy, some image quality will be lost, or certain features just simply stop working properly.
You want your scope's internal battery to last at least 2 hours at a minimum. In general, most thermal scopes have a battery life falling somewhere in between 3-4 hours.
But, for a fair price, there are some really decent external battery packs that you can get for your new thermal scope if it accepts one. With a decent battery pack, you can usually get anywhere from 8-12 extra hours.
---
Best Thermal Scope – Final Thoughts
Thermal scopes are an excellent choice for hunting at night when light sources aren't quite good enough to power your night vision scope. The hard part is deciding on which one to buy, with so many choices available.
Follow along with our top 5 best thermal scope review and some of the tips we've given you and you will be able to find the best scope for you.
Happy hunting!
Recommended Reading