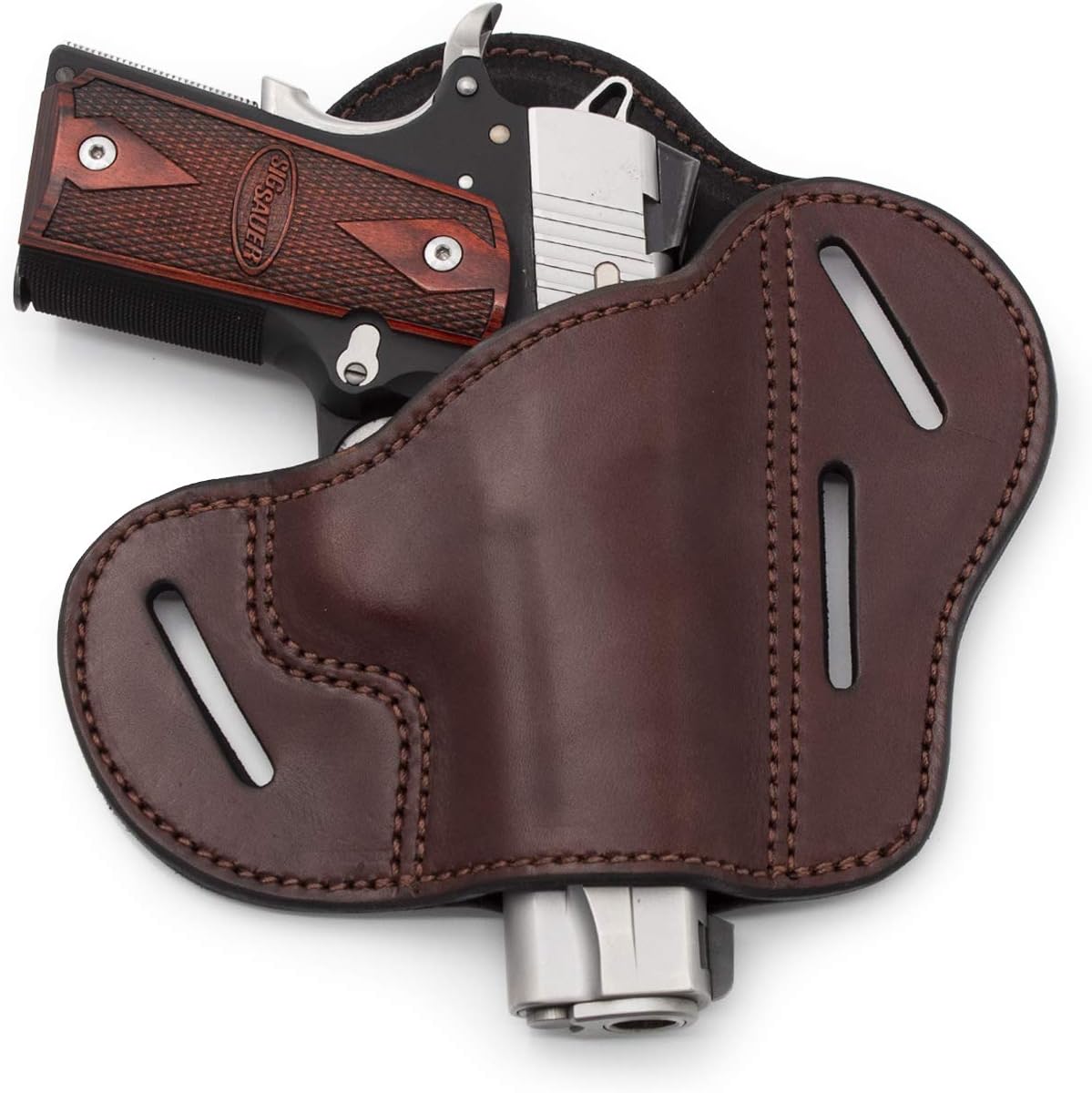 I sometimes wonder if John Browning had any idea his 1911 design would be relevant over one hundred years after its inception. It is. Not only is it relevant, it continues to change, and engineers continue to modify Browning's original invention. One of those modifications resulted in the Commander series 1911 pistols. New guns need new accessories. Handguns need holsters. I have selected my top 1911 Commander Leather Holster: the Galco Summer Comfort Inside Pants Holster.
Get Great Guns and Ammo Deals!
Before You Buy Your 1911 Commander Leather Holster
Before purchasing the commander holster for your needs, you must educate yourself on the 1911. The 1911 has been popular for so long that manufacturers have developed too many variants to list here.
I'll break down some of the basics, as far as holster selection is concerned, but this is far from a comprehensive list of details on the 1911. Please remember, these are simple guidelines. One could spend years learning the intricacies of the 1911.
FRAME SIZES
Colt's Manufacturing Company is responsible for the present nomenclature for 1911 sizes. Going to school on the Colt system is the first step in selecting your commander holster.
GOVERNMENT
Often referred to as the "government issue" or "G.I", this is the 1911 which most resembles John Browning's original design. The full size 1911 has a 5" barrel and full-size receiver. It can also be said that it has a full-length grip, which accommodates full-length, single stack magazines.
Depending on model and manufacturer, magazine capacity checks in at seven or eight rounds of .45 ACP.
COMMANDER
In the simplest terms, the commander version of the 1911 is composed of a G.I. frame with a shorter barrel. The barrel is usually 4 ¼" and the grip portion of the frame is the same as the government model. However, the commander's dust cover portion of the frame is often shorter than its government counterpart.
This is an important dimension to note when shopping for a 1911 holster. Since the grip length is the same as the G.I., magazine capacity is identical. Government mags will fit flush in your commander.
OFFICER
The officer model brings us to our first major change in grip size and ammunition capacity. Officer-sized 1911s hold six or seven rounds of .45 ACP in their smaller frame. A standard G.I. magazine will function in an officer model, but it is very possible to over-insert and cause a malfunction. Colt specifies a 3 ½" barrel, but other manufacturers have different dimensions.
DEFENDER
The farther we venture from the original form of the 1911, the more muddied the waters become. Colt introduced its 3" defender model in 2000, while other manufacturers were creating "officer" models with the same 3" barrel.
Basically, the defender is a short-barreled 1911 on an officer frame. You'll find that some resources on the 1911 subject omit the defender from their list of 1911 models, but I've decided to include it here to assist you in selecting a commander holster. You've probably already discovered "defender" holsters in your "commander" internet search results.
This is probably the best time to reiterate the fact that many manufacturers have thrown their hat into the 1911 ring. In 2015 alone, there were more than twenty NEW models offered to the public.
Add that to older models and models yet to come, and you've got quite a number of variants. The combination of barrel length, grip length, and frame size can make selection of a commander holster a challenging task.
OTHER Considerations for a 1911 Commander Leather Holster
I wish the barrel-grip-frame trio of dimensions was all we needed for a list of factors. Unfortunately, we're dealing with one of the most popular pistols of all time. Gun makers have had over one hundred years to tinker with the 1911. Technology has changed. Other modifications must be noted.
FRAME MATERIAL
This one is simple. 1911s have been produced with steel frames and alloy frames. When picking your holster, weight of the gun is a factor. Steel frames are heavier and are more apt to cause the gun to pull away from the belt.
This reduces your ability to conceal the firearm. Alloy-framed 1911s are lighter in weight. Some holster designs maintain a heavier gun against the body better than others.
RAILS, LIGHTS, AND LASERS
Though standard on many modern handguns, picatinny rails were not part of John Browning's original design. Some contemporary 1911s possess this accessory. Holster fit may not be affected by an empty rail, but if you choose to run a light or laser, I'm confident you'll be shopping for a custom holster.
THE DOUBLE-STACK
The term "double-stack" refers to magazines designed to arrange cartridges in two, offset rows, allowing for increased ammunition capacity. A single stack (standard in 1911s) arranges cartridges in one row.
Just in case you've found a custom gun manufacturer to make a high capacity, double-stack commander, remember that it may not fit in standard holsters. Likewise, a standard commander would not fit well in a holster built for a double-stack.
---
Best Leather Holster Picks for 1911 Commander
That is enough background information. Let's go ahead and look at our list.
Here's my initial approach to this list. If you've decided to own a commander, you have more than likely selected it for its value as a concealed carry 1911. The main reason I selected the Summer Comfort is the inside the waistband (IWB) design. IWB holsters allow for increased concealment, when compared to their outside the waistband (OWB) cousin.
The Summer Comfort also features dual soft loop belt attachments which loop all the way around the belt. The soft loop style offers a stronger guarantee the holster will stay on your belt when drawing the gun in a life or death situation.
Don't expect any quality leather holster to arrive "ready to wear" when it arrives on your doorstep. Actually, if your holster isn't an initial snug fit to your gun, you may want to find a different holster.
Most open-top leather holsters use friction to retain your firearm. Good leather holsters require a break-in process which ensures a proper fit, yet prevents the gun from falling out.
The Details
Inside the waistband; 3:00 to 5:00 position

Leather construction

Soft loop belt attachment

Full combat grip

Right or left hand models

Friction retention

Made in the U.S.A.
| Pros | Cons |
| --- | --- |
| Durable, comfortable leather | Less comfortable IWB design |
| Good concealment inside the waistband | Leather requires a break-in period |
| Strong holster retention on the belt | |
| Galco reputation for quality | |
If IWB is not what you're looking for, consider the Ultimate Leather Gun Holster from Relentless Tactical. This outside the waistband holster features adjustable cant and can be worn on the hip or in a cross draw position. The comfortable OWB design is accentuated with a full sweat guard, creating a leather barrier between you and the hunk of metal on your hip.
Though I listed it as a drawback, this holster will fit several 1911 sizes. If you own multiple 1911s, you may see this as a benefit.
The Details
Outside the waistband; 3:00 to 5:00 position

Three-slot belt design

Leather construction

Friction retention

Pre-curved

Full sweat guard

Made in the U.S.A.
| Pros | Cons |
| --- | --- |
| Comfort. OWB placement is pre-curved to the body | Made for 1911s in general; not specific models |
| Adjustable cant from the multiple belt slot option | User conducts their own forming process |
| Open top allows for easy draw | Less concealment in OWB design |
| More comfort from the full sweat guard | Full sweat guard adds bulk |
| Solid pass through belt attachment | |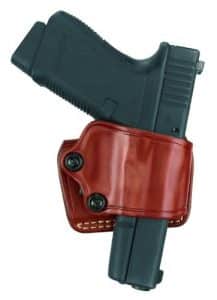 Yaqui style holsters are the epitome of minimal. Simplicity is their strongest attribute. The Yaqui Slide Holster from Gould and Goodrich is no exception. It is nothing fancy. Take some leather. Wrap it around a gun. Run a belt through it.
Ok, there's more to it than that. I like this offering from G & G for its versatility, as well. The open bottom and adjustable retention screws make it more likely to fit multiple guns in your safe.
As far as concealment, there are better options. However, if you're looking for a holster to throw in your range bag or to take for a walk in the woods, the Yaqui should give you some pause.
The Details
Outside the waistband position

Fits up to 2" belts

Pants belt loop cutout in belt slide attachment

Leather construction

Open bottom design

Made in the U.S.A.
| Pros | Cons |
| --- | --- |
| Simple | Less concealment |
| Compact | Retention may decrease over time with wear |
| Open-top provides easy access | Not formed to a specific gun |
| Fits multiple 1911 styles and sizes | |
| Stability on the belt from belt loop cutout | |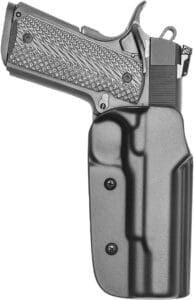 Up to this point, I have not ventured into the realm of kydex. Part of me yearns for a 1911 in leather. It is a classic gun. It deserves a classic holster look. Yes, my heart says cowhide. However, my head shouts "Kydex!".
Truth be told, my every day carry weapon (Glock 19…gasp!) is the antithesis of the 1911. I carry a polymer framed, hammerless, nine millimeter, double-stack, Austrian manufactured pistol in a plain-looking, black kydex holster.
I like kydex for its durability and its light weight. Gun owners can find quality kydex holsters at competitive and economical prices. Holster makers have been able to offer many features and customizations to their product lines. Creating a list without a kydex alternative is irresponsible.
The Details
Inside the waistband, 3:00 to 5:00 position

Kydex construction

Adjustable retention

Specifically formed to gun model

Two soft loop belt attachment
| Pros | Cons |
| --- | --- |
| Good concealment IWB | Comfort. Kydex is rigid |
| Dual soft loop attachment retains holster position | Very low cool factor |
| Adjustment screws allow increased/decreased gun retention | |
| Kydex does not collapse, allowing for easy re-holstering | |
---
Best 1911 Commander Leather Holster – Conclusion
Whether you choose my winner, the Galco Summer Comfort, or decide on another option, I hope you will take your holster selection seriously.
It makes little sense to spend hundreds of dollars on a quality handgun and then throw it in the first cheap holster on the shelf. John Browning's genius deserves as much.
Recommended Reading
Benefits Of Leather Paddle Holsters