If you're going to have guns, you should have some gunsmithing tools. Many of the most useful ones are available in your local hardware store, but others are a bit more specialized. 
Just as everyone should have some basic tools in case they need to do something with their car or home, shooters should have some of the basics on hand in case they need to work on their gun. 
So, let's talk about what you should have in your toolbox. 
What We Mean By Gunsmithing Tools
The terms "gunsmith" and "gunsmithing" are often applied to what are more properly called armorer tasks. 
A gunsmith is a machinist who specializes in firearms. If using a mill or a lathe isn't a regular part of someone's duties, they aren't a gunsmith; they're an armorer. 
So, with that in mind, here are some important things to consider: 
You are responsible for what you do to your gun. We at Gun Digest do not recommend doing anything that is beyond what you are comfortable with. We do not recommend doing anything that is beyond your skill level with hand tools. 
If you Bubba your gun and ruin it, that's on you.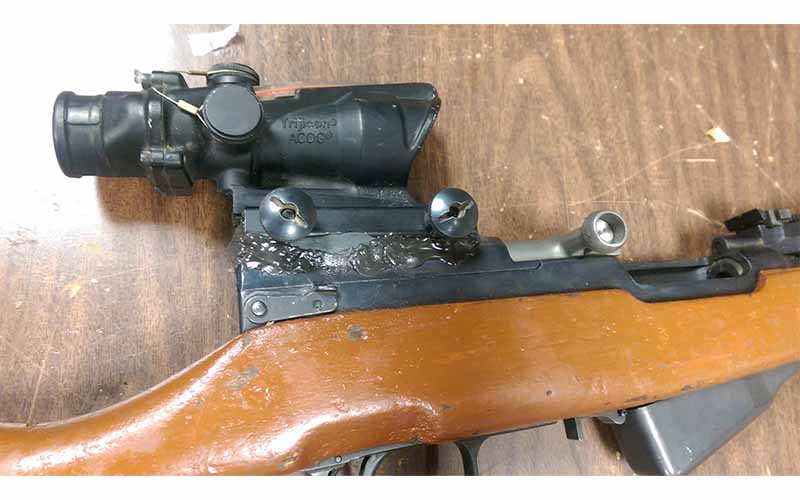 Leave that which you cannot do or are uncomfortable doing to professionals. Know thy skill level, and let those who are more skilled than you do what you are not able or willing to. 
For instance, I'm able to do a lot of car repairs, but I leave some things to professionals. I've changed water pumps, fuel pumps, power steering pumps, alternators, radiators, and done all sorts of routine stuff like spark plugs, brakes, tires, oil changes and so on, but I won't touch transmissions or anything below the intake manifold. That's for the pros. 
You have to figure out what you are and aren't willing to do. 
Know what tools you'll need for your gun. Some firearms require specialty tools, such as an armorer's wrench for an AR-15, and as such you should have the tools you'll need for your particular firearms.
What Gunsmithing Tools Will You Most Likely Need?
In terms of what most people mean by "gunsmithing", here are some of the common tasks you're likely to want to be able to do. 
Changing or installing furniture, such as AR-15 handguards or a bolt-action rifle stock.
Mounting optics, possibly including mounting an optic rail and then mounting an optic.
Replacing or upgrading components like triggers, firing pins and other small, often internal parts.
Zeroing or replacing/upgrading iron sights.
Changing grip panels on a handgun.
Field-stripping and detail-stripping your gun for inspection, cleaning or maintenance.
Installing various accessories like lights, lasers, muzzle devices and bipods. 
Most of these tasks can be accomplished with common hand tools like screwdrivers, Allen wrenches and punches. However, some of those tasks require specialty tools, like an armorer's wrench for an AR or a torque screwdriver for optics. 
If you've never used a torque screwdriver, I cannot emphasize how much you cannot tell the difference between 15 and 20 inch-pounds. If precise torque is called for, and it absolutely is for pistol optics, you need to have one. 
The supremely popular AR-15 can often require specialty tools to accomplish certain tasks. Vise blocks, for instance, make working on the upper and lower receivers easier. Installing a barrel nut will require a torque wrench and staking a castle nut will require a center punch. A third arm would be very useful for installing a forward assist, but they, unfortunately, don't sell those.
Punch Set 
A punch, for those who don't know, is a metal tool that's used to drive pins in or out. You'll need them for many pistols and certainly for any gun that has roll pins such as an AR-15. Roll pin starters are highly recommended as well. 
The Wheeler Master Roll Pin Punch set has all of the common sizes of steel punches, as well as the same sizes of roll pin starter punches that are used for starting the roll pin into its socket. A nylon hammer is included as well. Street prices are around $50, very worth it in the long run.
Torque Wrench 
Torque wrenches tighten to a precise setting of torque, which is a measure of force around a fixed point of rotation. The most common use in gunsmithing is tightening the barrel nut of an AR-15. 
Granted, torque wrenches are commonplace in automotive use as well, so there is no gun-specific brand that you need to get.
For most people, the house brand at Harbor Freight or a Craftsman brand torque wrench will suit them just fine given that the tool isn't likely to see heavy use. 
Torque Screwdriver 
A torque screwdriver is the same thing as a torque wrench, it just uses screw bits instead of sockets. They're also useful (if not needed) for working on bicycles, so there are applications beyond gun stuff. 
Torque screwdrivers measure torque in inch-pounds rather than foot-pounds, so they're used to precisely tighten very small fasteners such as optic bolts. For anyone thinking of putting a red dot on a pistol, you'll need one. 
The one by Wheeler is a solid choice, and it includes a bit set too. Street prices are around $70. 
Armorer's Wrench 
An armorer's wrench is a multi-tool that's designed specifically for working on the AR-15. While features vary by model, what's customary are lugs for the radial slots on a D-ring, a slot for tightening muzzle devices and a castle nut wrench. 
Typically, there is also a square slot for using a ½-inch drive torque wrench, and some may also include one for a ⅜-inch wrench. However, bear in mind that M-LOK rails don't use universal barrel nuts. You may need a specific one to install or remove yours, so bear that in mind. 
With that said, the Midwest Industries Professional Armorer's Wrench (street prices around $70) is well worth the investment. 
Nylon Mallet
Another common hand tool that's worth the investment is a nylon mallet. Using a regular hammer can put too much force into the gun and result in damage or a marred finish.
While professional users will want to spend more on their gunsmithing tools, most people will be served just fine by one from the local hardware store or Amazon. You can get them for $10 to $15. 
Driver Bit Set 
Even outside of gun stuff, driver bits of poor quality are a pestilence upon the earth. One of the most hateful curses one can endure is trying to get through a project and watching your bit get increasingly less tenable with every screw you tighten. 
Look for a quality set that includes Allen and Torx bits as well. 
The Milwaukee Shockwave Impact Driver 55-piece set is a good starting place. They're found in many hardware stores and cost around $40 to $50. 
AR-15 Vise Block 
A vise block that allows you to set the upper and lower receiver in a vise is essential for assembling an AR-15 or AR-10. You set the receiver in the block and tighten the vise to keep it stable. 
This is especially necessary for certain parts of the build, including installing the buffer tube, staking the castle nut (which you need to do!) and installing the barrel and gas system. 
You'll need both an upper block and a lower block unless you get a model that can do both. 
For just the upper, the Wheeler Delta Series is an excellent choice. It's machined aluminum with a black finish, and it has pin holes to set AR-15 or AR-10 flat-top receivers in the block. Street prices are around $40. 
For a do-it-all model, the Magpul BEV Action Block (up to $50) is another excellent choice as it can be used for both the upper and lower receiver. It locks in the magwell and you clamp it in the vise. The polymer body can take the pressure without issue. 
Allen Wrench Set 
This is another thing you should already have regardless of your dedication to firearms. Get one set in imperial and another in metric, then store them with labeled organizers to keep things straight. 
You can pick up a set containing both from Harbor Freight for less than $10 which will probably be fine for most uses, or opt for a Husky set that will set you back no more than $20 online.
Thread Locker 
When it comes to basic gunsmithing tools, a bottle of Loctite Blue 242 is essential. It's a thread-locking compound that keeps fasteners from working loose under vibration, which is kind of important for a gun. 
A $10 tube from most hardware stores will last a long time since you only need a little. 
Loctite Red—which requires heat to loosen—is sometimes called for, but only in some specialized applications in firearms that most people will never have to worry about. Go ahead and buy Blue 242 for your everyday needs, but don't worry about getting Loctite Red unless you encounter a project that specifically requires it. 
A Quality Multi-Bit Screwdriver 
A full set of screwdrivers, one with all the sizes of flat, Phillips and other heads, is a big purchase if you buy a quality set, plus it can take up a lot of space. Professional gunsmiths should have a full gunsmithing screwdriver set, but a good multi-bit driver should cover most if not all of your bases.
This is a good thing to have, period. A DeWalt MAXFIT Multi-Bit ScrewDriver is not expensive (street prices are less than $20) and will punch above its weight in terms of total utility. A telescoping ratcheting model is also available for about the same price point. 
Touch-Up Bluing 
Another excellent gunsmithing tool for the home armorer is a product for touch-up bluing. Re-bluing is not something you want to try at home, given the procedure is delicate and the materials are caustic. Ergo, you should put it off as long as possible. 
A Birchwood Casey Blue Pen will run you about $15 to $20 and does wonders for touching up worn finish or scratches on blued or blacked gun surfaces.
---
More On Gunsmithing:
---
NEXT STEP: Download Your Free Storm Tactical Printable Target Pack
62 Printable MOA Targets with DOT Drills – Rifle Range in YARDS This impressive target pack from our friends at Storm Tactical contains 62 printable targets for rifle and handgun range use. Target grids and bullseye sizes are in MOA. Ideal for long-range shooting!
Subscribe to the Gun Digest email newsletter and we'll send your print-at-home target pack right away. Just enter your email address below.
---