The new Rossi Brawler is a single-shot .410 and .45 Long Colt pistol with an enticingly low price.
Having just recently expanded its catalog with the R95, a new model of lever-action rifle, the Brazilian company Rossi has just announced yet another fresh design. Called the Rossi Brawler, it's a single-shot pistol chambered for .410 bore and .45 Long Colt. Whether you want a single-shot .410/.45LC pistol for plinking, pest control or anything else, the Rossi Brawler will be a very affordable way to accomplish it.
As mentioned, the Rossi Brawler can fire both .45 Long Colt ammunition as well as .410 bore shotshells, including 3-inch magnums. It has a 9-inch alloy steel barrel with a 1:24 RH twist, and it has an overall length of 14 inches and an overall weight of 36.8 ounces unloaded.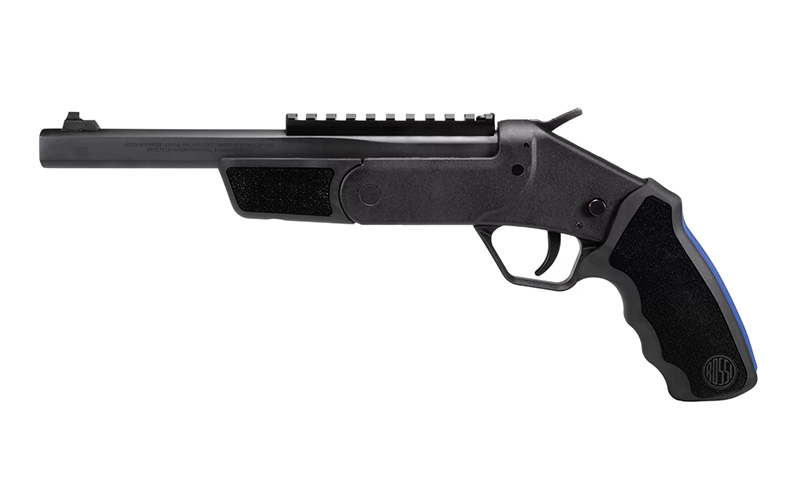 Keeping things simple, the Rossi Brawler is a break-action single-shot pistol with a cross-bolt safety and a single-action trigger. For comfort, it has large rubber grips, and for aiming it features fixed iron sights and a Picatinny rail on top for mounting optics. Rossi points out that besides the typical advantages of installing an optic, given the Brawler's versatile ammo choices, it also allows for one to zero their firearm for a specific load.
The Rossi Brawler has an MSRP of only $239.99, but street prices are already slightly lower than that. If nothing else, the Brawler is a very affordable solution for anyone with a snake problem.
For more information, please visit rossiusa.com.
---
More On Shotguns:
---
NEXT STEP: Download Your Free Storm Tactical Printable Target Pack
62 Printable MOA Targets with DOT Drills – Rifle Range in YARDS This impressive target pack from our friends at Storm Tactical contains 62 printable targets for rifle and handgun range use. Target grids and bullseye sizes are in MOA. Ideal for long-range shooting!
Subscribe to the Gun Digest email newsletter and we'll send your print-at-home target pack right away. Just enter your email address below.
---