If you are in the market for a new AR-15 barrel, let me tell you about one of my absolute favorites that I've been using off and on for roughly 3 years now. I'm talking about none other than Ballistic Advantage Hanson AR-15 barrel.
The Ballistic Advantage Hanson series of AR-15 barrels are not only easy on your wallet, but they are also extremely light, and always accurate.
So, before you look at another barrel today, give the BA Hanson barrels a chance to show you how you can truly get the most bang for your buck.
Get Great Guns and Ammo Deals!
---
About Ballistic Advantage Hanson Series AR Barrels
Aero Precision (who just so happen to also be the manufacturers of one of my favorite stripped uppers and lowers) acquired Ballistic Advantage around the end of 2014. And as soon as they did, they started pumping out some of the finest, extremely lightweight, shoulder-less designed AR-15 barrels.
It was around the time that Aero Precision and BA made their deal that I started to take an interest in them. As I tend to do, I sat around and procrastinated on getting my hands on one of their Hanson barrels for about a year.
After all, I didn't need a new barrel, right? Well, sure, I didn't need a new barrel, but for such an affordable price, how could I pass it up?
So, I eventually got my own BA Hanson barrel and I have never looked back. I'll tell you right now, it has become one of my most used barrels to date.
Ballistic Advantage has produced quite a few barrels for Hanson, but the barrel I chose to go with was based on the following specs:
16″ length (this is to avoid short barreled rifle regulations)

.223 Wylde Premium Series (I chose to go with this version for the increased accuracy. The best part is that it still gives me the ability to shoot .223 and 5.56)

Mid-length gas system (this caters to a softer shooting impulse)
Just to be clear, there is actually two models of the 16″ .223 Wylde Mid-length Hanson barrel.
One of them comes with a .750″ gas block (27 oz) and the other barrel comes with a .625″ gas block (22 oz). I chose the smaller one simply to save some me from adding some extra weight.
---
Why Choose The Ballistic Advantage Hanson Barrel?
In my opinion, a Ballistic Advantage Hanson barrel is perfect if you are wanting to build a lightweight AR-15 setup that still remains accurate even under long shooting session as well as the ability to be used with the .223 Wylde chamber and shoulder-less design to further minimize barrel whip.
Whether this is your first time building a lightweight AR setup or you are a seasoned vet, I honestly cannot recommend this barrel enough to fellow AR-15 owners.
---
Fit, Feel And Install of the Ballistic Advantage Hanson Barrel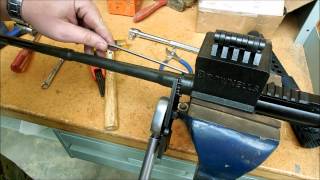 First off, as I believe I have highlighted plenty already, this barrel is really light! Weighing in at only 22 oz for a 16″ barrel is great, especially when regular Government profile barrels are somewhere in the 27 oz range.
I also really enjoy the bead-blasted stainless look. It has a very sleek look and feel that just seems to stand out from the more traditional and common black coating. While it certainly shines a bit, it isn't too shiny, nor is it a fingerprints magnet so no need to constantly buff it.
Everything from the barrel nut, gas block, and muzzle brake installed fairly easily and without much struggle. I am very happy to report that it is still chugging along 3 years later.
---
How the Ballistic Advantage Hanson Barrel Shoots
Okay, now onto what you really came here to read about; how well this barrel shoots.
Before I started sending rounds down this barrel, I set the adjustable gas block to just the right amount of gas and keep my shots super light, and it worked flawlessly. Nothing but smooth releases from this barrel.
The one major downside of going the lightweight route is that there is less mass to absorb recoil, but if you lower the gas to prevent your upper from sending the BCG back too fast, it does cancel it out just a bit.
My movements between targets also sped up because there is less metal to physically chuck around from side to side.
---
Ballistic Advantage Hanson Barrel Accuracy
It may very well be the lightest AR-15 barrel around, but if it isn't accurate, weight doesn't really matter very much.
When I first received my Ballistic Advantage Hanson barrel, I didn't break it in right away. I also haven't copper cleaned it in the thousands of rounds I have sent through it, either.
I went with my standard testing equipment setup:
Lead Sled DFT

Schmidt & Bender PMII 5-25x Scope with Larue Mount

Hiperfire Trigger

Variety of ammo: Wolf Gold, .223 PMC, American Eagle, and Federal Gold Medal match ammo (Best AR-15 Ammo for Self-Defense & Plinking)
The first time out on the range, I shot at a slow pace that set right around 1 shot per 10 seconds at targets set at 100 yards.
Not surprisingly, my build let me hit targets at 400 yards during competitions when I coupled it with a decent scope.
I'd imagine better groups if I cleaned it up and reloaded my own ammo.  But with 1.5 MOA using the cheapest brass cased ammo out there…I'm very happy.
---
How I Would Rate The Ballistic Advantage Hanson Series AR-15 Barrels
Reliability: 5/5
No barrel-based failures occurred in my thousands of rounds.

Barrel nut, gas block, and muzzle device all installed very easily.

Individually HP & MPI tested.
Accuracy: 4.5/5
Remarkably good accuracy for a pencil barrel and it ate up my cheap ammo at 1.5 MOA.  Using match ammo brought it down to 1 MOA and I'm sure with reloads you can get it sub-MOA. The 1:8 twist is great for a wide variety of bullet weights too.  AND…there's a 1-MOA guarantee using match ammo.
Looks: 5/5
Love the bead-blasted look.

Very little shine

Doesn't hold fingerprints
Cost: 4.5/5
$250 for a high-quality barrel is what I expect, but keep in mind that it does come with a gas block already.  It is non-adjustable, but if that doesn't matter, it will save you about $30-40.
Overall Rating: 5/5
---
Ballistic Advantage Hanson Barrel – Conclusion
The Ballistic Advantage Hanson barrel has served me very well for the past 3 years and it continues to do so.  I'm testing out other barrels constantly, but when it is time for some super-fast and smooth competition shooting, this is the barrel I take with me to the range.
Lightweight, accurate, and pretty good bang-for-the-buck. The Ballistic Advantage Hanson barrel is one that I recommend any self-respecting Ar-15 owners get their hands on as soon as possible. In my experience, it is a wise investment.
Recommended Reading
Best AR-15 Calibers And Cartridges