(BEST 10MM Pistols ARTICLE UPDATED TO TRY AND INCLUDE IN-STOCK ITEMS. SOME EXACT MODELS MAY NOT BE AVAILABLE)
Many gun aficionados have heralded the 9mm handgun as the ideal self-defense firearm, but despite its popularity, the "nine milli" is not the only worthy choice available.
On the contrary, the 10mm pistol is making a big comeback and it's got just as many excellent attributes as its counterpart.
Why Buy a 10MM Pistol?
Stopping Power is the main reason why to buy a 10MM Pistol.  The 10mm is a rimless large pistol with a maximum pressure of 33,000 psi that has some serious power.
The findings of multiple ballistic gel tests found that the 10mm could travel more than 17 inches after impact whereas the 9mm could only travel 13 inches after impact.
In other words, a 10mm pistol could penetrate two people at center mass and continue traveling.
While the 10mm handgun fell by the wayside for many years, recent advances in metallurgy have resulted in a surge in popularity. Modern pistol models are better equipped to handle the 10mm caliber than those built in the 1980s.
Today, we're going to take a look our top picks for best 10mm pistols.
For each, we'll discuss what makes them a worthwhile purchase and why the 10mm is every bit as ideal a handgun as its nemesis, the nine millimeter.
Are you ready? Let's get started.
Get Great Guns and Ammo Deals!
Our Picks for the Best 10MM Pistols Handguns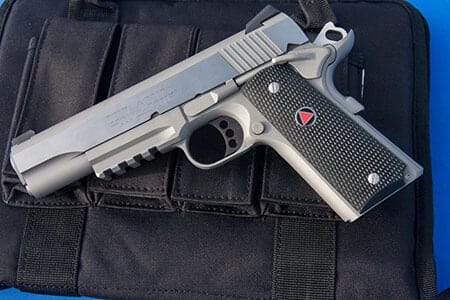 This government model is at the top of the heap when it comes to ten-millimeter semi-automatic handguns. Colt was one of the original pioneers of the ten milli and they've only gotten better with time.
This combat pistol blows away much of the competition because it's got enough power for medium size game hunting in addition to CQC (Close Quarters Combat).
Each one comes with Novak sights with dots, an enhanced hammer, wide slide serration, a lowered ejection port and an upswept beavertail grip safety.
At $1,099, the Delta Elite is a bit more affordable than some of its counterparts and you'll know that you are paying for quality engineering and a durable build.
This 1911 model has a Clark-style target rib machined on the top of the slide with defensive sights.
The Razoback's got a pair of sexy double diamond Cocobolo grips that are a nice touch for collectors.
This is another one that's on the pricey side at $1,499.99, but it's a high-performance single action pistol that is known for never jamming and never disappointing.
This is a great option for those looking for a carry gun. It's a low profile weapon with snag resistant sights and a stainless steel slide.
Unlike some other models, the Witness features a magazine that can hold 15 rounds. It's got a one-piece full size polymer grip and an automatic firing pin block.
You won't find the Witness at Cabela's or 1800gunsandammo.com, but click the link above to check price.
This one is an aesthetic marvel and a shrewd one at that. If you're looking for cover and you're in an outdoor combat situation, this is the 10mm pistol you want to have on your hip.
Its forest green body is but one of the Gen 4's terrific features. Built for performance and durability, the Dark Earth Gen 4 has fixed sights, a shiny finish and an enlarged, reversible magazine release.
Each FDE Gen 4 comes with three customizable backstraps and three magazines. Its RTF (Rough Textured Frame) makes it easy to handle.
Perhaps second only to its discreet color is its price point. When you consider the rising prices on most full-size pistol models, this one's an absolute steal.
Which 10MM Pistol Holds the Most Rounds?
The Glock G20 10MM pistol holds 15 rounds, one of the highest capacity magazines in the 10MM category. However, it should be noted you can buy extended magazines for several 10MM models.

The SGM Tactical® 10mm 30-Round Extended Magazine for Glock® Pistols provides superior performance at a price that's tough to beat. This aftermarket magazine features tough steel-reinforced polymer construction with a tough polymer baseplate for superior strength and lasting corrosion resistance in even the harshest environments. Plus, numbered witness holes provide quick, easy round counts on the fly.
This 1911 pistol is a two-tone handgun with stainless steel match-grade barrels and bushings.
Each one comes with full size grips, a chamber indicator port, high-ride beavertail grip safety and an extended thumb safety. The Commander-style hammer and checkered side release are also quite appealing to most avid shooters.
It's also got a brushed polished carbon slide and rosewood grips, making it one of the more attractive ten millis on the market. This one is famed for its hair-splitting accuracy and precision design.
You can usually get your hands on one for around $1,750.
This one's got all the bells and whistles you want in a 10mm handgun from its adjustable rear target sight and green fiber optic front to its six-inch ramped barrel and beavertail grip safety.
It's a high-end variation on the 1911 that comes with a bevy of unique features including VZ Operator machined G10 grips, oversized, flared ejection port, and an EGW HD Extractor.
At around $1,000.00, it's not the cheapest model on my list, but it's certainly worth every penny. Pound for pound, the Elite LS Hunter is a python compared to some of the cheaper choices available to the general public.
You know the expression, "What's in a name?" Well, when it comes to Remington, the name speaks for itself. Remington has maintained a solid reputation among gun enthusiasts since 1816.
In the last 201 years, they've continued to improve upon each of their firearms, maintaining a position in the industry as masters of innovation and excellence.
The 1911 is no exception in terms of classic values and contemporary quality. Remington's 1911 R1 is a beautiful piece with a black body and a gleaming silver stainless steel slide. This makes it a favorite on our list of the best 10MM pistols
With a match-grade stainless barrel, serrated slide, premium grip panels and two magazines, this one's got the works.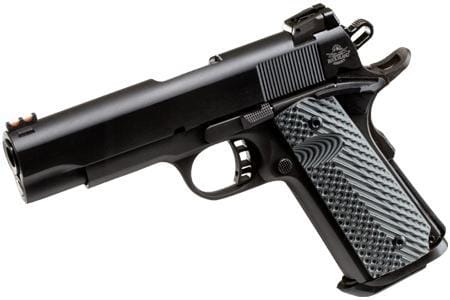 The sleek, snub-like design of the TAC Ultra MS makes it asuperior pistol for conceal and carry purposes. It's compact, ergonomic and contemporary with a modern three-slat trigger, front and rear CNC angle grooves and Picatinny rail.
The TAC Ultra delivers 1,850 fps with a mild recoil that runs counter to its intense muzzle energy.
The skeletonized hammer and trigger are simply awesome to behold and the G10 tactical grips further the intimidating look. The durable parkerized coating puts the finishing touch on the design.
Sportsmansguide.com has Rock Island 10mm for around $600. 
Sig Sauer's another one of those names like Colt or Remington that stick in the forefront of the gun enthusiast's mind whenever the subject of handguns comes up.
The P220 is head and shoulders above many of their competitors' models in that it features SigLite signature night sights for easy target acquisition and a threaded, chrome-lined barrel that provides the gun owner with handgun longevity.
Guns.com usually has new and used sig P220s for around $1,700.
The Wilson Combat Classic comes in at number ten on my list because this one is really a vanity item at a whopping $3,799.99. The classic brown wood grip on platinum silver body makes it a favorite among Clint Eastwood fans and the like.
As far as 1911 pistols are concerned, this one is a performance firearm with Wilson's own low-mounted adjustable rear sight and bullet proof one-piece mag well.
Basically, if you're in the market for all the bells and whistles when it comes to the best 10MM pistols, this bad boy might become your best friend. It's got a countersunk slide stop, reverse crown/flush cut barrel and boasts a flashy Wilson grip medallion.
To reiterate, while this is certainly a worthy option, you're going to pay big to get your hands on one of these much-coveted trophy ten millis. For more practical, frugal gun enthusiasts, I'd highly recommend any other handgun on this list.
You might be able to find a used Wilson Combat Classic on Guns.com
What to Look for in the Best 10mm Pistols
There are several considerations a gun owner should contemplate before making a 10mm pistol purchase. The key factors to think about when selecting the weapon for your personal needs are durability, price point and reliability.
Last but not least, what accessories are available for the 10MM.
10MM PISTOL ACCESSORIES
A lot of people think that gun accessories only apply to larger firearms like rifles and shotguns, but there are plenty of accessories for handguns as well.
Beretta offers a variety of handgun accessories including custom grips, lasers and lights, rear and front sights and magazines.
You'll want to confirm how many rounds your 10mm pistol can hold before purchasing any magazines from such manufacturers.
I'm a big proponent of lasers, sights and lights since they can enable the shooter to fire in any environment, whether it's day or night.
Cabela's carries my absolute favorite sight, the Trijicon RMR Adjustable LED Reflex Sight. It's a tad expensive at $349.00, but it's worthy every penny.
You get a true-color multi-coated lens and eight adjustable brightness settings as well as a tritium phosphor lamp. The best part is, it's powered by a single lithium battery. Each unit also comes with a lifetime warranty from the manufacturer.
How to Select Your 10mm Pistol Ammo
Ammunition is every bit as important as the gun from which you fire it. The 10mm caliber is garnering a long-awaited and well-earned reputation among gun consumers, but brands and styles are an integral part of the shooting process.
Today, 10mm ammo is designed to make its forebears proud with 135 to 180 grain range that's controllable and precise, providing the user excellent stopping power and ballistics.
What is the Best Ammo for a 10mm Pistol?
There is much debate among the online community as to which ammo is the best ammo for a 10mm handgun, but the general consensus seems to be this:
You don't want a load that tops out at the teetering edge of SAAMI specs, but you also don't want something like a 230 grain load which will penetrate too deeply in a defensive situation.
You want ammunition that will fire cleanly from your firearm every time and you want each round to be accurate.
People seem to underestimate the 10mm pistol, perhaps because of its checkered past. But the truth is, it can do a lot of damage with very little. For this reason, a fairly mediocre bullet like a 165 grain Montana Gold can produce a substantial wound.
List of the Best Ammo for a 10mm Pistol:
Hornady 175 grain Critical Duty
American Eagle 10MM Auto 180GR
All of these loads will let you take care of business with varying degrees of penetration and performance, but none of them will let you down.
10MM Pistol History
The 10mm pistol has an interesting history. It was developed in the early 1980s by the firearms manufacturer, Colt, in collaboration with the renowned firearms expert, Jeff Cooper. The goal was to create a powerful and versatile cartridge that could be used for self-defense and law enforcement purposes.
The 10mm Auto cartridge, also known as 10mm Norma, was introduced in 1983. It was originally chambered in the Colt Delta Elite, a variant of the Colt M1911 pistol. The 10mm Auto offered a significant increase in power compared to other popular handgun cartridges at the time, such as the 9mm and .45 ACP.
Top 10MM handguns – Conclusion
There you go, I hope you've enjoyed my guide to the best 10mm pistols out there.
Is a 10MM Pistol Worth It?
Yes a 10MM Pistol is worth it, considering you can pick up a quality 10MM pistol for around $500. If you consider the stopping power of the 10mm pistol. the improved recoil and number of accessories for the 10MM, then no doubt it is worth adding to your collection.
By now, you should have a better idea of the specs you should expect from a decent ten milli pistol. Also, suggest you guys take a look at my article on the best range bags to find one that can help you safely store your weapon.
At the end of the day, it all comes down to your personal needs and preferences. But this list should serve as a good starter for shooters who are looking to select a beginner pistol.
Recommended Reading