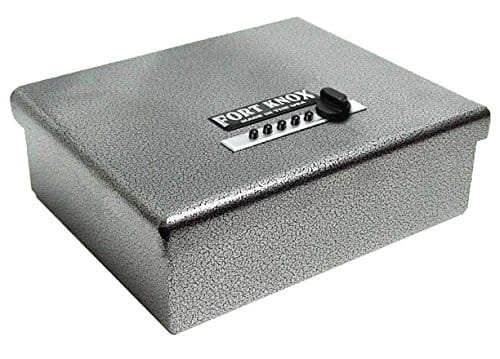 Today, I'd like to share with you my tips on how to select the best quick access bedside gun safe for your household needs. I'll also share with you a list of my top picks, ones that can suit any budget.
There are many things you're going to want to think about before selecting the bedside gun safe that's appropriate for you so we'll delve into that first just to give you a quick overview of what you should look for when purchasing a bedside gun safe.
Get Great Guns and Ammo Deals!
---
Things to Consider Before Buying a Bedside Gun Safe
Fast & Easy Access
This is absolutely essential when choosing any kind of home defense gun safe, whether it's an under the bed gun safe, a closet gun safe or, yes…a bedside gun safe. Personally, when it came to my own home defense handgun, I wanted to know that I'd be able to access my pistol in seconds flat in the event of a home defense/CQC (Close Quarters Combat) scenario.
Dependability
In a home defense situation (alarm goes off, home is invaded, whathaveyou), you'll likely be half-asleep when SHTF. In such a case, you'll likely be flailing around in the dark, so you'll want to know that your safe is reliable and user-friendly when you're in that kind of condition. For this reason, I like gun safes with glow-in-the-dark keypads.
Basic Protection
You don't need to go the extra mile when it comes to a bedside gun safe. My trophy guns (the expensive luxury models) and oversize rifles are kept in a large closet gun safe that's child-proof and fire retardant. With a bedside gun safe, this isn't really necessary. You really only need something that you can open quick if a smash-and-grab burglar breaks in or you hear the pitter patter of feet scurrying around down the hall.
Bedside Gun Safe Locking Mechanism
I always recommend that people shop around for models with top of the line, high-tech locking mechanism. This prevents against children or thieves gaining access to your unit. Some models provide access via thumb print or password while others can even be accessed by voice activation. Some of the best bedside guns safes of 2017 are able to be accessed via fingerprint reader or voice activation.
Mountable
When it comes to a quick access bedside gun safe, you want an adequate amount of space for holding a full size pistol, but you also want to get one that's compact enough for mounting in a nightstand or on the side of such a bedside table. IMO, I like to mount it inside your bedside drawer so that it's out of the sight of prying eyes, particularly my kids. This also ensures that no one will be walking away with it when you're in one of those mid-winter NyQuil stupors.
Bedside Gun Safe Price
As I mentioned before, the gun safes on this list will encompass a range of different budgets, but for the frugal gun owner, price might seem like something to be considered when purchasing a bedside gun safe. One important thing to keep in mind is that price point doesn't always equate to quality. On the contrary, there are several inferior gun safes on the market that have a very large price tag but don't offer half the features of cheaper models. Always look at safety and security features before price.
Warranty
If a gun safe doesn't come with a warranty, it's probably junk. The more reputable gun safes companies out there are happy to offer a warranty because it's their way of telling the consumer that the safe is durable and comes with a promise of longevity. If it has a lifetime warranty, it's most likely a solid option.
Now that we've taken a gander at the areas of importance when selecting a bedside gun safe, let's jump into my list of top quick access bedside gun safe picks.
Best Economy Bedside Gun Safe: Stack-On PDS-500 ($40.00)

Best Nightstand Drawer Gun Safe: Sentry Safe Quick Access Safe ($96.37)

Best Overall Quick Access Bedside Gun Safe: Fort Knox FTK-PB ($215.00)

Best Quick Draw Gun Safe: GunVault Minivault ($106.49)

Best Luxury Bedside Gun Safe: Vaultek VT20i ($249.00)
---
For the money ($215.00), this one's a real beast. With a rugged ten gauge body and a gas strut, this one has been called the greatest handgun safe on the market. It comes lined with thick foam to protect against damage to the finish of your pistol as the foam holds the pistol fast when the door is closed.
It features a Simplex system which utilizes mechanical buttons that enable the gun owner to access the safe in under two seconds. You simply punch in a two-stage code and turn the knob. Boom. You're in.
Each unit comes with a lifetime warranty which ensures that you will never be without quick access to your bedside gun safe.
Another big pro to this one is the heaviness of the unit. The FTK Pistol Box weighs a whopping twenty pounds which tells you that no thief is likely to be able to make off with it without you noticing. And with the solid stainless steel construction, you'll feel confident that it will take a helluva lot more than a pry bar to crack it open should you be away during a break-in.
---

When it comes to brand prominence and brand excellence, there's really no beating the reputation and integrity of Sentry Safe. They've been a mainstay on the gun safe market for quite some time and with the quick access safe, they've outdone themselves.
This pistol safe is available in five unique variations from the single pistol standard with electronic lock to the biometric fingerprint lock and the two-pistol capacity model with electronic lock.
All iterations of this gun safe are able to be accessed at the spur of the moment by you, the user, and with a compression gas strut that enables the door to open silently so as not to alert a prowler to what you are doing.
This is one of the most important features I look for in a gun safe because I don't want to give up my position or in any way tip a burglar off to the fact that I'm awake and armed.
With this one, you also get a pry-resistant door and solid stainless steel construction, making it virtually burglar proof.
---

The PDS-500 possesses all of the features we went over above. It's affordable, easy to use, compact and high tech. It is massively popular among online consumers and has garnered exceptional reviews on sites like Amazon.
Users can generally access the safe in two to three seconds, but bear in mind that some hiccups can occur due to the incompatibility of the opening door and the base (the door is too small to sync up properly).
Despite that, it's still a worthy choice since it's got an easy-to-program electronic lock and pre-drilled holes for mounting. It will fit into most nightstand drawers with no problem and concealed hinges for top notch security.
The thing I like about it the most is that a time out period is triggered when the wrong pass code is entered more than twice. This means that no unwanted parties will be able to gain access to your unit.
---
Other Top Bedside Gun Safe Choices
These are quality options also.
If the FTK Pistol Box is out of your price range, this may be a good mid-range choice in terms of quality per dollar. It's a well-established brand with some great, compact safes.
The Minivault looks like something straight out of a sci-fi action movie. It sports a four-finger print reader and comes with a key for emergency access should you experience technical difficulties. This is good to have in case the reader fails for some reason or malfunctions in any way. It's always good to have a backup that only you will have access to.
It's got a sturdy body with a tamper-resistant door and a cushiony interior. It also features a tamper indicator that lets you know if someone has tried and failed to access it.
The VT20i Biometric Bluetooth Smart Pistol Safe definitely provides users a high-tech bedside gun safe. It's one of the smallest gun safes around and it's super-easy to use. $249 + might seem like a lot of money to spend on a bedside safe, but considering the innovation and ease that it offers, it's well worth the price and will keep you and your family safe for years to come.
You have three options with this one—You can use the keypad to punch in a code or you can download the Vaultek smart app. The latter gives gun owners the ability to remotely unlock the safe and encrypt it via Bluetooth. Not only that but you also get a high resolution quick sensor fingerprint reader that can store up to twenty fingerprints. In other words, this is an all-in-one bedside gun safe.
The keypad is illuminated thanks to a proximity sensor which makes it easy to access in the dark. The battery life on this one is pretty great too. It can be recharged in just two and a half hours and last for up to six months before requiring another charge.
It's also pre-drilled and comes with screws for mounting your bedside gun safe. There's really nothing I bad I can say about this one. I highly recommend it.
---
Bedside Gun Safe – Closing Thoughts
There you have it, a well-rounded breakdown of what you should want out of a bedside gun safe and five top shelf choices for quick handgun access. Any of these impressive gun safes will be worth the investment.
Recommended Reading