The Smith & Wesson 500 is one of the all time great handguns. Big, sturdy, a blast to shoot (pun intended), and it just looks awesome. This revolver is massive and it's size brings out curiosity in whoever sees it. If you have one of these guys, you are probably wondering if there is a good Smith Wesson 500 holster to carry it in.
I'll go over a few options for you, but I'd like to share my top pick first. I think the best holster for your Smith & Wesson 500 is the Outbags OWB holster.
This is a nylon holster with ammo loops, a thumb strap, and a removable belt clip.
This revolver is probably not going to be your choice for everyday concealed carry. According to Smith & Wesson's website the stats on this revolver are impressive.
Most powerful production revolver in the world today

Massive .500 S&W Magnum cartridge

A hunting handgun for any game animal walking

Removable high-efficiency compensator

Red dot interchangeable front sight
Get Great Guns and Ammo Deals!
---
Hunting With Handguns
The popularity of big game hunting with handguns varies from year to year. A magnum revolver, among other handguns, can be a good tool for big game hunting.
Why, with long range rifles, would anyone choose to hunt with a handgun? Because handgun hunting is more challenging. For anyone who is willing to put in some effort to practice with their handgun, and willing to get a little closer to the game, handgun hunting has a thrill all its own.
Advantages of Handgun Hunting
A handgun is more cooperative than a rifle. It is easier to maneuver and get your sights on a target quickly. When it's holstered you won't have a barrel hanging out to catch on things.
Disadvantage of Handgun Hunting
The biggest disadvantage with handgun hunting is that you will have to close the gap between you and the game. With scopes getting better and better your options are getting better.
Gear For Handgun Hunting
There is some gear that is helpful when you are hunting with a handgun.
Tripod

Safety glasses

Leather handgun gloves

Scope

Holster
---
Shooting Large Caliber Handguns
Sometimes shooting a large caliber gun, like the Smith & Wesson 500, can be intimidating. Especially if it's your first time. While these revolvers are probably not the best way to introduce someone to shooting, they are manageable and good form is paramount.
Some experts say to load just one round into the chamber, the first time you shoot the Smith & Wesson 500. One of the tendencies of first time shooters, is to tense up from the recoil and accidentally pull the trigger a second time.
Proper Grip
Ensuring the gun is secure, in your hands, is the first part of a good grip. Your body's larger muscles, in your back, will have more contractile force than the smaller muscles in your wrists and arms. A grip that enacts the back muscles will help with recoil management.
Stable Stance
A stable stance can make the difference between managing recoil and being knocked backward. Your stance should balance your weight between both feet. Standing with your feet shoulder width apart helps balance.
---
Gun Safety
Always Keep The Muzzle Pointed In A Safe Direction
This is the most basic gun safety rule. If everyone handled their firearm without pointing it at something they were not willing to destroy, there would be a lot less firearm accidents.
Store Firearms Safely
If you're not on the range, hunting, or using your gun for self defense, your gun should be stored safely where children and criminals can not get to it.
Don't Rely On Gun's Safety
Treat every gun as if it can fire at any time. They safety is a mechanical device that can fail.
Never touch the trigger unless you intend to shoot to destroy.
Be Sure Of Your Target And What's Around It
Once you have pulled the trigger you no longer have control over where the bullet goes. Don't shoot unless you know exactly where your gun is going to shoot. Be sure the bullet will not hurt anyone or anything beyond your target.
Use Correct Ammo
Using incorrect ammo can destroy your gun and cause serious injury. Read all the instructions and warnings that come with your handgun and your ammo.
Be Careful If Your Gun Fails To Fire
If your gun doesn't fire when you pull the trigger keep the muzzle pointed in a safe direction, carefully open the action, unload the the firearm and dispose of the cartridge.
Always Wear Eye And Ear Protection
Exposure to shooting noise can damage hearing and things can get in your eyes. It's always wise to wear ear and eye protection.
Make Sure Barrel Is Clear Of Obstructions
Clean your gun and check the barrel before you shoot it. Even small amounts of dirt, oil, or gunk can cause increased pressure while firing. This can cause the barrel to bulge and sometimes blow upon firing.
Have Your Firearm Serviced Regularly
Just like any other mechanical device, your gun will need regular inspections, and services. Check with the manufacturer for recommendations.
Know How To Use Your Gun
Read instructions or watch Youtube videos about your gun. The NRA offers firearm classes at shooting ranges nationwide. Some examples of classes they offer are:
Home Firearm Safety Course

Pistol Course

Rifle Training Course

Shotgun Training Course

Personal Protection Course
There are many more to choose from.
---
Best Picks for Smith & Wesson 500 Holster
Let's get on with the top picks in holsters for the Smith & Wesson 500 revolver.
This holster comes left or right handed, has extra ammo loops, and is made of sturdy nylon. It has a thumb break that won't slow you down while drawing.
Features
Fully adjustable thumb strap

Steel belt clip

Belt loop

Magazine pouch

Made of nylon
| Pros | Cons |
| --- | --- |
| Made well | Cartridge loops are a little small |
| Right or left handed versions | Snap is hard to snap |
| Fits 500 well | |
| Affordable | |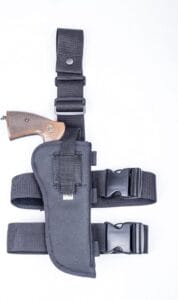 This tactical thigh holster is designed for active use. It comes with extra ammo loops, a rugged belt strap, and double thigh straps. This holster will ensure your firearm stays with you no matter what activities you are involved in.
Features
Made of nylon

Shell loops

Fully adjustable

Secondary safety strap

Belt loops
| Pros | Cons |
| --- | --- |
| Straps will fit everyone | Gun may rub against knee |
| Adjustable | Hard to unsnap |
| Affordable | |
| Secure | |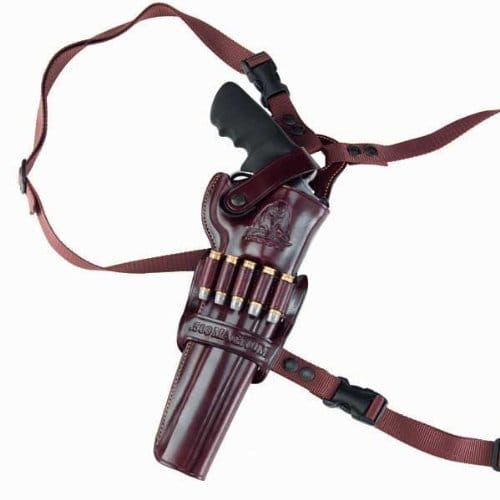 Designed to keep a large handgun comfortable and accessible. This holster carries the gun diagonally across your torso. Actual placement and angle can be changed throughout the day to aid in comfort.
Features
Padded shoulder strap

Keeps firearm secure

Can be used during activities

No screws or tools needed to adjust
| Pros | Cons |
| --- | --- |
| Comfortable | Snaps seem a little flimsy |
| Feels like a custom made holster | Break in period needed |
| Fits excellent | High price tag |
| Nice leather | |
This holster will fit the Smith & Wesson with a scope. It has an adjustable shoulder strap and a quick release thumb break.
Features
Quick release thumb break

Adjustable thumb break

Adjustable shoulder strap

Made of nylon
| Pros | Cons |
| --- | --- |
| Good quality | May be too big without a scope |
| Very comfortable | Right hand only |
| affordable | |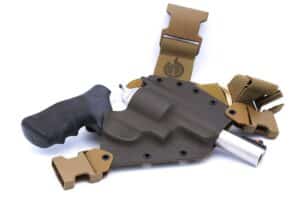 This holster was designed with outdoor recreation in mind. The harness is designed with all day comfort during activities like hiking, fishing, dirt bike riding, etc.
Features
Designed for all day comfort

Adjustable

Can be worn high or low on chest

Handcrafted in the USA
| Pros | Cons |
| --- | --- |
| Durable | Bulky on chest |
| Easy to put on | Holster moves with draw |
| Can switch out harness for other kydex holsters | Makes noise while moving |
| High quality materials | |
---
Smith Wesson 500 Holster – Final Thoughts
The Smith & Wesson 500 is one of the most powerful production handguns available, and one of the heaviest. You want a holster that will handle the weight and size of this revolver with relative ease.
After my research, I found the Outbags OWB Holster to be the best all around holster. It's made of nylon and does what it's supposed to do. It keeps your 500 secure with an adjustable thumb break, but won't slow you down too much if you come across a wild animal while you are out for a day in the woods.
Recommended Reading
Smith & Wesson Governor Holster
Best Holster For Smith & Wesson
Smith & Wesson J Frame Holsters
Est Holsters For Smith And Wesson .38 Special
Smith And Wesson Bodyguard 380
Holsters For Smith & Wesson 642
Glock 43 Vs. Smith And Wesson M&p Shield