Democratic Connecticut Senator Christopher Murphy has been spending the last several months talking about an unusual subject for a politician: loneliness.
"If democracy can't deliver on the disconnection and disaffection that Americans feel, they're going to give up on democracy," Murphy tells Newsweek. "Some demagogue, much more effective than Donald Trump, will come along and pick up on all of this anxiety and disaffection and disconnection and channel it into a political movement that will overturn democracy."
Murphy was the congressman representing the Connecticut district containing Sandy Hook at the time of the 2012 school massacre there. Last year, in the wake of mass shootings in Buffalo, New York, and Uvalde, Texas, Murphy—an ardent gun control advocate with an F rating from the National Rifle Association—was one of the Senate sponsors of the Bipartisan Safer Communities Act. The measure, which, among other things, provides more funding for mental health programs and tightens some existing gun restrictions, was the first gun control bill to make it through Congress in decades and was signed into law by President Joe Biden in June.
Murphy says the experience proved that if Republicans and Democrats were frozen in place on most gun legislation, there were still some things they could agree on. That, he tells Newsweek, spurred him to try to reframe the political discussions about polarization and violence in America. Last December he wrote an article for The Bulwark, a conservative anti-Trump website, entitled the "The Politics of Loneliness," where he warned "social isolation threatens devastating consequences for the social fabric of our nation."
"If you approach this conversation through the prism of right-wing radicalization or gun violence you are inserted straight into a political conversation in which everybody's made up their minds," Murphy says. "My belief is that this conversation has to start on completely apolitical terms. You've got to have a conversation about how people are feeling."
The response to his essay convinced him that he was on to something. "I got more active unsolicited positive feedback from people in Connecticut and people I'm connected with all around the country compared to almost anything else I've done, so there is a sense of urgency out there."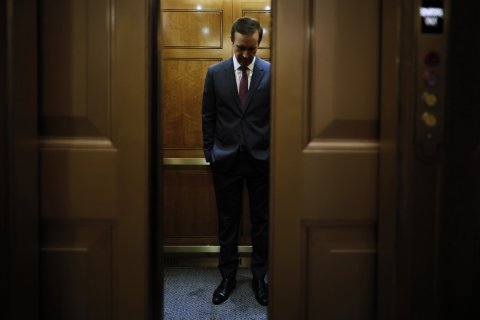 Murphy's primary focus is on teens and young adults and the effects that Big Tech companies, like Meta and TikTok, have on them. Young people, he says, face a "social media ecosystem that really drives them to unhealthy places." His two sons, 11 and 14, face a culture with "less natural opportunity for connection" than the society he knew as a boy, a culture that he says allows its young people to get "sucked into very isolating existences."
He's calling on the federal government to adopt bipartisan policies that would help protect kids on the internet. Murphy is teaming with Hawaii's Democratic Senator Brian Schatz and Republican Senators Tom Cotton of Arkansas and Katie Britt of Alabama on a bill that would bar children under the age of 13 from using social media and would also regulate algorithms through which tech firms target minors.
During a February Senate Judiciary Committee hearing, lawmakers on both sides of the aisle criticized Big Tech for data collection practices and not doing enough to combat sexual exploitation and mental health crises on their platforms. Murphy feels the bipartisan momentum behind online regulation can also translate to federal action aimed at uplifting localities to strengthen senses of community and offer individuals stronger in-person alternatives to communities found online.
"It used to be that our communities were really healthy, integrated and unique places. My town wasn't like your town. My downtown wasn't a carbon copy of your downtown. The political conversations we had in my town weren't the exact same ones you had in your town," Murphy says. "So, you could create an identity based upon the place you lived. Today that's hard."
"When you don't have the ability to identify yourself as a member of a place, you look for other identities," he continues. "Often those identities are political identities, and often those political identities are unhealthy, division-based identities."
Murphy says policymakers can address feelings of isolation, disempowerment and loss of identity by offering subsidies to support local businesses, instituting industrial policies to expand blue collar work and enforcing antitrust rules to curb the dominance of the national corporations that put local stores and services out of business. Murphy says he's in "active conversation" on finding solutions to loneliness with Republicans he declined to name. "The solution sets for the disconnection that Americans feel has the potential to fall along pretty bipartisan lines," he says.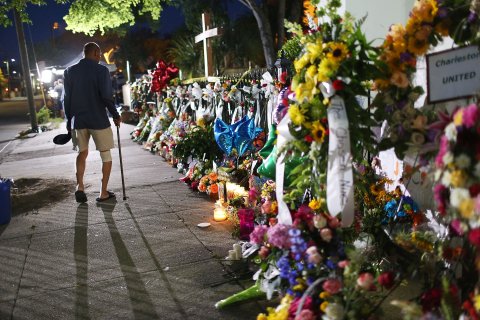 The subject of loneliness appears to be having a moment. Late in April, U.S. Surgeon General Vivek H. Murthy wrote an essay along similar lines to Murphy's for The New York Times under the headline "We Have Become a Lonely Nation: I Have a Plan." Even before the COVID-19 pandemic, health insurer Cigna found in a survey that over 60 percent of Americans felt lonely, a rise in nearly 13 percent from 2018. In the post-pandemic era, another Cigna survey found rates of loneliness remained near the same levels.
According to the National Institutes of Health's National Library of Medicine, feelings of isolation can lead to mental health issues, including depression, alcohol abuse, sleep problems, personality disorders and Alzheimer's disease. Several government and academic health studies have found that all these issues were exacerbated during the pandemic and the periods of isolation that came with it.
There is also data linking loneliness to extremism and violence. According to a 2021 study by the RAND Corporation of former political extremists, half of the people surveyed said feelings of marginalization drove them toward radicalization, with most citing feelings of isolation and loneliness. More than half said mental health issues played a role in their radicalization, and nearly 80 percent said they were recruited into extremist groups.
Mass shooters have shared feelings of loneliness online, saying such emotions prompted their turns to radical online communities and extreme political beliefs. Among the examples are the perpetrators of the 2022 shooting that killed 10 African Americans in Buffalo, New York; the 2015 shooting that killed nine Black churchgoers in Charleston, South Carolina; and the shooter who killed three Michigan State University students in February.
"People are looking for that kind of connection, and if they can find it with a group that they don't know online, they don't necessarily see the bad parts of what's happening," Shana Gadarian, chair of Syracuse University's political science department who specializes in political communication and psychology, says. "If they're being told they're special and smart and they're not getting that in their real life, you can imagine how that feeds on itself. Then with the technological part of it where extreme voices get more airtime on the internet, you can see how people get radicalized."
"Face-to-face interactions both reinforce norms of civil and political behavior, and they make it much harder to demonize people that you disagree with," Gadarian says. "Working in a group together or even being in a public space where you're interacting with people makes it harder to think that the people that you disagree with on some policy issue are in fact terrible people that want the death of this country or want to harm children."
Meanwhile, Murphy says his focus these days on the sources of loneliness does not mean he's abandoning the idea of gun control. He points out that while other wealthy democracies like Canada and Great Britain have similar levels of loneliness as the U.S., they have far lower firearm death rates. What makes the U.S. different, he says, is easy access to guns. He adds, however, that a national dialogue about isolation and loneliness needs to be a top priority.
"I think we've just got to spend some time talking about the things we're feeling and creating apolitical or bipartisan coalitions around those feelings," Murphy says, "and then we can have a conversation about political solutions."