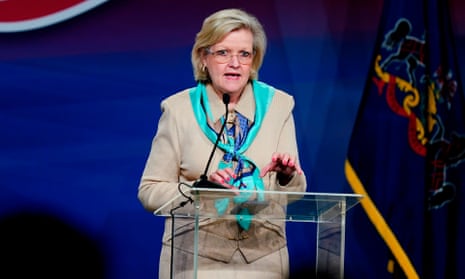 Alarm after lawyer who aided Trump's 2020 election lie attacks campus voting
Rightwing lawyer Cleta Mitchell faces criticism after comments to GOP donors urging new rules to make voting harder for students
Rightwing election lawyer Cleta Mitchell, a key ally of Donald Trump as he pushed bogus claims of fraud to overturn Joe Biden's 2020 win, is facing intense fire from voting watchdogs and bipartisan criticism for urging curbs on college student voting, same day voter registration and absentee voting.
The scrutiny of Mitchell, who runs the Election Integrity Network at the pro-Trump Conservative Partnership Institute to which a Trump Pac donated $1m dollars, was sparked by recent comments Mitchell made to Republican donors, and a watchdog report criticizing her advisory role with a federal election panel.
Long known for advocating stricter voting rules that are often premised on unsupported allegations of sizable voting fraud, Mitchell last month promoted new voting curbs on students in a talk to a group of wealthy donors to the Republican National Committee, efforts that critics call partisan and undemocratic.
Mitchell's private RNC address to rich donors zeroed in on curbing college campus voting rules, automatic mailing of ballots to registered voters and same-day voter registration, as the Washington Post first reported.
The talk by Mitchell, who has done legal work for Republican committees, members of Congress and conservative groups such as the National Rifle Association, focused on college campuses in key swing states including Arizona, Georgia, Nevada, Virginia and Wisconsin, all of which have large college campuses.
In an audio of her remarks obtained by liberal journalist Lauren Windsor, Mitchell slammed college voting procedures.
"What are these college campus locations? What is this young people effort that they do? They basically put the polling place next to the student dorm so they just have to roll out of bed, vote, and go back to bed."
Further in one part of her presentation cited by the Post, Mitchell charged blithely that "the Left has manipulated the electoral systems to favor one side … theirs. Our constitutional republic's survival is at stake."
It's unclear if the RNC will back the latest proposals made by Mitchell, who the committee has worked with previously. But an RNC spokesperson offered effusive praise of Mitchell to the Post, saying: "As the RNC continues to strengthen our Election Integrity program, we are thankful for leaders like Cleta Mitchell who do important work for the Republican ecosystem."
But voting rights watchdogs voice alarm at Mitchell's proposals to the RNC donor crowd.
"Mitchell's comments behind closed doors give up the game," said Danielle Lang, the lead voting rights litigator with the nonpartisan Campaign Legal Center. "The current wave of additional voter restrictions is about only one thing: punishing disfavored populations of voters."
Lang added: "Sadly, we should not be surprised that Mitchell, who was central to attempts to overturn the will of the people in 2020, speaks so blithely about attacking voters she dislikes."
Similarly, Republicans and Democrats alike deplore Mitchell's comments to the RNC contributors.
"It's absurd for Cleta Mitchell or others to suggest our path to victory is by making it harder for young people to vote," said ex-Republican congressman Charlie Dent. "Republicans should not fear how people vote. Good candidates with good messages should resonate with voters."
Key Democrats agree.
"Mitchell seems to have a very difficult time separating her partisan agenda from the responsibility we all have to uphold a basic democratic respect for the right to vote," Democrat House member Jamie Raskin told the Guardian.
Mitchell didn't respond to a Guardian request for comment about her RNC remarks.
Besides the firestorm over Mitchell's RNC remarks, she is facing more heat related to other recent efforts she has made to restrict voting rights.
Mitchell has served for over a year on a bipartisan advisory board for the federal Election Assistance Commission, a post that she's used to promote curbs on mail in voting, voter registration and student voting, according to an April report from the watchdog group American Oversight.
American Oversight's study, which came after it obtained Mitchell emails from 2020- 2022 using the Freedom of information Act, included some exchanges where Mitchell suggested legal challenges to absentee voting rules and attacked a voting rights group while serving on the EAC advisory board.
"Cleta Mitchell played a central role in former President Trump's efforts to overturn the 2020 election," said American Oversight executive director Heather Sawyer "So it isn't surprising that she has used her role as an advisor to the Election Assistance Commission to push an explicitly anti-voting agenda."
"She has disparaged voting rights organizations, called for challenging absentee voting procedures, and is urging new rules that would make voting harder for students and working people. Mitchell's partisan and ideological commitment to restricting ballot access has no place at an agency tasked with helping states administer free and fair elections."
The fears over Mitchell's blunt advocacy for curbing student and other voting rights, comes after her role advising Trump as he tried to overturn Biden's win in 2020 has received legal scrutiny in Georgia. It also comes amid criticism of aggressive poll watching drives she pushed for in 2022 through her Election Integrity Network.
Mitchell was subpoenaed last year, along with several other key Trump lawyers and allies including Rudy Giuliani and John Eastman, by a special grand jury in Georgia in a wide ranging criminal probe by Fulton county district attorney Fani Willis into efforts by Trump and his allies to thwart Biden's win in the state.
A major focus of that inquiry is Trump's hour-long conference call on 2 January 2021, which Mitchell participated in, pressuring Georgia's Republican secretary of state Brad Raffensperger to just "find" him 11,780 votes to block Biden's win there.
Trump falsely claimed that "we won by hundreds of thousands of votes" and vaguely warned Raffensperger of a "criminal offense" to which the Georgia official replied "the data you have is wrong".
The Fulton county inquiry is widely expected to lead to several indictments including quite possibly Trump, and Willis has said she will make final decisions about who will be charged this summer.
Just days after the 2021 call with Raffensperger, Mitchell abruptly left her long time law firm Foley & Lardner, and soon joined the Conservative Partnership Institute as senior legal fellow, where she has led its self styled Election Integrity Network and advocated for curb voting rights.
CPI has flourished financially since Mitchell and Trump's former chief of staff Mark Meadows, CPI's senior partner, joined in early 2021.
CPI's tax filings for 2021 showed grants and contributions of $45m up from $7.1m the prior year.
In other conservative circles, Mitchell wields considerable influence as a board member of the right wing Lynde and Harry Bradley Foundation and as chair of the Public Interest Legal Foundation's board.
Now though, Mitchell's latest attacks on student voting rules are viewed by watchdog groups and some members of Congress as badly misguided, and emblematic of her partisan agenda.
"We should applaud, not bemoan, equitable access to voting for students.Our young people will inherit our democracy but participate at some of the lowest rates," Lang of the Campaign Legal Center said. "While that is improving, young people still face disproportionate burdens in voter registration and voter access."
In a similar vein, Raskin said: "Mitchell's attacks on college student voting are directly reflective of the GOP's increasing electoral losses among young people."
Mitchell and Republicans, he added, ought to focus on policies and candidates that "actually appeal to young voters, rather than a legislative program to stop them from voting.".