A South Dakota reporter is facing charges for hacking Governor Kristi Noem's personal cell phone and using it to conduct a prank call.
KOTA Territory News and Dakota News Now reporter Austin Goss was arrested and charged with making threatening, harassing, or misleading calls and appeared in court on Thursday.
An individual identified as D.L. told police he received a call from a number that appeared to be Noem's personal cell phone, according to court documents.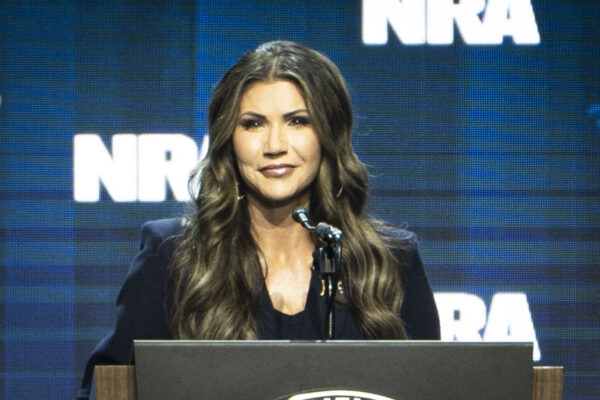 In January, Noem's office revealed that the Republican governor's phone had been hacked and was being used to make prank calls.
"Callous mishandling of personal information has real-world consequences," Noem said in the Jan. 23 statement. "If you get such a phone call from my number, know that I had no involvement. I have urged both the United States Attorney General and multiple congressional committees to investigate the leaking of my family's personal information, and I look forward to whatever resolution they can provide."
The Epoch Times reached out to Noem's office for comment but has not yet received a response.
Gross apparently used a recording called "Mafia Guy Got Vaccines" to conduct the prank, according to the documents.
In the recording, a man bombards the listener with questions about the whereabouts of COVID-19 vaccines, then accuses the listener of conspiring to "move the three boxes of that AstraZeneca outside this family."
The recording ends by revealing that the call is a prank.
"So now, you answer me this … Between the hours of midnight yesterday, and right now, where they disappear to? … Did you check your basement? How many boxes of the Moderna were there? … Oh you think this is funny? … Yo! You're making me say way too much on this line already  … Marculo's on the line here too. You best quit messing with me! … You know what? I'm going to tell you, I know what you said the other day … You telling me, you didn't tell Vito, that you were going to try to move the three boxes of that AstraZeneca outside this family? … You saying you ain't said that?! … Oh, I'm getting so angry … You saying, you ain't said that?! … You come here. Say it to my face …  Yeah, yeah I want you to say it to my face! … Hahahahahaha! You've just been pranked by PrankDial.com," the document reveals.
The Stanley County Sheriff's Department confirmed that Goss had been released on a personal recognizance bond.
Dakota News Now and KOTA Territory News, which employed Goss, issued a joint statement and announced the termination of the reporter on Thursday afternoon. Goss' image and name have also been removed from the news outlet's staff directory online.
"We learned of the incident involving Austin Goss late last night. Once we gathered the facts, we decided to terminate his employment with our stations," the statement read. "Dakota News Now and KOTA Territory were unaware of Mr. Goss' activities and deeply regret the lack of judgment he showed, which violated our policies and is contrary to our commitment to the highest standards of journalistic integrity."
Authorities traced the call through Midcontinent Communications to Goss' Fort Pierre address and found that Goss had multiple personal and professional communications with the governor.
Because Goss is a journalist, "it would stand to reason that Austin may have come in possession of Governor Noem's personal phone number during one of these contacts," the court documents said.
Dan Lederman, the former chair of the South Dakota Republican Party, confirmed to the Argus Leader on Thursday that he was the recipient of the call, but said he had no further comment.
Lederman told the investigator that Goss would "occasionally text him snide or rude remarks," and said the audio recording "caused him concern for his safety."