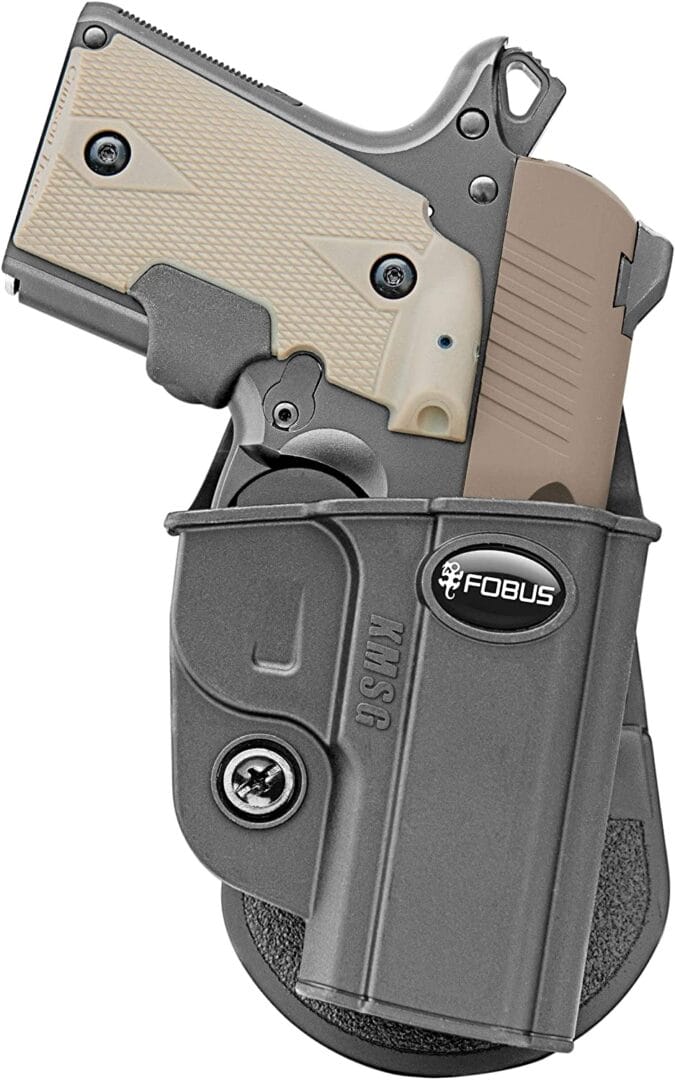 Kimber makes an amazing range of pistols. They are perhaps best known for their iconic range of 1911 pistols, but their sub-compact Kimber Micro and pocket-sized pistols are also becoming very popular amongst gun owners. We look at some of the best Kimber holster options on the market.
Each Kimber weapon is almost totally made in the US, and these guns represent some of the highest quality workmanship available today. Given this, if you already own one of these fine guns it is worth getting a similarly premium holster to carry it in. Getting a good Kimber holster not only protects you and your weapon, but can also add value to your gun and improve your marksmanship.
Choices to be Made About Your Kimber Holster
Unfortunately, choosing the correct Kimber holster can be more difficult than it sounds. We all have different requirements when it comes to carrying our weapons – some prefer a holster that offers good concealment, others value a quick draw. With the sheer number of holsters available on the market today, choosing the one that is right for you can be difficult.
Luckily, I've looked into it for you. After reading hundreds of reviews, talking to loads of people who take their Kimber really seriously, and trawling through seemingly endless forums full of people discussing the pros and cons of various holsters, I think I finally know which holster you should buy for your Kimber.
Kimber Holster Quick Pick
In my humble opinion, you should get the Fobus KMSG Evolution Holster for Kimber Micro.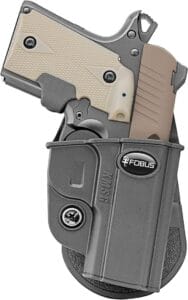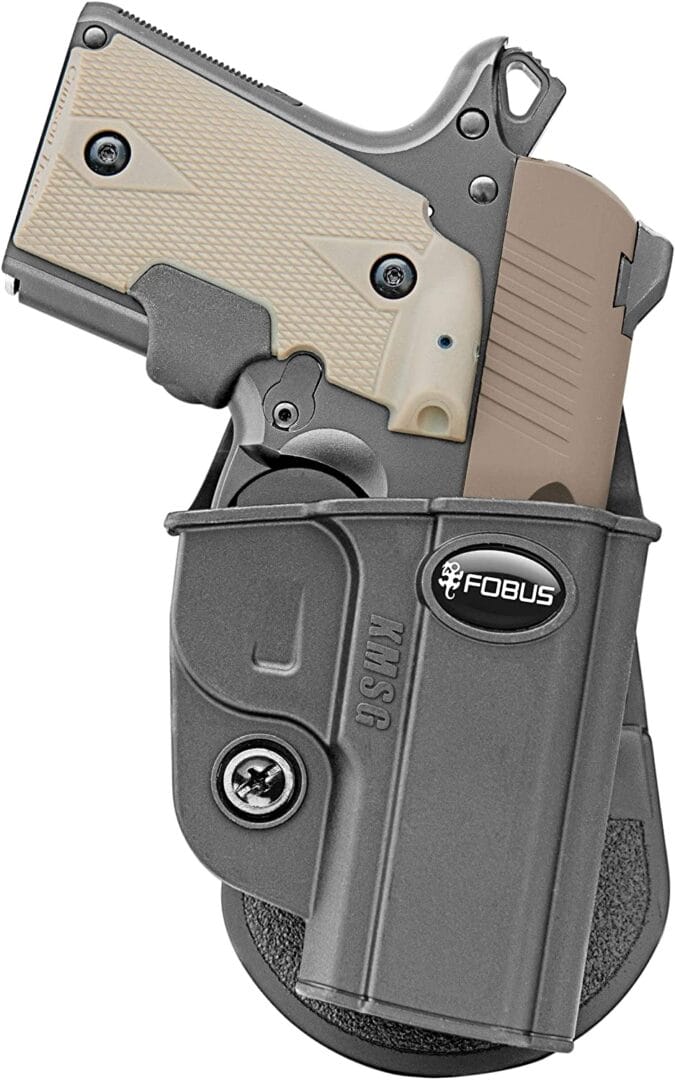 This polymer holster fits most Kimber Micro 1911 guns really well, ensuring good weapon retention whilst not impeding your draw. In comparison to more traditional leather holsters, the draw offered by this holster is super quick, and the polymer construction will also last longer than most leather holsters.
As long as your draw technique is correct, this holster offers a smooth and fast draw. The unique retention system used here means that the only point of contact your weapon makes with the holster is around the trigger mechanism, meaning that drawing the weapon out is a joy.
Kimber Micro Holster Security
This does not mean, however, that you are sacrificing weapon security. The fit around the Kimber Micro 1911 pistols we tested was so good that we're confident your gun will never be loose in this holster. Added to the fact that this is a paddle holster, with all the extra security that entails, means that your gun will always be precisely where you need it.
In short, this holster contains all the features you would expect in a premium item, and is a great choice for any Kimber Micro pistol. If you are looking for a holster that will last as long as your gun, and allow you to attain the maximum possible performance from it, this is the holster to get.
Get Great Guns and Ammo Deals!
---
Our Kimber Holster Review Process
For this review, I read hundreds of other reviews. This means that you don't have to just take my word for the recommendations I'm making today – they opinions here represent the accrued and combined knowledge of hundreds of gun enthusiasts from all over the country!
There are thousands of people who take their choice of holster for their Kimber pistol extremely seriously, and here at GND we seek to use their expertise to come up with the best recommendations for you. After trawling through dozens of forums on Kimber pistols, and speaking to people who had owned and used them for years, we first compiled a short list of what the community thought were the best holsters for Kimber.
Then we ordered a batch. It is one thing to read and hear the praise and annoyances of the community, but in our opinion unless you have used a holster for yourself you cannot claim that it is any better or worse than another. After drawing various Kimber pistols from all these holsters, and walking around all day with them strapped to us, we think we know which are the best.
So, without further ado, let me tell you about what we regard as the best holsters available for your Kimber pistol at the moment.
Best Kimber Holster Options
In addition to the aforementioned Fobus KMSG Evolution Holster for Kimber Micro, we have found some other quality Kimber holster options: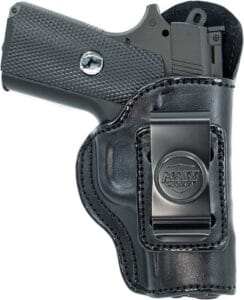 The Maxx Carry IWB Leather Kimber Holster is perfectly suited for the Kimber Ultra Carry II. Made with premium cowhide leather. It is lined with suede to protect your gun from scratches. The high back provides a shield between your body and firearm. Includes a tempered steel spring clip for easy removal of the holster.
This holster provides excellent retention, while still remaining easy to draw. The clip is big and some find it can be a bit uncomfortable for all day wear. However if you adjust it a little you'll find comfortable position for it.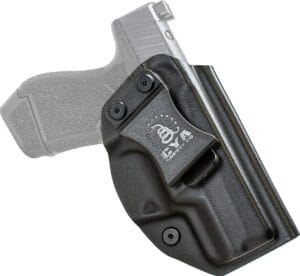 The CYA Supply Co. Base IWB Concealed Carry Kimber R7 Mako Holster is made from durable thermoplastic, which ensures that it can withstand the rigors of everyday carry. The holster also has an adjustable retention system, which allows the user to adjust the level of retention to their liking.  The low profile design is made specifically for the Kimber R7 Mako, which means that it fits the gun perfectly.
One thing that stood out to me about this holster is how comfortable it is to wear. It has a sweat guard that protects the gun from sweat, which is great for those hot summer days. The holster also has a smooth interior, which ensures that the gun slides in and out of the holster with ease.  If you're looking for a holster for your Kimber R7 Mako, I highly recommend giving this one a try.
---
The Fobus KMSG Evolution Holster for Kimber Micro 9 – Is It For You?
Probably. For most people most of the time, this holster will be perfect. It offers all the features you would expect of a premium holster, and is not too expensive. In fact, we think that if this holster was available for more handguns, rather than primarily Kimbers, it might make our top pick in some other reviews.
---
Frequently Asked Questions
Will these holsters fit my Kimber pistol?
This is a very difficult question to answer, because of the numerous variants Kimber pistols come in. The best approach, to my mind, is to phone the manufacturer of the holster you want to buy, and check directly. This is especially true if you have an unusual gun. Or have fitted aftermarket accessories.
How are these holsters in terms of concealment?
Some are good, some are bad. Normally, I would talk a little more about concealment in a review like this. However in my experience the size of a Kimber 1911 pistol, which is the variant most people own, means that any holster is going to have a hard job concealing it. The best holster above, if you want concealment, is the Maxx Carry IWB Leather Kimber Holster.
Will my scope / sight / red dots fit in these holsters?
No. If you've got aftermarket accessories like these fitted to your Kimber, you won't be able to carry them attached to your gun. I know this is a disappointment to some people, but ultimately you should look for a holster that holds your weapon really well on an everyday basis, and save your advanced accessories for the range.
---
Best Kimber Holster – Conclusion
Of course, everyone has different needs when it comes to holsters for their Kimber. Any recommendation I make is not going to suit everyone. That said, and as with all my reviews, I've tried to recommend the holster that will fit the requirements of most people most of the time.
Today, this is the Fobus KMSG Evolution Holster for Kimber Micro 9. The fit offered by this holster, around the Kimber pistols we tested it with, was simply the best of the holsters we tested. This fact on its own, even without the other features offered by this holster, would be enough for use to recommend it. To our mind, weapon retention is best achieved the old fashioned way. By using a holster specifically molded to your gun. Rather than with complicated and unreliable locking systems.
Draw is Key
In addition, the draw on this holster is pretty good. If you haven't used a paddle holster before, this is a great place to start. Because it sums up what is making this type of holster more and more common. With the rubberized paddle resting on your leg, the holster stays precisely where you want it at all times. Ensuring that after a bit of practice your draw will be reliably fast.
I know that a lot of people prefer to carry their Kimber in a leather holster. However, the polymer used here may make them think again. It does not feel cheap, does not promote sweating even when carried all day, and actually improves draw speed by reducing the friction between weapon and holster.
All in all, this holster offers all the features you would expect from a premium item. When used with most Kimber pistols offers good weapon retention and draw speeds. If you are looking for the best holster for your Kimber pistol, I highly recommend giving this one a look.
Recommended Reading
Best Kimber 1911 Concealed Carry Holsters
Best Hunting Holster For Kimber Micro