The mood at the Washington State Capitol was jubilant Tuesday as Gov. Jay Inslee signed a trio of gun control bills, one of which immediately bans the manufacture, purchase or importation of so-called assault weapons.
"Party safely tonight," the governor told supporters after signing the bills.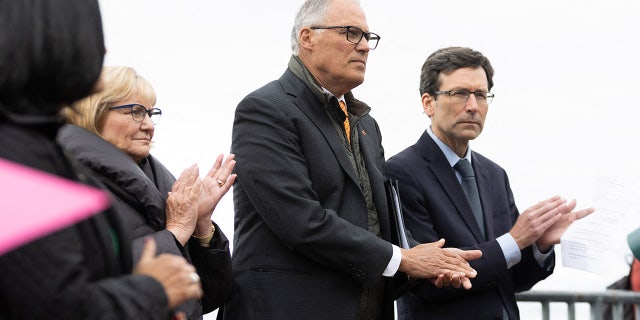 VISA, MASTERCARD, DISCOVER PAUSE WORK ON CODE THAT WOULD TRACK GUN PURCHASES
Inslee and Attorney General Bob Ferguson, both Democrats, pushed for the gun control package.
With the governor's signature, Washington becomes the 10th state to adopt an "assault weapons" ban.
"No one needs an AR-15 to protect your family," Inslee said while surrounded by family members of shooting victims. "You only need it to kill other families."
Earlier this session, lawmakers passed a bill that mandates safety training and requires a 10-day waiting period to buy a gun, as well as a bill that requires gun makers and dealers to take "reasonable steps" to keep their products out of the hands of "dangerous individuals."
The bill that requires safety training and a waiting period takes effect Jan. 1, 2024.
WATCH MORE FOX NEWS DIGITAL ORIGINALS HERE
"We lead the country in so many ways, and we are leading on this," Inslee said. "I'm not sure any state has ever taken three steps on one day."
Inslee added that while he and supporters celebrate the bills, there remains more to do in the fight against gun violence.
"We know we need to continue this effort on a national basis," he said.
The road to the assault weapons ban has been long, Ferguson said. He first pushed for it seven years ago after the deadly shooting at a Mukilteo house party.
A lawsuit challenging the assault weapons ban was announced almost simultaneously with Tuesday's bill signing. The Second Amendment Foundation (SAF) filed a complaint in U.S. District Court for the Western District of Washington, accusing lawmakers of violating the Second Amendment with an outright ban on semiautomatic rifles.
"The state has put politics ahead of constitutional rights, and is penalizing law-abiding citizens while this legislation does nothing to arrest and prosecute criminals who misuse firearms in defiance of all existing gun control laws," SAF founder Alan M. Gottlieb said in a press release. "It is absurd."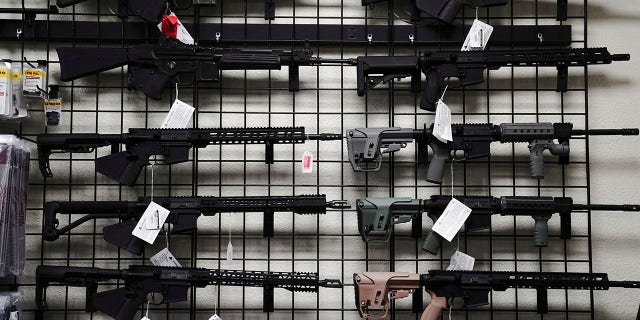 CLICK HERE TO GET THE FOX NEWS APP
The NRA has also signaled opposition to at least two of the bills and said the organization already has lawsuits working their way through the courts against similar bans in California, Delaware and Illinois.
Ferguson said his office is prepared to defend the bills in court.
"We're a nation of laws, and they have the right to challenge that," he said. "Our record so far is pretty good against the NRA and against the Second Amendment Foundation. We are undefeated, and we plan to keep that record intact."
UPDATE: Details about SAF's lawsuit were added after publication.